Put-in-Bay Ohio has so much to do in the month of June! From wonderful family-friendly June events to lodging specials, from delicious island dining to rides up to the top of the Monument. You will find something for everyone in your family or group of friends. Don't forget that getting to the island is half the fun on one of our Lake Erie ferry boats, and once here don't forget to buy some souvenirs to take home with you!

Upcoming June Events at Put-in-Bay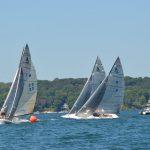 INVITATIONAL MILLS TROPHY SAILING RACE – June 7th-8th, 2019
The Invitational Mills Trophy Race is sponsored by the Toledo Yacht Club. This is known as 'THE' sailing race of the Lake Erie islands. The race Dates back to 1907. The original intention of the event was to merely test the navigational skills of the Lake Erie locals. Since then, the race has been honored nearly every year. What makes this race unique is that you compete at night.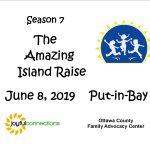 THE AMAZING ISLAND RAISE – June 8, 2019, 11:00 am – 4:00 pm
Ottawa County CASA and Joyful Connections are teaming up to host Season 7 of The Amazing Island Raise, Put-In-Bay Style on June 8, 2019. This is for all of the Amazing Race fans out there that want to solve clues, complete challenges and win great prizes, all while enjoying the fun and sun of Put–In-Bay. Teams of 4-6 adults will race against one another to see who has what it takes to be the Amazing Raise champion.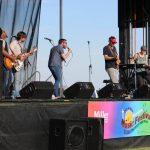 3RD ANNUAL PUT-IN-BAY MUSIC FESTIVAL – June 8, 2019, 11:00 am
Put-in-Bay Ohio is bringing some new and exciting musical talent to the island this summer. They include bluegrass, new grass, folk, zydeco and rhythm & blues. Island visitors will get to experience all this for free this summer as the island kicks off 2019 with the first Put-in-Bay Music Festival on Saturday, June 8th, at Perry's Victory & International Peace Memorial here on South Bass Island. There is also a huge corn hole "tournament" held on the grass lawn in front of the Monument.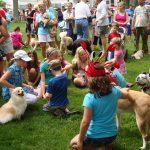 POOCH PARADE – June 15, 2019, 10:00 am
The Island Pooch Parade will be held Saturday, June 15 in DeRivera Park. Dogs of all kinds and sizes are encouraged to participate! Registration ($15) for this amusing, fun event will open in the Gazebo at 9:30am, early registration will also be available at Mossbacks on June 14th from 4p – 6p. The children led traditional doggie stroll around the Park at 10:00am. Cats are NOT invited.
45TH FOUNDER'S DAY – June 15th, 2019, 11:00 am – 4:00 pm
One of the most heartfelt weekends of the summer is Founder's Day. Jose DeRivera was a Hispanic merchant who purchased the South Bass, Middle Bass, Sugar, Gibraltar, Ballast, and Starve Islands for the sum of $44,000 in 1854. Then, Jose sold off parcels of the land to the community for a fraction of the price. He sold the school property for $1 and the St. Paul's church property for $10. Founder's Day is in place to celebrate the rich history, strong island heritage and the impact DeRivera's good deeds had on the community as a whole.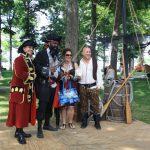 PUT-IN-BAY PYRATE FEST XI – June 21st + 23rd, 2019, 10:00 am – 5:00 pm
The Put-in-Bay Chamber of Commerce is excited to announce the return of the 11th Annual Pyrate Festival located on Put-in-Bay, Ohio from June 21st to June 23rd 2019. This weekend event is filled with activities for all ages. Starting Friday night, Pyrates invade Put-in-Bay's downtown and hoist the Pyrate Flags in the DeRivera Park. From there, adult Pyrates can explore Put-in-Bay's establishments by participating in the first Pyrate Crawl.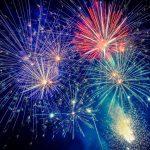 PUT-IN-BAY FIREWORKS & CONCERT – July 4th, 2019, 6:00 pm – dusk
The Patriots Symphonic Band, a 60-piece non-profit band based in Lorain County, OH, will perform a selection of Patriotic music during a 90-minute Freedom Concert on the plaza of Perry's Victory and International Peace Memorial on Thursday, July 4. A Fireworks display, provided by Put-in-Bay businesses and Friends of the Bay, will begin at dusk. The fireworks will be shot off of a barge in the downtown harbor. Everyone is welcome to view the fireworks from the lawn of Perry's Victory and International Peace Memorial.
WHAT DO YOU WANT TO DO AT PUT-IN-BAY? (click a selection)
June's Featured Places to Stay at Put-in-Bay
The Put-in-Bay Waterfront Condos are luxury island living at its finest. With waterfront views, swimming pool, and perfectly appointed condos, your perfect Put-in-Bay vacation starts here. Make a reservation here to book one of these exquisite condos! Whether you vacation with a crew of your closest friends or take a break with your family, The Put-in-Bay Condos has everything you need. Located right next to the airport, this is some of the best real estate of the island. Besides the azure pool, there is a cornhole area, barbecue grills, and golf cart rentals on-site.
Looking for luxury lodging with all of the amenities of home? Island Club Rentals provide 73 comfortable, stylish condos with either three or four bedrooms. MAKE A RESERVATION today! If you would like to learn more about the Island Club before you book, read on. Rentals are available for any amount of time from a weekend or the whole summer. The houses all contain new high speed internet, full kitchens, central air, two baths, propane grills, and private decks. A pool is front and center in the middle of property. Take a refreshing swim then lay out and meet your neighbors.

The Best June Dining on the Island
Located in the heart of downtown Put-in-Bay, Mr. Ed's Bar and Grille slings the tastiest bar food courtesy of Cameo Pizza, and serves up the hottest live entertainment in town. A real crowd pleaser, Mr. Ed's Bar and Grille offers indoor and outdoor seating. Enjoy the lake breezes on the outdoor patio while dining on Cameo Pizza's legendary Chicken Wings. With a menu full of mouthwatering Cameo Pizza goodies, there's always something for everyone. Mr. Ed's is now the new island home of Put-in-Bay's legendary Cameo Pizza. It's the same Cameo Pizza that has served up hundreds of thousands of pies over the years, only now in a new location. So now you can enjoy your pizza with friends while also being at the best bar on the island! Talk about a win-win!
A favorite with both locals and visitors to Put-in-Bay, Joe's Bar & Restaurant is a friendly dive bar with a little extra. Their menu is chock full of classic bar food, elevated. And their outdoor seating is expansive, comfy, and comes with plenty of games to play, like oversized Jenga and everyone's favorite, corn hole. Located right next to South Bass Island State Park, Joe's is a perfect stop off point when exploring the island. Lake Erie Islands Nature & Wildlife Center and Saunders Golf Course are close by. Grab a cold one at Joe's after a rousing 18 holes. Just one of many June events to conquer.

What To Do on your June Put-in-Bay Getaway
Get around the island like a local when you rent a cart with the Put-in-Bay Golf Cart Depot! Everyone does Put-in-Bay a little differently, but no matter what, you'll need to get around. Maybe you are here to see all of the amazing historical sites like Perry's Victory and International Peace Memorial, or perhaps the parks and trails and natural splendor are your destinations. Or maybe you just need to get downtown for a hearty breakfast after a night of living it up island-style! Whatever your transportation needs during your stay at the Bay, the Put-in-Bay Golf Cart Depot stands ready to meet them.
Put-in-Bay is all about that lake life. Lake Erie is one of the main attractions of the island and the best way to experience it is by boat. Good thing Put-in-Bay Watercraft Rentals provides high quality boat rentals along with crucial safety training. That way you are guaranteed to have the best time imaginable. Choose from jet skis, power boats, and kayaks. Each vessel offers its own kind of fun. Jet skis are all about speed. Zoom around in your power boat then anchor and enjoy lunch and a dip. Kayaks are the best way to get up close and personal with the natural landscape.

Island Treasures to Bring Home
The Carriage House is an impressively curated souvenir shop on Put-in-Bay. With over 600 items the bear the Put-in-Bay name, The Carriage House is a must-see stop during a Put-in-Bay summer. This lovely green Victorian situated right on Delaware Ave in downtown. The green is so vibrant, it's hard to miss! The location is extremely convenient. Whether you are heading back to the mainland, or just arriving, The Carriage House is on your way.
One of the best things about getting away to an island community in general, and Put-in-Bay in particular, is the shopping. Especially on June events weekends! You can find all sorts of fascinating little places up on Put-in-Bay. Something truly unique is waiting for you to remember your trip by. Local Color is one of those places. This shop looks small from the outside, but it's filled to the brim with amazing Put-in-Bay memorabilia. You'll find the standard stuff like clothes and mugs, drink ware and things like that, but also some amazing art from the island, jewelry, stuffed animals. You'll find a gift for anyone here. And maybe additionally a few things for yourself!

Find Out How to Get Here!!!
The Miller Ferry Boat Service provides passenger and vehicle transportation across Lake Erie to South Bass Island and Middle Bass Island. Mainland port is located in Port Clinton, Ohio at the end of Catawba Point. A leisurely 18 minute ride is all it takes to traverse to Put-In-Bay. Moreover, passengers can opt to sit on the open air deck, or take refuge in the small shelter house. Also, guests can opt to bring their vehicles and trailer on the Miller Ferry. Cars are loaded by simply driving onto the vessel.
The Jet Express Ferry provides water transport for passengers heading to South Bass Island and Kelley's Island Ohio from their mainland port locations. Onboard, passengers can expect a comfortable, smooth ride while taking in the views of several Lake Erie Islands. Passengers aboard the Jet Express are afforded great seating options for their experience. First, guests can choose to find a seat in the comfortably appointed interior cabin. Here, padded seats and tables fill the area, providing ample seating space. Otherwise, passengers can sit atop the boat on an open air deck on their way to one of our Put-in-Bay June events.