Put-in-Bay is all about that lake life. Lake Erie is one of the main attractions of the island and the best way to experience it is by boat. Good thing Put-in-Bay Watercraft Rentals provides high-quality boat rentals along with crucial safety training. That way you are guaranteed to have the best time imaginable.
Choose from jet skis, powerboats, and kayaks. Each vessel offers its own kind of fun. Jet skis are all about speed. Zoom around in one of our powerboats then head downtown (or just up the hill to Joe's Bar) to enjoy lunch and a fun time. Kayaks are the best way to get up close and personal with the natural landscape.
About Put-in-Bay Watercraft Rentals
In business since 1992, Put-in-Bay Watercraft Rentals is owned by local celebrity Bob Gatewood. Known around these parts as the "human jukebox," Bob performs all over town. Make sure to catch one of his shows.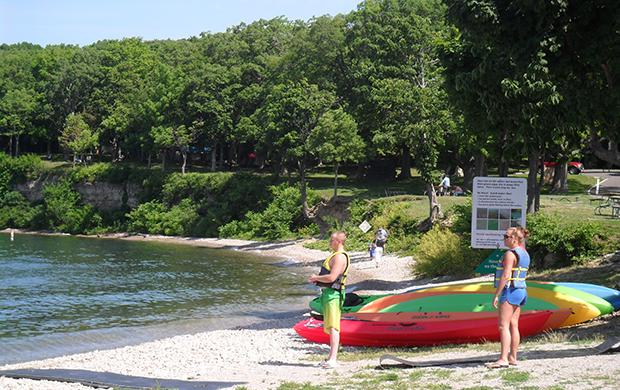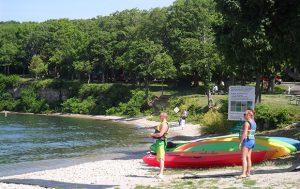 Before taking a boat out, guests are given in-depth safety training in the unlikely event of an emergency. Safety equipment is also provided. There is zero tolerance for renting to anyone who may be under the influence of alcohol.
Put-in-Bay Watercraft also offers guided tours. This is the ideal way to get to know the island for first-timers. They are both fun and educational. Opened from Memorial Day to Labor Day.
The Neighbors of Put-in-Bay Watercraft
Put-in-Bay Watercraft Rentals is located right at the edge of South Bass Island State Park. This lovely park provides plenty of picnic tables, charcoal grills, and playgrounds. The entire park is green and shady. There is also a public bathing beach.
Catawba Ave. dead-ends into Lake Erie. If you take this route to the boat rentals, you will pass some Put-in-Bay favorites along the way. Perry's Cave Family Fun Center, Saunders Golf Course, and the Chocolate Cafe and Museum are just a few.
After spending the day on the water, head to Joe's Bar close by. This is the ideal spot to grab a cold beer, sit down at a picnic table, and enjoy a summer's night on Put-in-Bay. http://www.pibjetski.com
Testimonials
Lauren T: "I talked to Bob for 2 seasons by email trying to set up a long boat trip. This year it came to be. He set me up with Captain Tom who is totally awesome. We went on a long trip around the island and stopped and got close to the other islands when he saw I showed interest in seeing them closer. He was just a great guy. Later in the day, I got to finally meet Bob Gatewood and he is totally awesome too! We went to see him at the Beer Barrel that next Saturday and he did a great show! I would recommend this trip to anyone out there. It is totally worth your time." – September 22, 2019
Brooke E: "This was my husband and I's first time to Put in Bay, we went on Fourth of July weekend with his sister. We camped on the island at the state park and decided to rent a jet ski and paddleboard on our last day. We had brought our dog to the island as well and she was happy as a clam on the paddleboard. The staff was AWESOME. Luke was super personable and very knowledgeable about any questions we asked. I had a chance to speak with the owner, Bob, who really works hard to ensure his customers' satisfaction and safety.
This is a great place to bring kids as there are members of the team who watch for hazards with binoculars. The rental hut is located within a cove that provides a little shelter from the larger wake from the main channel. This business gets my five stars of approval. Go and check them out for yourself!" – July 18, 2019
Diane M: "There were 4 of us who took a great boat tour without planning it ahead of time. We learned things about the area we did not know. The Captain was courteous fun and made an enjoyable trip for us all. He knows a lot about the area and will tell you as much or as little as you want to know. We had such a nice time, we went back the next day and rented the jet skis. This is something you all should do to spend a fun and relaxing time while at Put in Bay. We will definitely use his services again when we return." – May 31, 2019