When people think of Put-in-Bay, Ohio, they often think of our most iconic destinations on the island. For some people, it is the Perry's Victory and International Peace Memorial (ie the Monument). For others, it is the Roundhouse Bar downtown. Everyone has their own memories of Put-in-Bay, which is the beauty of our lovely little Lake Erie island paradise. Remember to send in pics to get featured in our Photo Gallery!
Put-in-Bay Lodging Photos
The lodging options at Put-in-Bay are as varied as the guest who visit. Most visitors opt for one of our Vacation Rentals or Downtown Hotels. The Downtown Hotels, such as Commodore Resort, offer smaller traditional rooms that sleep one or two couples comfortably. They have swim-up pools and are right in the heart of the entertainment late at night. The Vacation Rental options include both Waterfront Condos and Homes & Cottages. The Condos are right on the shore of Lake Erie with beautiful views. Houses each are great for groups and families. Other options include Bed & Breakfasts and a State Park Campground.
Put-in-Bay Restaurant Photos
It would be a real challenge to try and visit each Put-in-Bay restaurant and bar during your trip to the island. There are so many, with such variety in cuisine, that you will want to make multiple trips to try each one! Breakfast locations offer fares such as omelets, red velvet french toast, lobster benedict, crepes, and good old-fashioned coffee and donuts. Lunch options expand the horizons to include sandwich shops, lobster bisque, burger places, and pizza. Dinner at Put-in-bay is often an event, especially if you have a group, so make reservations if you can. Your options are diverse, but popular eateries are the Goat Soup and Whiskey for upscale homegrown chef food, The Upper Deck for seafood, Mossbacks for great island fare, the Reel Bar for some inventive cuisine, and The Crews Nest if you are a member.
Put-in-Bay Attraction & Event Photos
"What attraction do you want to go to next?" is heard more often than not as families navigate the island on one of our golf cart rentals. Families with smaller children enjoy the Perry's Family Fun Center with its myriad of entertainment options. Older kids usually talk their parents into taking them Jet Skiing or Parasailing on the Bay. History buffs will love the Tour Train and different museums on the island, while our more mature crowd really enjoys all the parks and outdoor spaces that offer relaxing walks, wildflowers, and spectacular views.
There are a lot of places to see and so many things to do at Put-in-Bay that our photo gallery just can't do it justice. These are just some of the great views you will see on the island! Visit us during our summer season and see for yourself the beautiful, romantic, exciting, and relaxing moments that seem to occur every day at Put-in-Bay. You can even Book Online with one of our valued lodging partners on Put-in-Bay Ohio. Remember to send in images we can add to our Photo Gallery!
Island Restaurants
If a picture says a thousand words, then there is much to talk about with Put-in-Bay Restaurants. Our dining options range from casual to complex. Bay Burgers to Fresh Walleye. Perch Tacos to savory and sweet Crepes. There is a good chance that if you don't see what you like, your Put-in-bay Chef can prepare it for you if asked. Pictured above are some of our favorite locations and meals.
South Bass Island Things to Do
If you need to see it to believe it, then check out Put-in-Bay's favorite summer activities. You can fly high while Parasailing. You can get up high and still be grounded from the Perry's Monument observation deck. You can duck underground at a couple of different Put-in-Bay caves. Hike the many parks and nature preserves on our small Lake Erie Island. Even share childhood magic with your kids at Kimberly's Carousel and the Put-in-Bay Raceway.
Your Put-in-Bay getaway
Put-in-Bay Island is one of the top vacation destinations in the entire midwest. You can check out all the famous Put-in-Bay attractions or go to the visitors center downtown to learn more about upcoming events such as "Pyrate Fest!"
When Pyrate Fest happens downtown Put-in-Bay and DeRivera Park are taken over by pirates! They do reenactments, hunts for buried treasure, costume making, and there's even a pirate ship! After that, check out the Lake Erie Island Historical Society Museum to learn more about Oliver Hazard Perry and his victory in the "Battle of Lake Erie" during the War of 1812.
Lodging
PIB has many different categories of lodging with several companies competing in each one, so it can be hard to figure out which place is the best and more importantly which one is the best for you. Here's a quick list of our favorite in each main category: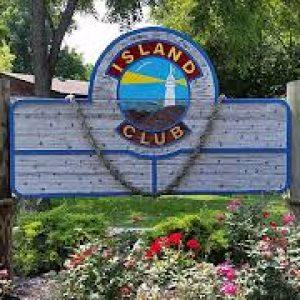 If you want to stay at a vacation rental we highly recommend The Island Club Rentals. They have all the amenities you need plus they even have their own Put-in-Bay taxi service! During the week you can expect a family-friendly vibe, then once the weekend comes you can watch as the family fun leaves and the bachelorette parties roll in!
The Commodore is located right in the heart of downtown Put-in-Bay next to the amazing swim-up bar "The MIST". It also has the island's only fast-food chain besides Dairy Isle, subway, in its lobby and it's open till 3 AM!
Bird's Nest Resort is the best resort to stay at during your Bay vacation! They have the cheapest prices on the island, a very laid-back vibe, an outdoor pool, and all kinds of different room choices to stay in. They're located right across the street from the Put-in-Bay airport.
Getting to the Island
To get to the island you need to take either the Jet Express or the Miller Ferry. The Miller has its main dock in Catawba while the Jet Express has two dock locations in Sandusky and Port Clinton. To figure out which Put-in-Bay ferry is the best for you we recommend looking at our "Ferry Transportation" tab above. If you come from Cleveland the Miller is closer and if you come from Toledo you're closer to the Jet Express.
Have a Great Put-in-Bay Photo?
We are always looking to feature our Put-in-Bay friends' photographs. If you have one that you think should be included, please send it to us! We would be happy to take a look and add it to our Photo Gallery. Pictures of you and your friends toasting at Rita's Cantina? Photos of your kids digging for treasure at Gemstone Mining? A unique ferry boat view as you make your way to the island? We would love to see it all! Contact Us!