The 2023 Ferry Schedules Are Posted Below
Put-in-Bay Ferry Boat Line Transportation
The Two Put-in-Bay Ferries include the Jet Express and Miller Ferry.  Each summer, they bring thousands of passengers to enjoy the wonders of South Bass Island.  Along the way, take in views of other Lake Erie Islands. The Jet transports passengers only, and the Miller allows both vehicles AND passengers. Getting here on the boat ride is just part of the fun! We also have fun taxi rides and leisurely golf cart rentals.
Below is information on all of the ferry services when you VisitPutinbay. Take time to review port and dock information, check fares, and look for a special event or offer.

Put-in-Bay Ferries: Passenger Service in Style
Put-in-Bay ferry service to South Bass Island, Ohio… where the Jet Express Ferry ride can be half the fun of getting to South Bass Island Put-in-Bay. Relax and ride while enjoying a narrated tour of the history of the island.  Furthermore, take in a Lake Erie breeze atop the rooftop deck and enjoy the scenery.
The Put in Bay Jet Express boat fleet is made up of all-aluminum ocean-approved catamarans. Traveling at speeds more than 40 mph, the catamarans are among the fastest passenger ferries in the world and the only ferry that is air conditioned.  Still, the sleek twin hull design glides through all weather conditions with unmatched smoothness.
Additionally, the triple-deck design provides beautiful views.  First, from an open-air observation deck.  Secondly, from two stylishly appointed passenger lounges.  Here, passengers can enjoy the tinted windows, carpeted decks, and cushioned seats.
Both the Jet Express and Miller Ferry (only ferry to transport cars) offer one-way and roundtrip tickets. Golf cart rentals can be found near docks for both services at a luxury price. Most of the lodgings on the island also offer their own golf cart rentals much cheaper.
Getting There is Half the Fun!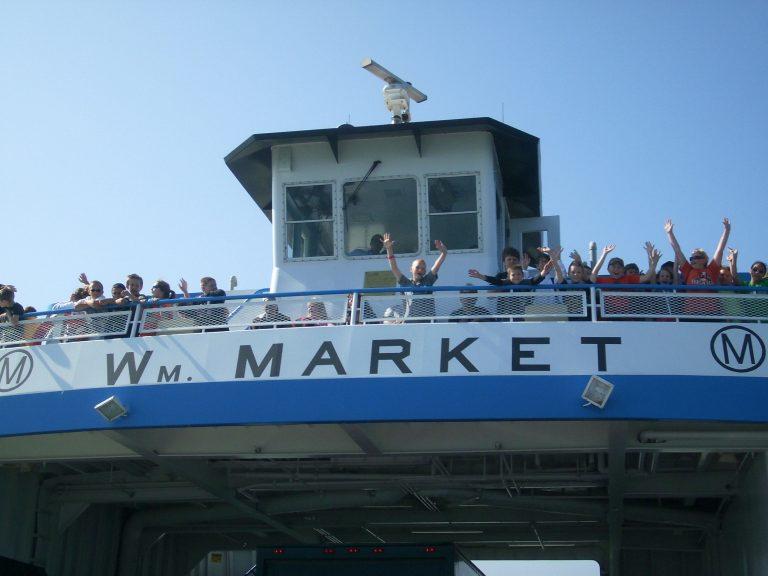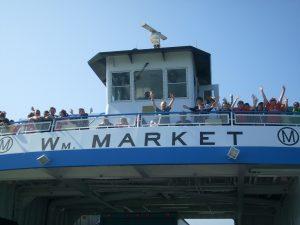 Providing Early Morning/Late Night Service to downtown Put-in-Bay, board the Jet Express for the most convenient boat ride and most comfortable transportation to the island. They also have a boat from Put in Bay to Kelley's Island, and they even do an occasional boat to Cleveland and Cedar Point!
Need a Ride from a Put-In-Bay Ferry Boat?  Put-In-Bay Taxis are the answer!
Hop on a Boat to Great Put-in-Bay Events
For a reasonable fare and a quick ride, guests can easily access Put-In-Bay.  Passenger and Vehicle Service runs often, every half hour in peak times.  Couples and families can enjoy the views and lake breezes one of the great transport services. You can also check out Middle Bass Island aboard the Sonny S ferry.
The Lake Erie Islands are a fantastic place to visit.  With a trove of history, fun Put-in-Bay activities, and legendary nightlife, it is a must-see place.  With the boat services listed here, you and yours can create wonderful memories visiting all the things to do in Put-in-Bay.
From the Miller Ferry, you can go to the gift shop and find info on a lot of Put-In-Bay attractions such as the State Park by Joe's Bar, information on-island events,  or directions to your put-in-bay hotel if it's your first time here.
Put-in-Bay Taxi and Shuttle: The Best of Island Transportation
The Island Club understands the unique needs of Put-in-Bay visitors and locals alike. They are well-equipped to transport parties for weddings, conventions, school groups, business meetings, family reunions, and tours. Often utilized for weddings, Island Club transports the bridal party to and from the reception. There are a lot of weddings on the island!
They pick up and drop off at the docks as well. Coordinate your arrival time and the friendly van will be waiting for you! The drivers take care of all your luggage to and from the van.
With large groups, simply call them up and they plan all your transportation needs. Besides, riding in one of the taxis is one of many fun things to do in Put-in-Bay!
The drivers are all professionals, committed to bringing the best to Put-in-Bay. A member of the Put-in-Bay Chamber of Commerce, the company is a pillar of this community. Passengers feel at ease and may even learn something unique about the island only a local would know!
Transportation and Downtown Put-in-Bay
Parking is a nightmare downtown, especially at night. Travel from your cabin or hotel easily with Island Club Taxi Service. That way, you won't spend half your night circling looking for parking.
Nights can run late downtown. With bars like Mr. Ed's and Mojito Bay going after midnight, late-night service is crucial. Call them up when the partying is over and it's time to go home. Island Club Taxi is available until 3 am during the summer season.  So, Call 419-285-5466 for service.
Frequently Asked Questions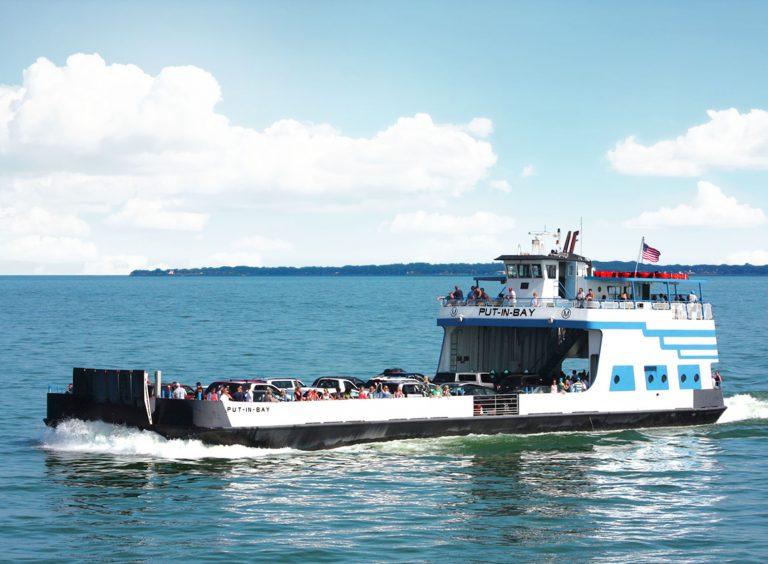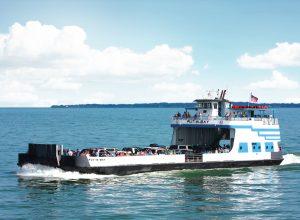 Can I bring my own alcohol to Put-in-Bay?
Yes, you can bring your own alcohol to the island. Keep in mind there is the Island Beverage Center that can provide most of the things you'll need but there is no state liquor store so you'll have to bring most of the harder stuff yourself! No drinking on the ferries!
How long is the ferry ride?
The Miller Ferry takes about 18 minutes from Catawba. The Jet Express takes about 25 minutes from Port Clinton and closer to 45 minutes from Sandusky. However, if you're with friends it'll feel like no time at all until you are settled in to your very own Put-in-Bay lodging or Put-in-Bay resort!
How do you get around Put-in-Bay?
The best way to get around on Put in Bay to rent a golf cart from one of the many put-in-bay golf cart rental companies that can be found near both boat service docks, though almost everything is within walking distance if you would like to save money.
Can I get a DUI on a golf cart?
Yes, you can! ALL Ohio state liquor laws apply to Put In Bay the same way they do anywhere else in the state. Be smart and don't mess up your life over an open beer on a golf cart. Everything is within walking distance and if you don't want to walk just call a taxi!
Are cars allowed on Put-in-Bay?
Yes, if you take the Miller Ferry you have the option to bring your car but we recommend you leave it on the mainland due to limited parking and typically hour-plus long wait lines for the ferry. Besides, free parking is offered at the Miller Ferry parking lot.
What is the closest ferry to Cleveland?
The Miller Ferry is the closest ferry dock to Cleveland. Located roughly 80 miles away, guests take a little over 1 hour to arrive at the Miller Ferry on Catawba Island, Ohio. Add an extra 15 minutes or so to get to the Jet Express dock in Port Clinton Ohio on Water St. Sandusky Ohio also has a ferry dock. These are all United States locations. No ferries from Canada as of yet.
How much does it cost to ride the ferry to Put-in-Bay?
Ticket prices vary between ferry companies when you VisitPutinbay. Please check with the particular Boat Line for exact and current rates.
One-way tickets on the Miller Ferry are as follows: $7.50 for Adults, $1.50 for Children (6-11), Children under 5 are FREE.
$18 for Cars, $16 for Motorcycles, and $2.00 for a bicycle
One-way tickets on the Jet Express from Port Clinton: $20 for Adults, $7.50 for Youth (12-16), $3 Child (6-11), 5 & under is FREE.
$5 for Bicycles
Is the ferry running today?
The ferries providing service to Put-in-Bay run every day as long as the weather cooperates. Every year, both ferries temporarily cease operations when Lake Erie freezes over. The Miller Ferry begins service again usually in March and the Jet Express begins their ferry service later on in the year.
What time does Put-in-Bay close?
Put-in-Bay does not "close" per se. The ferries temporarily stop servicing the island during the winter months when the lake is frozen. However, when the ferries aren't running, local islanders use airplanes to fly in groceries and other necessities.
Which ferry should I take to Put-in-Bay?
For those looking to bring their car over, you can only do so by choosing the Miller Ferry. Both ferries are safe and reliable. The Jet Express will drop you off in the downtown Put-in-Bay harbor. Meanwhile, the Miller Ferry unloads passengers and vehicles on the southern tip of South Bass Island.
Testimonials
Jaron B: "Andy picked me and my buddies up from the boat he helped with our luggage and was super cool. His cab was really clean and the ac was cranked. Which was nice. Most cabs don't have ac over there and when they get crowded it gets so hot and uncomfortable. I definitely recommend his services. He drove us around all weekend long. Always in a timely matter. Never had to wait longer than 15 minutes for a ride. The best cab driver I've had on Put in Bay."
Ken M: "Fastest service on the island! Tim "Coconut" Pomps has consistently provided the best ride experience every summer. As soon as I dock, he's is the first one I call and his arrival is within minutes. I have called on Tim for over 10 years and will continue to do so each time I visit!"
Elizabeth S: "We stayed at the Island Club this weekend for a bachelorette party, and Island Club Taxi is the best on the island. The service is great, the taxis are clean & Brad, especially, went above and beyond for our group. Always on time and ready to take care of us. We can't wait to come back." bachelorette