The Island Club Taxi Service is the preferred transportation provider on Put-in-Bay. Their fleet is comprised of 15 passenger vans adorned with their famous Island Club logo. So, look for the palm trees and orange lettering and you are good to go. Also, There drivers are also extremely knowledgeable of the entire island. Enjoy a smooth and fast ride to your destination with Island Club Taxi Service.
Island Club Taxi: The Best Put-in-Bay Taxi Service
The Island Club understands the unique needs of Put-in-Bay Ohio visitors and locals alike. They are well-equipped to transport parties for weddings, conventions, school groups, business meetings, family reunions, and tours. Often utilized for weddings, Island Clubs transports the bridal party to and from the reception. There are a lot of weddings on the island!
They pick up and drop off at the docks as well. Coordinate your arrival time and the friendly van will be waiting for you! The drivers take care of all your luggage to and from the van.
With large groups, simply call them up and they plan all your transportation needs. no matter what Put-in-Bay ferry boat you took to the island, the Jet Express, or the Miller Ferry, you can expect to find Island Club Taxi's waiting for you right when you get off!!
The drivers are all professionals, committed to bringing the best to Put-in-Bay. A member of the Put-in-Bay Chamber of Commerce, the company is a pillar of this community. Passengers feel at ease and may even learn something unique about the island only a local would know!
Transportation and Downtown Put-in-Bay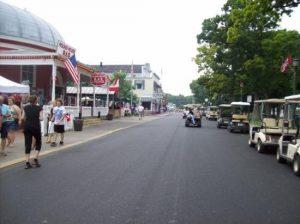 Parking is a nightmare downtown, especially at night. Travel from your cabin or hotel easily with Island Club Taxi Service. That way, you won't spend half your night circling around looking for parking.
Nights can run late downtown. With bars like Mr. Ed's and Mojito Bay going after midnight, late-night service is crucial. Call them up when the partying is over and it's time to go home. Island Club Taxi is available until 3 am during the summer season.  So, Call 419-285-5466 for service.
Put-in-Bay Condos Taxi Service
Are no Island Club taxis available? Don't panic! Just call a Put-in-Bay Condo taxi at (419) 285-2227!
Speaking of Put-in-Bay Condos… Book a stay with them for your next South Bass Island vacation today! Conveniently located by the Put-in-Bay Airport, you get all the benefits of being close to downtown Put-in-Bay without all of the noise.
Why take a taxi instead of renting a golf cart?
There's a lot of reasons you should take taxis instead of renting a golf cart. Reason number one is price: Put-in-Bay golf cart rentals can get pretty pricey, especially on weekends, costing up to $100+ plus for the day depending on the size of the cart and how busy it is on the island. Reason number two is that no matter what, year-round, all of the same road rules and traffic laws that apply to your car on the mainland apply to your Put-in-Bay golf cart. That means you can get a real DUI. Be smart, safe, and don't cause yourself trouble and just take a taxi!
Testimonials
Jaron B: "Andy picked me and my buddies up from the boat he helped with our luggage and was super cool. His cab was really clean and the ac was cranked. Which was nice. Most cabs don't have ac over there and when they get crowded it gets so hot and uncomfortable. I definitely recommend his services. He drove us around all weekend long. Always in a timely matter. Never had to wait longer than 15 minutes for a ride. The best cab driver I've had on Put in Bay."
Ken M: "Fastest service on the island! Tim "Coconut" Pomps has consistently provided the best ride experience every summer. As soon as I dock, he's is the first one I call and his arrival is within minutes. I have called on Tim for over 10 years and will continue to do so each time I visit!"
Elizabeth S: "We stayed at the Island Club this weekend for a bachelorette party, and Island Club Taxi is the best on the island. The service is great, the taxis are clean & Brad, especially, went above and beyond for our group. Always on time and ready to take care of us. We can't wait to come back."