Best Put-in-Bay restaurants
South Bass Island, Ohio is known for a lot of things. Some people think about the attractions, Put-in-Bay resorts, or the many great dining options. The restaurants at put in bay just have a different vibe and you can feel it. With options for everyone, from Caribbean themed for that island feel to just regular standard dining, we've surely got a place for you. Check out this quick list and see what appeals to you!
Mr. Ed's Bar & Grille

Mr. Ed's Bar & Grille is the perfect place to drop in for a quick lunch. Home to Cameo's Pizza, you'll be sure to have a great meal here at Mr. Ed's Bar & Grille. The establishment is full of TVs making it the perfect place for all those Cleveland Sports Fans out there. During busy summer nights, weekend warriors can be entertained with plenty of live music featuring some of the island's best musical talents.
The Boardwalk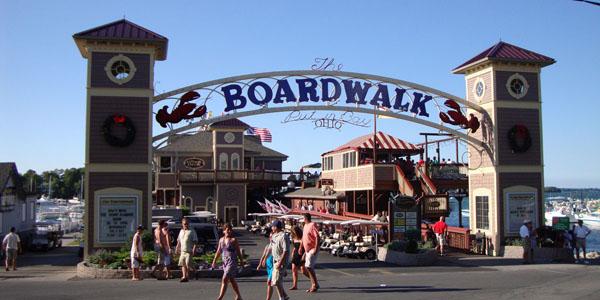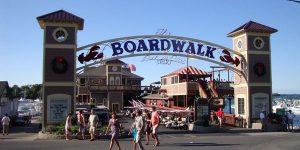 This is probably the most recognizable on the island, the Boardwalk is a staple of downtown Put-in-Bay. Known mostly for their famous lobster bisque, you'll find the rest of the food could be too. Whether its corn dogs for kids or great steaks and other entrees for adults, the whole family can easily find something they like. Want some Bass or Walleye? You'll find best here. Kids meals even come served on a frisbee you get to keep! Check out the Upper Deck for more traditional dining or stay down below for a quick in and out.
Joe's Bar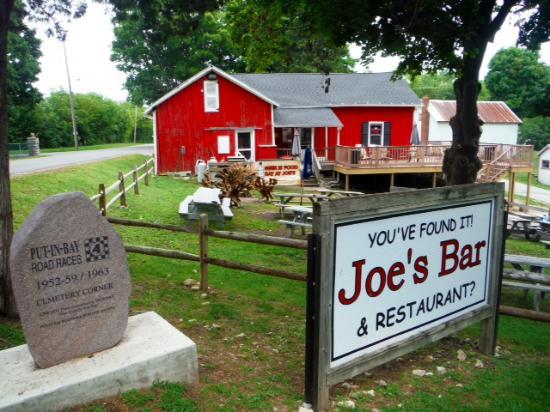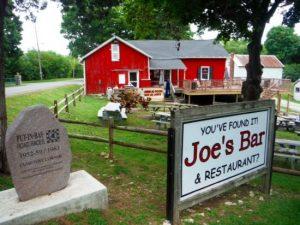 This "5-star dive bar" is definitely a place you do NOT want to miss while visiting the island. Located on Catawba Ave near the Miller Ferry dock, they're one of the only bars outside of downtown an have an amazing set up with great live entertainment and overall great atmosphere. You truly won't find another place like it! Whether you stop there on your way in, way out, or in the middle of you visit, you'll always feel welcome at Joe's! We also wrote a fascination Joe's Bar History Blog if for those interested in reading.
The Goat Soup & Whiskey Tavern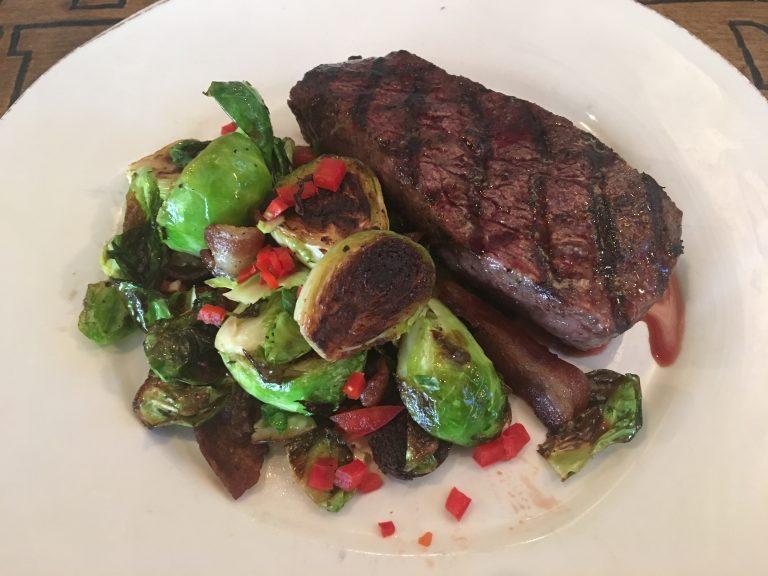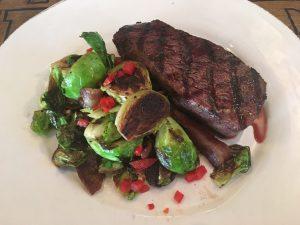 The Goat has some of the island's most exotic food and the restaurant itself is very cool looking. The Put-in-Bay restaurant is located right outside downtown and also includes the Chocolate Museum downstairs! Make sure you check it out and they also have ice cream. Here you can find famous soups and salads, perch tacos, as well as some very unique appetizers you won't find anywhere else on the island. They also feature some great outdoor seating!
Reel Bar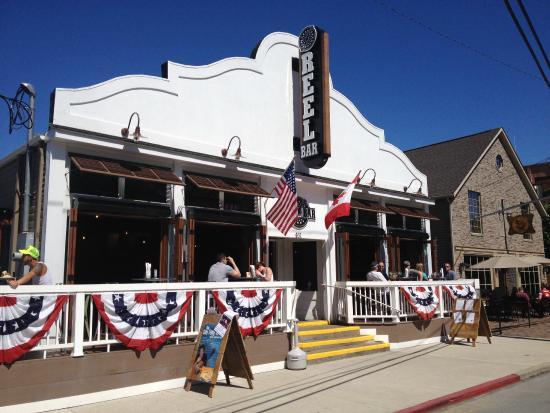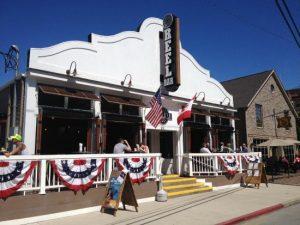 Reel Bar has one of the best burgers on the island and great appetizers as well. They have live music on stage and even though the inside isn't small they're able to make it feel much larger than it really is due to the fact that one side is made up of 3 garage door which can all be opened and lead to a nice patio where you can also dine. We love the Reel Bar!
The Keys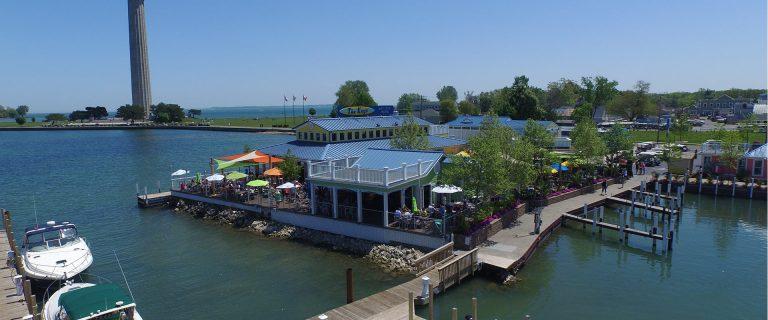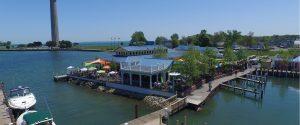 The keys sit on top of Lake Erie and have awesome live entertainment and a great vibe. You can find everything from award winning Lake Erie perch to Italian food along with tons of other options as well. This place is owned by the same family that owns the Boardwalk and you can tell by the great food and great service. Depending on where you're seated you'll either have a great view of the sunset or awesome view of Perry's monument!
Boathouse Bar & Grille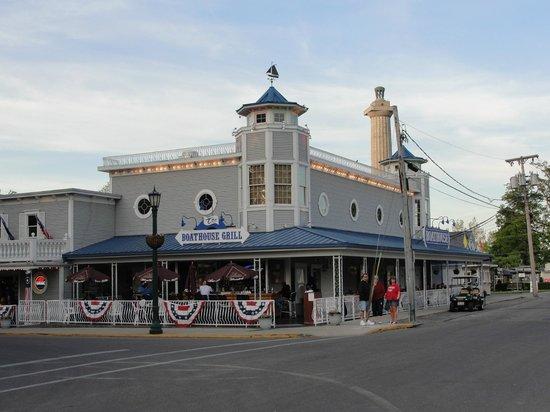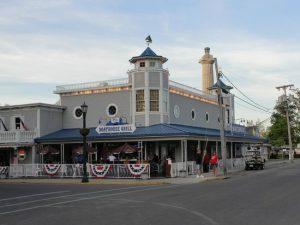 The Boathouse is a local favorite Put-in-Bay restaurant known for their great food, fun and friendly staff, and great location. Here you'll find a awesome stage set up with live entertainment and a deep menu with options for you no matter what you like. They've been around for 50+ years and it isn't for no reason! You can find them across the street from DeRivera Park, and you can check out the Boathouse golf cart rentals in case you need a set of wheels while on the island!
Other Island Bars and Diners
-Blue Marlin Tiki Bar
(439 Loraine Ave )
-Chicken Patio
(234 Delaware Ave)
-Dairy Isle
(213 Bayview Ave)
-Cameo Pizza
(272 Delaware Ave)
-Mr Ed's Bar and Grille
(300 Delaware Ave)
-Frosty Bar & Family Pizza (Includes Big Man's Burrito Stand)
(252 Delaware Ave)
-Hooligans
(421 Co Rd 215 )
-Mossbacks
(371 Catawba Ave)
-Pasquale's Cafe
(234 Delaware Ave)
-Put-in-Bay Brewery & Distillery
(441 Catawba Ave )
-Subway (Late night Dining)
(272 Delaware Ave)
-Topsy Turvey
(361 Bayview Ave)
-Village Bakery
(104 Delaware Ave)
-The Forge -the best crepes on the island
(451 Catawba Ave, Put-In-Bay, OH 43456)