Jet Express Ferry to Put-in-Bay
The Jet Express is now running for the summer and bringing visitors over to Put-in-Bay!
The Jet Express Ferry provides water transport for passengers heading to South Bass Island and Kelley's Island Ohio from their mainland port locations.  Onboard, passengers can expect a comfortable, smooth ride while taking in the views of several Lake Erie Islands. In addition, the ferry arrives right in the middle of all the downtown Put-in-Bay action!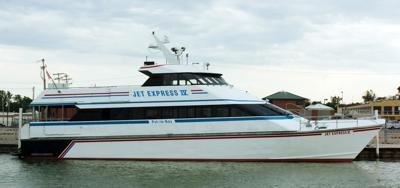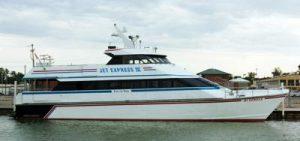 Getting There is Just Part of the Fun!
Passengers aboard the Jet Express are afforded great seating options for their experience.  First, guests can choose to find a seat in the comfortably appointed interior cabin.  Here, padded seats and tables fill the area, providing ample seating space.  Otherwise, passengers can sit atop the boat on an open-air deck.
Regardless, the destination is the same: Put-In-Bay!  The Jet Express whisks guests to the island in comfort and style.  Take the Jet for an exceptional experience: It's Worth It! The aluminum catamaran whips around the western shores of South Bass Island before docking at the downtown Put-in-Bay marina. On the way, you'll see views of South Bass Island State Park, The Benson Ford Shiphouse, Gibraltar Island, and many other surrounding Lake Erie Islands.
Navigating From Jet Express Dock on Put in Bay
After making the trek across Lake Erie, passengers are dropped off directly downtown. From here, the majority of the best Put-In-Bay Bars and Things to Do can be reached.  Also, for guests needing a Put-In-Bay Taxi, they are waiting at the dock.  Simply look for an Island Club or Put-In-Bay Condo Taxi.
Another popular option is a golf cart.  Golf cart rental services are located in close proximity to the Jet Express dock.  This mode of transport opens up many options.  Guests can choose to see a side of South Bass Island they may have not seen before.  Lastly, for many guests, simply walking across DeRivera Park is enough.  Here, so many activities and events keep the island times rolling.
Once you are off the boat, take a walk through DeRivera Park and plan out your trip. If you like to plan ahead, you can always do some research of all of the Things to do and Put-in-Bay attractions. There truly is something for everyone!
Set Your Clock to Island Time
A trip to the Lake Erie Islands and Put-In-Bay is best done with the Jet Express.  The comfortable conditions on board, the sights along the way, and impeccable safety record make them an excellent choice.
Unwind at your favorite Put-in-Bay bar and set your watch to the island. For first-timers, we recommend checking out Mr. Ed's Bar & Grille especially if you are a Cleveland sports and Ohio State Buckeye fan. If you like the finer things in life, check out the Upper Deck at The Boardwalk. We guarantee you will not run out of activities to do and places to see during your visit to Put-in-Bay.
The real question is why not stay?  We have an impressive selection of Put-In-Bay Lodging options for all size groups.  Please take the time and review our great properties.  Everyone needs some time away, so Book Yours Today!
Frequently Asked Questions
How to get to the Port Clinton dock?
We suggest using Google Maps or Waze to outsmart traffic on your way to the ferry. The address to the Jet Express ticket window is: 3 N. Monroe St. Port Clinton, OH 43452. If you already have your tickets and are looking for the parking lot, the address is: 49 Jackson St. Port Clinton, OH 43452. People visiting from Cleveland can expect to arrive in roughly 1 hour.
How much are round trip tickets to Put-in-Bay?
Round trip tickets vary between the two departure locations. Here is a breakdown of their pricing:
From Port Clinton: Adults $35 – Youth (12-16) $15 – Children (6-11) $6 – Children (5 & under) FREE – Bicycles $10
From Sandusky: Adults $40 – Youth (12-16) $15 – Children (6-11) $6 – Children (5 & under) FREE – Bicycles $10
One way tickets:
From Port Clinton: Adults $20 – Youth (12-16) $7.50 – Children (6-11) $3 – Children (5 & under) FREE – Bicycles $5
From Sandusky: Adults $23 – Youth (12-16) $7.50 – Children (6-11) $3 – Children (5 & under) FREE – Bicycles $5
Is there a bar at the Jet Express?
The JETBAR is located at their Port Clinton ferry dock. As you wait for your Put-in-Bay ferry, enjoy your choice between wine, beer, or spirits at the full-service bar. Don't drink too much as there will plenty of more bars at your final destination! There is no bar on the Jet Express boat and the consumption of alcohol is not allowed on the boat. However, feel free to bring your own coolers, food, and beverages onto the ferry boat.
What is the fastest way to Put-in-Bay?
The Jet Express is the fastest ferry to Put-in-Bay.  The catamaran motor vessel travels at speeds of 40 mph across the Lake Erie waters to provide safe passage to Put-in-Bay. In times of bad weather, in order to provide a safe ferry service, the captain will slow down to a safer speed.
Does the Jet Express provide service to Kelleys Island?
The Jet Express goes to Kelley's Island exclusively from their Sandusky dock. The address of the Jet Express in Sandusky is 101 W Shoreline Dr, Sandusky, OH 44870. According to their website, the ferry ride over takes roughly 40 minutes and covers over 18 miles of Lake Erie.
Can you get to Put-in-Bay from Sandusky?
Yes. The Jet Express offers a ferry service that departs from Sandusky and arrives at Put-in-Bay. Round trip tickets are $40 for adults, $15 for youth, $6 for children. Anyone aged 5 & under ride for free and there is an additional $10 fare if you wish to bring your bicycle.
Does the Jet Express go to Cedar Point?
Yes. The Jet Express goes to the famous Cedar Point amusement park. It only offers transportation to Cedar Point from its Sandusky dock. Round trip tickets to Cedar Point are $10 for adults, $7 for youth, $5 for children, and all those under 5 years of age travel for free! The additional $10 fee for bicycles still applies.
Does the Jet Express Arrive in downtown Put-in-Bay?
The Jet Express arrives in the heart of all the downtown action. Once off the ferry boat, you are just step away from all the downtown bars and restaurants. Try the famous lobster bisque from The Boardwalk or try the fish tacos at The Keys. Thirsty travelers can find comfort in Mr. Eds, The Roundhouse, and every other bar on the Delaware Ave strip.
Are there restrooms onboard?
The Jet Express has restrooms on board all of the ferries. In addition, all docks will have restrooms available.
Are there any late-night ferries?
The Jet Express boat line offers a late-night service for day visitors wishing to get a feel of the vibrant Put-in-bay nightlife scene. On weekends and other busy days with island events, the last ferry usually departs Put-in-Bay around 11:45 pm. Be sure to check the Jet Express schedule as it is subject to change.
Testimonials
Nancy: "It was a perfect place for our family to stay. The home was clean. We rented a golf cart which was the best way to get around on the island. On Sunday we went swimming in the pool. Overall everyone had enough space and felt comfortable. Thanks!"
Joseph: "Host was accessible if any questions existed. House was as we anticipated and was good for our larger group. This was a very good location and we enjoyed our stay."
Justin: "Everything was exactly as described and suited our needs for our stay. We had 10 guests and the house accommodated us well. The arrival process was simple and smooth. Would definitely stay again!