The Commodore Resort combines partying and luxury to create an unforgettable summer on Put-in-Bay. CHECK AVAILABILITY! With a wide range of room options, groups from two to eight are all welcomed here. The rooms are stylish and comfortable. Each room is well-appointed with all the necessities one needs for the summer. You can MAKE A RESERVATION for the Commodore Resort easily by clicking that link.
The Lap of Luxury
The King Jacuzzi room is one of the Commodore Resorts signatures. This amazing room features your very own jacuzzi, big bed, and flat screen TV. A perfect place for a romantic getaway.
The Commodore campus includes two buildings. The original building includes smoking rooms. Large groups sleep easy in rooms with 3 to 4 double rooms. Each room comes equipped with modern conveniences for all your needs.
Amenities
Bath / Shower in the bathroom
High Speed Free WiFi
Free Cable Television
Refrigerator
Microwave
Hairdryer
Iron and Ironing Board
Golf cart rentals are available for guests to tour the island. The ideal way to get around, Put-in-Bay, enjoy zooming from destination to destination. There is no end to the attractions of Put-in-Bay. If you feel like spending most of your time at the Commodore, there are plenty of things to do!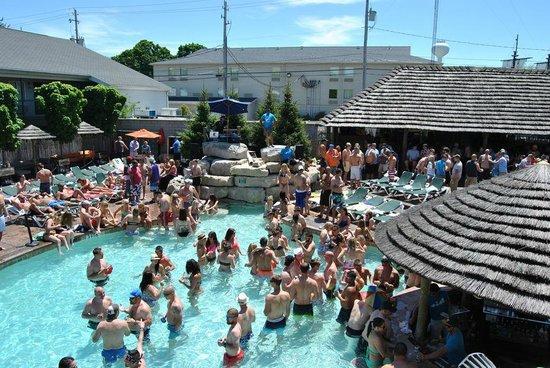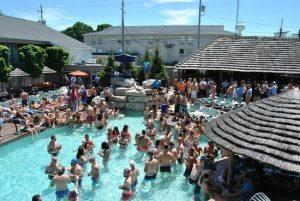 Home to island favorites such as Mr. Ed's Bar and Grill, The Green Room Nightclub, and the fabulous swim-up bar, MIST. MIST keeps the party going on a day long with DJ's spinning, private cabanas available for rental, and delicious cocktails. Every night features a fabulous light show.
Mr. Ed's dishes out incredible food, live music, and a friendly atmosphere. The Green Room keeps you dancing into the wee hours. It is also available for private parties. Subway is located in the lobby of the hotel so you can grab a quick, healthy bite before heading back to the pool or out on the boat.
Come spend your summers at The Commodore!
Testimonials
Jessica S: "A group of girlfriends and I came down from Alaska to visit our favorite band, Splendid Chaos, for Labor Day weekend. We stayed at the Commodore Resort the time we were there. It did not disappoint. I will never stay anywhere else and cannot wait to visit again. The stay was amazing, no complaints at all. By the time we left, it felt like we were leaving friends behind. The staff was absolutely great and some of the best people I have ever had the pleasure of meeting. I love this place! Super clean and comfortable. Cannot wait to visit Lake Erie again!"
Robert A: "We stayed at the Commodore twice in August and had a wonderful time. It's located downtown where all of the restaurants and nightlife are. Our rooms were spotless, beds comfortable and towels were thick and clean. I was impressed when I arrived at my room and the housekeeper was wiping down the headboard and just going to town dusting. There was a small fridge and microwave and the beds were comfy. The manager Kelly was very professional and made sure our stay went well. The night desk guy Joshua was really cool to talk to and went the extra mile. It's nice having a Subway in the lobby that is open until 3 AM. They have one of the most popular swim-up bars and pools on the island. Mist is always rocking! "
Sam L: "My wife and I stayed here at South Bass Island, Ohio mid-week for a couple of nights last week and liked it well enough. The worst part was finding it as it is hidden from the street. Coming from the jet express dock use the sidewalk into Mr. Ed's bar and keep going till it ends. The smoking room we had was nothing fancy but was clean and overlooked the pool, I loved the ear plugs and my wife really liked the makeup removal wipes which were a nice touch that many places well above this place in price do not offer on Put-in-Bay Island. Check-in and out was fast and easy, the lobby has a subway sandwich shop in it that is open till 3 am, which is nice after a late night in Mr. Ed's. You can literally go out the back door of the bar which leads into the hotel and the lobby. For the price and location, we will for sure go back again."
https://www.commodoreresort.com
Other Put-in-Bay hotels and Put-in-Bay Resorts:
Top 3
Put-in-Bay Ohio has a wide variety of vacation rentals: hotel rooms, resorts, and rental homes, and each of those could be Lakeview, hidden away in the woods, or right in the heart of downtown Put-in-Bay. Once you decide where you want to stay you get to choose what you're going to do while you're here. With so many options it can be tough to decide, but a few notable Put-in-Bay attractions are:
Perry's Victory and International Peace Memorial (Perry's Monument)
South Bass Island Lighthouse
Perry's Cave and Family Fun Center
To get to the island you can either take the Jet Express from Port Clinton and Sandusky or take the Miller Ferry from Catawba. For more info on the current schedules click here for the Jet Express or click here for the Miller Ferry schedule.