Dive into Put-in-Bay's hottest, wettest pool bar. MIST Pool Bar packs in all the fun of a high-end nightclub with the luxuries of a resort pool. Two waterfalls cascade into the pool while the local DJs spin during the weekends. The 2000 square foot pool is climate controlled and refreshing. When the sun goes down, the lights turn up. Every night features a breathtaking light show.
Play The Day Away At MIST
The full-service swim-up bar serves handcrafted and unique cocktails. Cabanas and lounge chairs line the pool. Layout and work on your tan while you sip your drink or get wet in the pool with all your new friends. Weekends are hopping and weekdays are super chill so pick your vibe and head to MIST.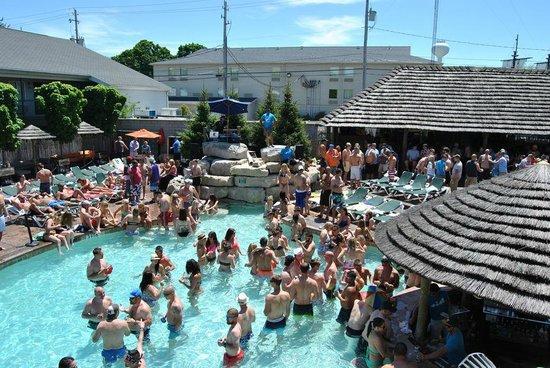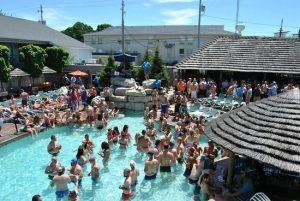 In The Heart of Downtown
Conveniently located right behind Mr. Ed's Bar and Grille, MIST is right in the middle of downtown Put-in-Bay. Whenever you need to fuel up from all that partying, head to Mr. Ed's for the legendary chicken chunks, or grab a sub at the Subway in the Commodore lobby.
MIST Pool Bar is situated in Commodore but managed by Mr. Ed's. This means anyone can party at MIST so invite your whole crew for poolside fun.
Be A MIST Pool Bar VIP
The VIP Cabanas at MIST are a must when it comes to private events. Reserve today for your next party and enjoy all the deluxe services right at your fingertips. Bottle service is available as is your personal cabana attendant to attend to your every need. Guests can order from Mr. Ed's Bar and Grille or Subway and have it delivered right to your cabana. What more can you ask for!
Summer's at MIST includes a full entertainment schedule and lots of fun activities. We look forward to seeing you at MIST!
Testimonials
Bob A: "We planned a trip to the Commodore Resort for Labor Day weekend to see one of our favorite bands play. It was also a sort of farewell to the lead singer. As always…we had a wonderful time. The staff at both the Commodore Resort and their bar, Mr. Eds, which is attached were overly accommodating as usual. The Mist pool bar was a happening place, to say the least… it's always the place to be for a great time. We will be staying here again very soon! Already booked for New Years' in Sept., the Fall Ball, and Halloween weekend Oct 24-26th. Hope they don't get sick of us by then! Just love this place."
Brad Y: "The Commodore Hotel at Put-in-Bay on South Bass Island in the western basin of Lake Erie features a one of kind swim-up bar "MIST". This is the ultimate in pure pleasure in the water, with it's cascading waterfall in the pool, and a comfy seat at the in-pool Tiki bar, it just doesn't get any better. They also feature private cabanas poolside with your own waiter to take care of whatever you need. The place is huge and the people are terrific from the staff to the customers from all over the country. MIST is truly an adult entertainment facility and well worth a stop in your travels. You can stay at the Commodore Hotel, which is really nice or just pop in for a day of fun in the sun at MIST!!! The hotel also features Mr. Ed"s Bar with great food and entertainment most nights. I am told the place is also available for private parties. Try it, you will return again and again!!"
Nikki E: "This past weekend I stayed at the Commodore Resort for my sister's bachelorette party. We had the best time. The staff was so nice and hospitable. All-day Friday and Saturday we were are The Mist which was gorgeous and so much fun. They have a Subway in their lobby that was open til 3 am, which was so convenient when we were coming home from the bars late at night. I would definitely stay here again and recommend this to my friends and family!"