The Put-in-Bay Waterfront Condos are luxury island living at its finest. With waterfront views,  swimming pool, and perfectly appointed lakefront condos, your perfect Put-in-Bay island vacation starts here. Make a reservation here to book one of these exquisite condos!
Whether you vacation with a crew of your closest friends or take a break with your family, The Put-in-Bay Condos has everything you need. Located right next to the airport, this is some of the best real estate of the island.  Guests can also take advantage of the convenient Golf Cart Rental onsite.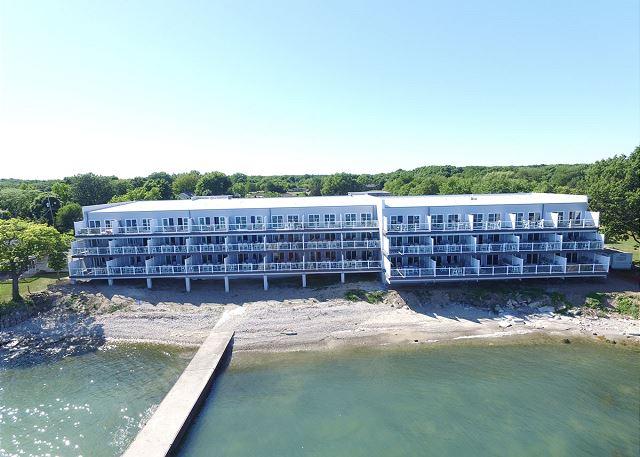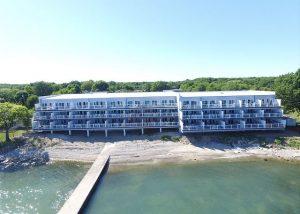 Besides the azure outdoor pool, there is a volleyball court, barbecue grills, and golf cart rentals on-site.
On the Waterfront
Each lower and upper level units in the newly constructed Waterfront Condos include new high speed WiFi, lakeside decks, pool access, and enough living room for up to 12 guests. Every condo has a full kitchen and full bath(s). There's nothing more pleasant than grilling out and enjoying your dinner al fresco with a glass of while taking in the sunset over Lake Erie
After check-in Guests access their homes through coded door locks. The interior of the condos are stylish and comfortable. The sliding glass doors allow the light in and each unit includes flat screen TV's.
Corporate Events
The Put-in-Bay Waterfront Condos are an ideal choice for your next corporate getaway. The relaxed vibe of Put-in-Bay is a welcomed retreat from the fast paced business world. There are plenty of activities on the island for team building activities and when it is time to relax, downtown Put-in-Bay is full of delicious restaurants and a lively nightlife.
Put in Bay Ohio
There's endless fun to be had at the bay! Check out one of the tallest monuments in America, Perry's Victory and International Peace Memorial, and then head to Perry's Cave and Family Fun Center for some mini golf or gemstone mining. Somehow run out of things to do? Head on a ferry to go see some other Lake Erie islands. Take the Sonny-S at the Boardwalk to go to Middle Bass Island, or buy a ticket on the Jet Express to go see Kelley's Island!
Put-in-Bay Ferry's
To get to Put in Bay you have two options: The Jet Express and the Miller Ferry. The Miller comes from Catawba Island Point in Port Clinton and the Jet comes from both Sandusky and Port Clinton as well. There is no ferry from Toledo. Rates do not change from midweek to weekend.
Testimonials
Julie D: "Our whole family considers this our home away from home. Lots of space for everyone. The view is amazing, with Lake Erie right off your spacious back balcony. The staff is always so helpful and friendly. Full kitchen so you can cook some of your own meals. If you don't want to cook, you are just a couple minutes from the restaurants in town. Has a nice clean pool a couple of steps from your front door. We love this place and tell everyone we know to stay here when they visit South Bass Island."
Ashlee R: "We didn't need anything extra in our rental, as there were no issues encountered… but if we did, the owner is available all day and night it seems at their main number. We have traveled to a lot of vacation rentals growing up, and that is almost unheard of from what I remember. So that offered great peace of mind to my Mom when we forgot the door code at 2am and the staff was able to give it to us when we called at 2am. Tony was also kind enough to give us a ride back to the boat ferry in the morning when our taxi never came. Nice amenities, and a great private deck where we sat and looked out over Lake Erie. This is one of my first reviews so hope it all makes sense!"
Tracy L: "We vacation every year at Put-in-Bay and have stayed many different places. This was our first time staying at the Water Front Put-in-Bay Condos, and we loved it! The unit was very clean, the bedrooms were comfortable. The views of the water were stunning. We fixed several meals in the unit rather than eating out, to save money. The kitchen had everything we needed (except salt and pepper – don't forget to bring that if you need it). The golf carts are cheaper than in town, and you can keep them overnight. The pool was clean and nice, and perfect for kids. Overall, we would definitely recommend this to families who want to be close to downtown, but would prefer a quiet place to stay."
Put-in-Bay
Take your golf cart into downtown and take advantage of everything Put-in-Bay has to offer. From jumping nightclubs like The Green Room, as well as neighborhood bars like Frosty Bar, and cuisines from crepes, to Florida specialties, and of course, all the perch and walleye you can eat, no one goes hungry on this island.
There's something for everyone on Put-in-Bay, from the fisherman, to families and even history buffs. An important location during the War of 1812, there are plenty of historical sites to tour.
Other Put-in-Bay Hotels and Rental Homes
Check out the Island Club for the best home rentals on the island! They're great for everything from family reunions to bachelorette parties, and with the great vibes and prime location, and their very own taxi service, it's surely one of the best put in bay lodging choice you'll find.
Bird's Nest is located right across the street from the Put-in-Bay Airport and was just recently renovated completely by the new owner. They have brand new rooms, stand-alone lake view cabins, refinished pool, high speed free WiFi, new tiki bar, and much more all for the best prices on the island! Book now before they sell out!!!
Put in Bay, oh 43456