Put-in-Bay Golf Cart Reservation Center
Put in Bay Golf Cart Rentals are available to rent by the hour, rent daily, and overnight from the Put in Bay Golf Cart Depot.  BOOK NOW to ensure you have your way around the bay! We have high-quality brand new Yamaha Golf Carts.  Don't putz around on a slow electric cart when you can zoom around in a gas-powered passenger golf cart.   Put-in-Bay cart rentals are available in two-person, four-person, and six-person configurations. With so many things to do in Put-in-Bay, these are almost a necessity! Call 419-800-2278 for more information!
Throughout the season where the island hosts thousands of tourists, there is no better way to get around than our Put-in-Bay cart rentals. Put-in-Bay cart rentals allow for visitors to be on their own time when cruising around. We suggest asking for a Put-in-Bay map to make your own island checklist.

Meet the Put in Bay Golf Cart Depot Rental Fleet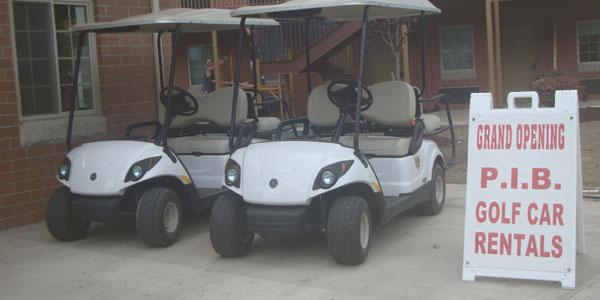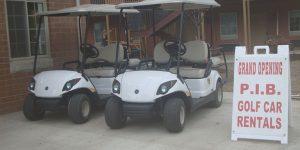 Put-in-Bay Golf Cart Depot has the Hottest New Carts – Call 419-800-2278
The 4 person carts and 6 person golf carts are your passport for transport. Moreover, these golf cart rentals are available overnight and weekly. We have a newer fleet of Yamaha fuel-injected carts that will enhance your visit to South Bass Island. Furthermore, they achieve over 35 MPG.  So, running out of gas is never an issue for your multiple days or weekly golf cart rentals. These carts leave the rest of the Golf Cart Rental Put in Bay in the dust!
If you really want to step up your game, try one of our Custom Yamaha Adventurer Sports. These carts offer a 3-inch lift kit with custom taillights, sporty tires, and wheels.  Also, there is a fold-down back seat for hauling groceries or gear if needed. These are the finest rentals available on P.I.B., offering great value in your overall experience.  The golf cart rentals at  Put in Bay typically will rent from April through September.
Renters of Golf Carts on Put-In-Bay will need a valid driver's license, be at least 18 years of age, and sign a rental contract. Please remember that Put-in-Bay golf carts are licensed vehicles on the state of Ohio roads, and as such are subject to the same traffic laws that cars would be subject to in Cleveland or Toledo!
Island Club Golf Carts and Put-In-Bay Condo Golf Carts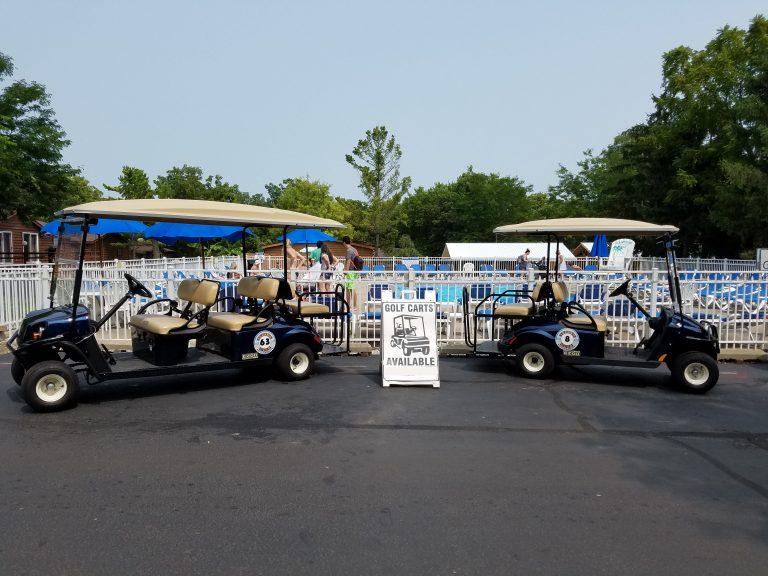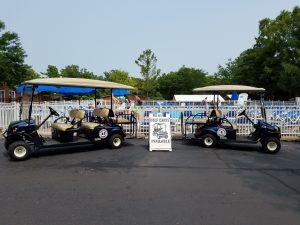 EXCLUSIVELY FOR GUESTS OF THE ISLAND CLUB HOME RENTALS OR PUT-IN-BAY CONDO RENTALS: You can also book a golf cart directly through your rental organization. Rent a golf cart with Island Club Golf Carts and it will be waiting at your house when you arrive. The same is true at the Put-in-Bay Condo Golf Carts. It is easy and convenient!
Explore the Village of Put-In-Bay and the rest of South Bass Island on more than 9 miles of paved roadways.   Take in scenic vistas and admire the Victorian charm of the island.  A Golf Cart Rental on Put in Bay is great for transportation to your Hotel. You can also check out all the Put-in-Bay restaurants and bars in no time at all! Call 216-898-9951 to reserve an Island Club Golf Cart.
The 2 passenger electric golf carts are a fun and quick way for couples to cruise the island for the day. If you're bringing the kids, our 4 passenger electric golf cart will be a great choice. The Golf Carts are equipped with safety features. These include retractable seat belts to keep your precious cargo safe and secure, windshield, and reflective markers. Additionally, the ride is smooth and quiet due to being an electric Put in Bay Golf Cart Rental.
Why Choose A Put in Bay Golf Cart Rental from Us?
Electric and Gas Golf Cart Rentals
Competitive Pricing
Location Near all Put in Bay Hotels and Put-in-Bay Lodging
Short Walk from Put in Bay Ferry, Jet Express
Locations right at Island Club Rentals and Put-in-Bay Condos
Courteous, Helpful Staff
Put-In-Bay Bike Rentals and More!
Also, we are offering an ELECTRIC ASSIST BICYCLE for a new way to see the island. Get your exercise, but have some help along the way. These will be on a limited supply basis, so please call for info about both the Bicycles and the Golf Cart Rentals.  Our Put-In-Bay Golf Cart Rental Agency strives to provide our guests with a fun and safe way and fun way to get to all of the great Put-In-Bay Attractions.  Furthermore, when you visit Put-In-Bay, we want you to return with memories to cherish and the yearning to return to our little island in Lake Erie.
Whether you just left the Miller Dock or your Put-In-Bay Hotel, an excellent Put in Bay Golf Cart Rental or Bike Rental awaits.  Rent for a few hours and see what you can.  Rent for the whole day and take you and your passengers to a place and location like no other. Put-in-Bay Condo guests are encouraged to call 216-898-1105 to reserve their carts before arrival.
Golf Cart Rental Put in Bay is a fun way to see the island in April during the annual Pajama Party at Mr. Ed's and for the thrilling Boaters New Years' in September.  No matter the time,  Put-in-Bay golf carts are the way to see the island.  Cruise through downtown Put-In-Bay while taking in the scene.  Remember, golf carts are insured motor vehicles and the same laws apply.  So, be sure to use turn signals and follow all laws and regulations of a regular licensed motor vehicle.
We Care About Our Community
We are proud to support our local economy. All of the Put-in-Bay Golf Cart Depot Golf Carts are powered by Crown Battery of Fremont, Ohio.  Also, the owners of the Golf Cart Depot are actively involved in fundraising efforts for the greater good of the community.  Their efforts have helped local families who are struggling to have gifts to give to their children on Christmas. In addition, it is our duty to make sure that our renters are safe. We need to make it clear to our guests that the Put-in-Bay Police Department strictly enforces drunk driving. All of our Put-in-Bay cart rentals are subject to the same traffic laws as other licensed vehicles. Please avoid drinking and driving for the safety of the community. Headed to the Put-in-Bay bars? Please take a taxi for just $3 per person. It is far cheaper than paying for a DUI.
Getting To Put in Bay Golf Cart Rentals
Put-in-Bay Golf Cart Depot and Victory Station Hotel are located on Catawba Avenue, just a short walk from the downtown Jet Express ferry, next to the Reel Bar.  Also, the location can be easily found from the Miller Ferry Dock.  A Put-in-Bay Taxi is always available at either ferry dock.  Simply drive down Langram and turn on Concord Ave.  After passing the Put-In-Bay School, turn right.  The Golf Cart Depot for Put-in-Bay, oh 43456 is up the road on the left.
If you are staying at the Put-in-Bay Island Club Home Rentals or the Put-in-Bay Waterfront Condos, then you have it even easier! All of their golf carts are located on-site and they have them ready and waiting at your front door if you make a reservation prior to arrival. You simply have to call their office and they will send over an employee to hand you your golf cart keys and a contract to sign and the cart is yours for the duration of your rental!  The Island Club Golf Cart Rental and Put-In-Bay Condo Golf Cart Rental feature late-model Club Car and EZ GO gas Golf Carts.
Make Your Address Put-In-Bay, Ohio 43456 for a Night, or Two!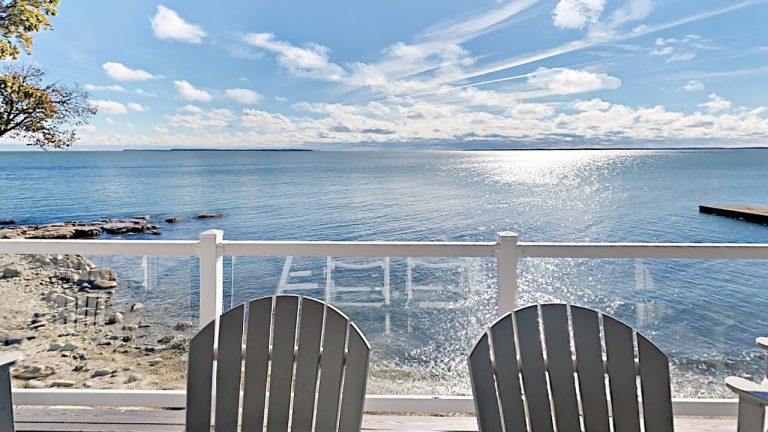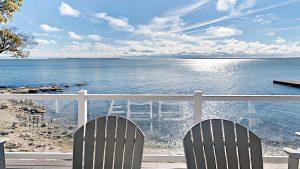 Our Put-In-Bay Golf Cart Partners offer overnight rentals.  Therefore, guests can take a Put-In-Bay Ferry to the island and rely on the fun and convenient golf cart for getting around.  Stay at one of the choice Bay Lodging Choices, and have a getaway.   Take in spectacular views of Lake Erie, catch an island Entertainer on Delaware Ave or simply sit by the Miller Ferry Dock and watch the island lovers make landfall. Whether you need a day rental on a weekday or an overnight golf cart rental, there is an option for you!
With great rental rates for both Put-In-Bay Golf Cart Rentals and Hotels and Resorts, the choice is easy!  For more information about Lodging, Island Events, and more, Explore this site for a wealth of information. And let us be the first to say, welcome to Put-in-Bay!
Frequently Asked Questions
How much are golf cart rentals on Put-in-Bay?
Prices can vary depending on the time of year and holidays but expect to pay around $10 an hour for 2 person carts $12 per hour for a 4 person cart and $18 per hour for 6 person carts. Daily rates can range anywhere from $60 to $100+ depending on the size of your golf cart. The Put-in-Bay Golf Cart Depot offers the best rental rates for those coming up for the day or staying at the Commodore Resort. In addition, Island Club Golf Cart Rentals and Put-in-Bay Condos Golf Carts offer exclusive deals to guests staying at either property.
How do you get around on Put-in-Bay?
Getting around on Put-in-Bay is a blast. Golf Carts riddle the streets as visitors bounce around from all the different island attractions. Larger vehicles are allowed on the roads just like anywhere else. However, larger vehicles like cars and trucks will have a hard time finding parking. This is why we recommend guests leave their cars at the safe parking lots offered by the Miller Ferry and Jet Express.  In conclusion, golf cart rentals are the way to go!
Can you bring your own golf cart to Put-in-Bay?
Yes, guests who already own their own golf cart can bring it over to Put-in-bay with the Miller Ferry. Golf carts on Put-in-Bay are considered licensed motor vehicles and must have the proper registration with the State of Ohio. Without proper registration, your golf cart will be considered an illegal, unregistered vehicle. The Put-in-Bay Police has the right to take legal action against any illegal vehicles found on the roads.
How old do you have to be to rent a golf cart on Put-in-Bay?
Guests and visitors wishing to rent a golf cart on Put-in-Bay must be 18 years of age. Additionally, guests must have a valid driver's license to rent any golf cart on the island. Guests, either the age of 18 or without a valid driver's license will be denied access to any golf cart rental.
Are there golf cart rentals in downtown Put-in-Bay?
The downtown Put-in-Bay area has plenty of options when it comes to golf cart rentals. The Put-in-Bay Golf Cart Depot, located next to the Victory Hotel, has golf carts in excellent condition available for rent. Other downtown golf cart rental agencies include Island Bike & Cart Rental, Village Carts, and A&B Golf cart rentals. Download an Island Guide and chart your course!
Testimonials
Fredrick W: "Great carts, great people. Call or email to get correct hours. We went to all the sights like the Lighthouse and the Perry Family Putt Putt."
Jessica N: "Quick service and fair prices! Carts were new and faster than all the other rental places! Will use for next trip!"
Shaun S: "They are right downtown by the beer barrel. The carts are newer the prices are better and the people are very nice. I like these Yamaha carts better"
Adam L: "The golf carts are the best way to get around the island. It was one of the highlights of our weekend trip to Put-in-Bay."
Other Golf Cart Rentals
Island Bike & Cart Rental
Located on Langram Rd, IBR is right at the top of the hill when you come to the island on-board the Miller Ferry, and in the same lot as the jet express making them the only company with two locations. However, keep in mind that you can't return a cart rented from one location to the other.  With a great selection of gas and electric carts, and sizes varying from 2, 4, and 6 passengers golf carts, Island Bike & Cart Rental is a great choice for anyone who wants high quality and reliable transportation while enjoying the island. They offer overnight rentals and also have bikes!
E's Put-In-Bay Golf Carts
Owned by the same family that owns the Miller Ferry, E's is the second company you'll come across when you get off the boat. Their golf carts are white with a red lower case "e's" printed on the side and they also have 2, 4, and 6 passenger carts, however, they do not offer overnight rentals. You can often expect to receive some sort of coupon if you take the ferry and I'd recommend taking advantage of these offers.
Village Carts
Located in downtown Put In Bay, Village Carts are known for their somewhat wacky variety of different carts and other types of vehicles. They offer 2, 4, and 6 passenger golf carts but do not offer overnight rentals. with only a short walk from the jet express, they are also a great option to avoid lines at other companies or if you need to find carts when others are sold out.
Erie Island Carts
Erie Island Carts is located about a 5-minute walk from the ferry and they also offer an 8 passenger option to go along with the regular 2, 4, and 6 passenger cart options in case you brought the whole family. However, they do not offer overnight rentals. You can either book ahead online or go straight there to find your island transportation.
Delaware Carts
Delaware Carts offers carts and can be reserved ahead online or in person. You must be at least 18 years of age to rent. Drivers must have a valid driver's license and they accept payment forms such as Visa, Mastercard, American Express, and Discover for their required damage/security deposit, and/or cash for the required payments.