BOOK ONLINE to reserve a Put-in-Bay Condo cart before your trip or call 419-857-2278 with questions!
Welcome to Put-in-Bay! The Put-In-Bay Condo Golf Carts Rental offers vehicles for rent to the guests of the Waterfront and Pool View Condos. Moreover, our gas-powered carts are among the newest on the island. They were purchased new in 2018. Therefore, they are reliable transportation on South Bass Island. We also have Electric carts. We have day rentals and overnight rentals. Weekday and weekend rental rates could vary but just ask about it when you make your reservation. Book now!
We have 4 and 6 person golf carts. All passenger golf carts are licensed motor vehicles and operators must follow all traffic laws and road rules. You can get a DUI on a cart so be mindful when you choose an overnight golf cart rental.
Reserving your condo golf carts well in advance is highly recommended. During the busiest times of the season, it is not uncommon for there to be a shortage of carts available. In fact, there are times that every rentable cart on the island is occupied! Don't be left out, plan ahead.
Therefore, if you plan on having a cart for your Lake Erie Island Adventure, it is advised to make advance plans. Then, you and your guests will be able to see the island in style!
Why Rent Condo Golf Carts?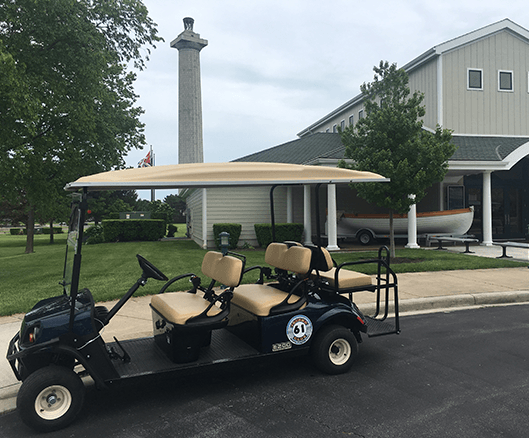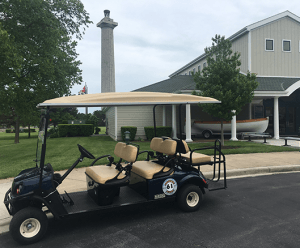 The answer is quite simple: they are fun!  Cruising around with one of the condo golf carts on Put-In-Bay puts the island in a different perspective.  The leisurely pace puts one at ease and helps with the transition to island time.
With island transportation, guests can choose their own fun adventure.  With a wealth of excellent events and awesome attractions, the advantages of a cart are immense.  All in one day can renters see much of the beautiful island of Put in Bay. Visit http://www.putinbaycondogolfcarts.com/ to book your cart online!
Choose Your Dates and Hop on a Put-In-Bay Ferry
The answer isn't if, it is when are you coming to Put-In-Bay Ohio?  With so much fun on one small island, not coming is not an option.  Fortunately, this resource is teeming with information about all things about the island. You simply can't find any better island information. And no better golf cart rentals than at http://www.putinbaycondogolfcarts.com/
Browse the Event Calendar and pick out an island event.  Check with our Lodging Partners and RESERVE your spot today. Call 216-898-1105 for more information. Golf Carts are the best way to see all of your favorite Put-in-Bay attractions. Visit Put-in-Bay today!!
The two ferries are the Jet Express and the Miller Ferry. You can catch the Jet from Sandusky or Port Clinton and the Miller comes from Catawba. The Jet Express ferry dock comes in right in downtown Put-in-Bay on Delaware Ave and the Miller dock is a little further away, down Langram Rd. Look for an island Club taxi when you get there!
Traffic Laws
All of the exact same as they are in a car on the mainland when you're in a golf cart here. To operate the vehicle you must be at least 16 years of age (or older depending on the rental agency's requirement) with a valid driver's license. All golf carts are equipped with taillights, headlights, turn signals, and seat belts that must be worn at all times. All person carts are registered and recognized as licensed motor vehicles.
Put-in-Bay Lodging
Put-in-Bay Island has some of the most amazing lodgings you'll see. With different types of home rentals, resorts, and Put-in-Bay hotels, you're sure to see something that's perfect for you. Our three other favorite places to stay are Island Club, Bird's Nest Resort, and the Commodore resort. You can also rent from island Club Golf Cart Rentals if you stay with them! They have gas and electric golf carts. Feel free to ask condo staff for an island guide or map for your favorite Put-in-Bay attractions.
Popular Golf Cart Manufacturers:
Club Car
Yamaha golf carts
EZ-GO
put-in-bay, oh 43456