The Miller Ferry is running their full summer schedule. Please remember the motto "Our Home to Your Home". Follow all government and CDC guidelines in regard to 6-foot social distancing, washing your hands often, avoiding shared surfaces as much as possible, etc. Be safe!
Miller Ferry 2021 Schedule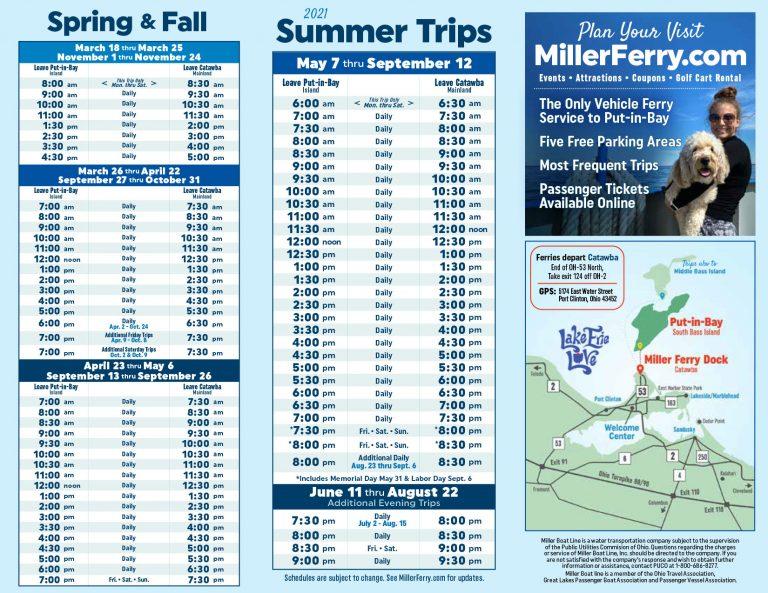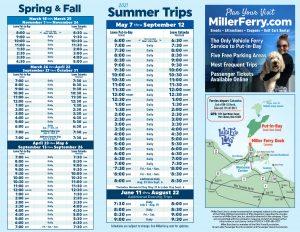 (click image above to download full PDF schedule)
The Miller Ferry Boat Service provides passenger and vehicle transportation across Lake Erie to South Bass Island and Middle Bass Island.  Mainland port is located in Port Clinton, Ohio at the end of Catawba Point. It is the only ferry service that has the capacity to transport vehicles and passengers alike. Make sure you check the Miller Ferry Put-in-Bay Schedule so you don't miss the ferry!
A leisurely 18-minute ride is all it takes to traverse to Put-In-Bay.  Moreover, passengers can opt to sit on the open-air deck or take refuge in the small shelter house.  Also, guests can opt to bring their vehicles and trailer to the Miller Ferry.  Cars are loaded by simply driving onto the vessel.
Miller Ferry Quick Facts
Affordable Fare for Adult and Child
Fastest Way to Put-In-Bay by Time
Only Vehicle and Trailer Transport
Departs from Catawba Point (Port Clinton, Ohio)
Trips Every Half Hour in Peak Season
The lifeline to South Bass Island and Middle Bass Island
The Miller Ferry is responsible for bringing much of the supplies to the island.  Imagine, each and every item that is on the island had to arrive by boat or air.  So, this keeps the Miller staff busy.  Furthermore, daily items such as bread, milk, eggs, and newspapers arrive across Lake Erie.
However, in approximately January or February the Miller Ferry shuts down until around April.  This is due to the icing conditions of Lake Erie.  Prior to the Lake being entombed in ice, the crew docks the boats at the downtown Put-In-Bay location.  The hard-working crew then receives a well-deserved break.
The Miller Ferry: An Island Tradition
The Boat Line has been servicing the Lake Erie Islands since 1905. Throughout the years, they have earned a reputation of being a reliable and safe service.  Each season thousands of passengers make their way to Put-In-Bay and Middle Bass Island under their care.
With a low-cost fare, you and yours can get to experience the island life.  A mood that watches worries flee, and the good times aplenty.  Put-In-Bay awaits your arrival.
Put-In-Bay Lime Kiln Dock
Once on the island,  Miller Ferry passengers are presented with a few options.  First, they can opt for a golf cart rental.  Three are located within walking distance to the dock.  Second, they can take the bus downtown.  However, the most entertaining option is via taxi.
For just $3 per person, guests can be whisked away to their chosen destination.  Moreover, taxi drivers are known to help guests find golf carts when they are sold out elsewhere.  For more taxi information, peruse this page for more details.
Take the Miller Ferry for an Island Stay!
Staying on Put-In-Bay is the best way to see it all.  With a plethora of awesome attractions, really good restaurants, and super shopping, the choice is easy.
So, to choose the best Put-In-Bay Hotel, Resort, or Home for your stay, be sure to look over our Put-In-Bay Lodging Partners.  We look forward to seeing you on the island.  Cheers!