Put-in-Bay Bars
Put in Bay Bars are a legendary place where the fun never stops.  Live entertainment and cold drinks in a fun and festive environment.  There is truly something for everyone with a great selection of options. For many years, South Bass Island Bars have been an essential part of the island culture over the years. Withing iconic Put-in-Bay bars like the Round House and Mr. Eds Bar you and your friends are bound to have a great time!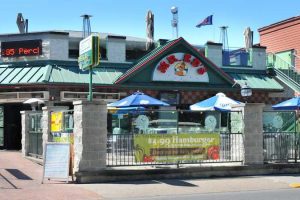 Located in the heart of downtown Put-in-Bay, Mr. Ed's Bar and Grille slings the tastiest bar food courtesy of Cameo Pizza, and serves up the hottest live entertainment in town. A real crowd pleaser, Mr. Ed's Bar and Grille offers indoor and outdoor seating. Enjoy the lake breezes on the outdoor patio while dining on Cameo Pizza's legendary Chicken Wings. With a menu full of mouthwatering Cameo Pizza goodies, there's always something for everyone. Mr. Ed's is now the new island home of Put-in-Bay's legendary Cameo Pizza. It's the same...
View More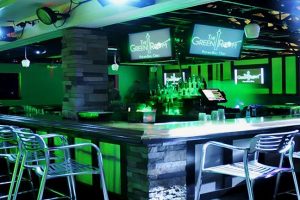 Ready for a magical night of dancing at the hottest nightclub in Put-in-Bay? The Green Room at Mr. Ed's makes sure every night to one to remember. With gorgeous views of Lake Erie, DeRivera Park and downtown Put-in-Bay harbor, this is the spot to be when the sun sets on the lake. Starry Nights The best DJ's in the region regularly spin at The Green Room. The high energy vibe pulsates through the dance floor as everyone gets down and gets dancing. A full bar keeps you refreshed all night...
View More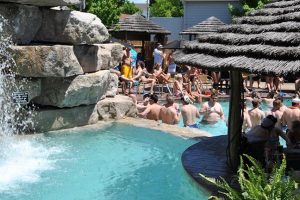 Dive in to Put-in-Bay's hottest, wettest pool bar. MIST Pool Bar packs in all the fun of a high-end nightclub with luxuries of resort pool. Two waterfalls cascade into the pool while the local DJ's spin during the weekends. The 2000 square foot pool is climate controlled and refreshing. When the sun goes down, the lights turn up. Every night features a breathtaking light show. Play The Day Away At MIST The full service swim up bar serves handcrafted and unique cocktails. Cabanas and lounge chairs line the pool. Lay...
View More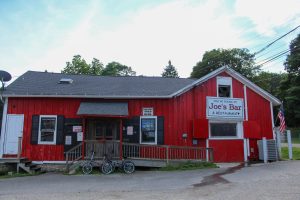 A favorite with both locals and visitors to Put-in-Bay, Joe's Bar & Restaurant is a friendly dive bar with a little extra. Their menu is chock full of classic bar food, elevated. And their outdoor seating is expansive, comfy, and comes with plenty of games to play, like oversized Jenga and everyone's favorite, corn hole. Located right next to South Bass Island State Park, Joe's is a perfect stop off point when exploring the island. Lake Erie Islands Nature & Wildlife Center and Saunders Golf Course are close by. Grab...
View More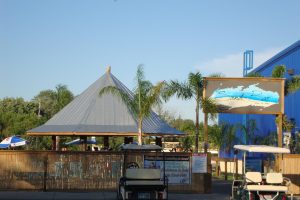 Sand Bar is the place to live the high life on Put-in-Bay. This luxurious pool bar is the place to be seen on the island, with corn hole, pool games and beach volleyball. Rent one of their cabanas and order your favorite liquor or champagne with bottle service for the true VIP experience. The cabanas open up on three sides so you're never too far from the party! Sand Bar also has a full-service kitchen menu, and their paninis are a hit, as are the pizzas. Gluten-free options are also...
View More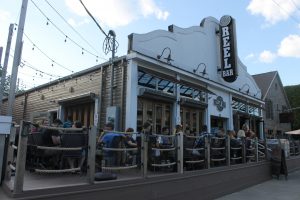 One of the new kids on the bay, Reel Bar opened in 2014. Located in the old Tony's, Reel Bar completely remodeled the interior to celebrate Put-in-Bay's island feel and all thing fishing. With a rustic vibe and incredible food menu, Reel Bar is a welcomed addition to downtown Put-in-Bay. Located on Catawba Avenue, the bar is a quick jaunt from the Jet Express terminal and other downtown favorites. Reel Bar is easy to visit anytime of day. Good thing it is open for breakfast, lunch, and dinner. Start your...
View More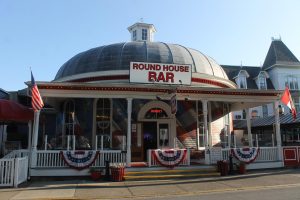 It wouldn't be a Put-in-Bay summer without several visits to The Round House Bar. This island institution has been a favorite for over 140 years. You know it's open when the "Whiskey" light is lit up. Head on in and have a grand old time. The Round House Bar History Originally the Columbia Restaurant, the building opened in 1873. Back then, there was no way to keep things cool. So the intrepid island dwellers figured out an ingenious way. They served up ice cream and cottage cheese using blocks of...
View More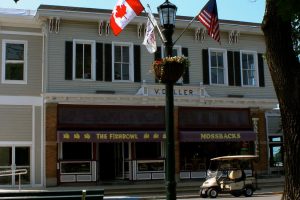 Mossbacks serves up high quality food in a friendly, relaxed atmosphere. Alongside the casually upscale restaurant is the neighborhood bar complete with craft cocktails and a large selection of beer and wine. Located right on the edge of Perry Park, Mossbacks is a short walk from the Jet Express Ferry, on the northern tip of Put-in-Bay. Close to some of the best lodging on the island, Mossbacks is a great choice for breakfast. And also because it makes some of the best brunch dishes on the island! Mossbacks Breakfast Options...
View More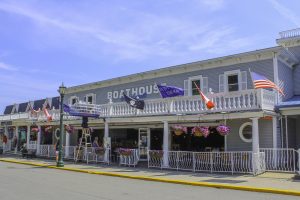 A true Put-in-Bay classic, The Boathouse Bar and Grill has been serving the island for over 50 years. With an extensive menu that makes everyone's stomach growl, The Boathouse is as good as its reputation. Sit inside and listen to music or take in a game. Or, opt for the patio, where you can enjoy gorgeous views of Lake Erie and downtown Put-in-Bay. The perch sandwich is one of the best on Lake Erie, and really, it wouldn't be a trip to Put-in-Bay without dining on perch. Their take on...
View More
Put in Bay Bars Old and New
Put-in-Bay Ohio has a wide range of options for thirsty travelers.  From watering holes that date back over a century to Modern Day Palm Huts; Put-in-Bay restaurants and bars offer a great island experience where ever you go!
The best part is that they are all within a hop and a jump.  So, Explore your favorite Put in Bay Bar and get a taste of the island life.
Featured Put-in-Bay Bars
Our featured Put-in-Bay Bar is Mr. Ed's Bar and Grille.  Here, guests have so many great entertainment options.  First, by day enjoy the raucous Mist Pool Bar.  Next, by night take in live entertainment in the main level bar.  Otherwise, step up stairs to the Green Room to get show your best dance moves.  Mr. Ed's is located in the heart of it all.
Put-in-Bay bars offer a great time with live music and cold drinks.  The sheer number of options makes a bar crawl a natural occurrence.  Come and find your favorite spot on the island. Check out the lodging and book your stay today! The sooner you book, the sooner you can take a Put-in-Bay ferry today!
Joe's Bar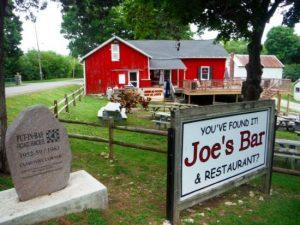 Joe's bar is one of the only bars located outside of downtown Put in Bay and it's one you DO NOT WANT TO MISS checking out before you go! With awesome live entertainment, amazing aesthetics, and fun vibes yo'll no doubt make coming to Joe's a tradition moving forward. They recently added amazing food courtesy of their awesome kitchen staff and they now have one of the best burgers on the entire island. You can find them on Catawba Avenue!
Other Favorite Lake Erie Bars
-Hooligans Irish Pub
-The Reel Bar
-Mossbacks Island Grill and The Fishbowl Bar
-The Goat Soup and Whiskey Taverns "Biergarten"
-Frosty Bar & Family Pizza + Big Man's Burrito Stand
-The Roundhouse Bar
-The Boathouse Bar and Grille
-Mojito Bay
-The Tiki Bar
-Topsy Turvey
-Rita's Cantina at The Boardwalk
-The Key's Bar
-Blue Marlin
You can find most bars downtown near DeRivera Park on Delaware Ave, however if you don't find what you're looking for there then you can find more right nearby on Bayview Ave (Same street as the Boardwalk and Perry's monument) or several other places nearby.  If you're looking for beer, liquor, or margarita's we've got you covered. The nightlife in the heart of downtown put-in-bay is absolutely thrilling!
Testimonials
Kelly A: "We were there at noon and stayed till 3:30. Chris Donley was the entertainment and he was more than awesome! I had the walleye BLT and it was okay. One girlfriend had the lettuce wraps and they were awesome. Another girlfriend had the tenders which were good. The service was terrific! Our waitress was extremely attentive and very friendly! She was very quick to see when we were running low on drinks and quick to bring them! We have been bay'ers for 27 years and have seen Mr. Ed's go through a lot of changes! Keep up the good work!"
Michelle A: "Great food, great prices, great service. Our waitress was amazing. The chicken chunks were a very generous portion. The bacon maple Mac and cheese was awesome. We'll definitely be back!"
Jess T: "The place to be on the island! Absolutely love this place. We're proudly sporting your gear up in Alaska and can't wait to visit again soon!"