Put-in-Bay Bars
Put in Bay Bars are a legendary place where the fun never stops.  Live entertainment and cold drinks in a fun and festive environment.  There is truly something for everyone with a great selection of options. For many years, South Bass Island Bars have been an essential part of the island culture over the years. Withing iconic Put-in-Bay bars like the Round House and Mr. Eds Bar you and your friends are bound to have a great time!

Put in Bay Bars Old and New
Put-in-Bay Ohio has a wide range of options for thirsty travelers.  From watering holes that date back over a century to Modern Day Palm Huts; Put-in-Bay restaurants and bars offer a great island experience where ever you go!
The best part is that they are all within a hop and a jump.  So, Explore your favorite Put in Bay Bar and get a taste of the island life.
Featured Put-in-Bay Bars
Our featured Put-in-Bay Bar is Mr. Ed's Bar and Grille.  Here, guests have so many great entertainment options.  First, by day enjoy the raucous Mist Pool Bar.  Next, by night take in live entertainment in the main level bar.  Otherwise, step up stairs to the Green Room to get show your best dance moves.  Mr. Ed's is located in the heart of it all.
Put-in-Bay bars offer a great time with live music and cold drinks.  The sheer number of options makes a bar crawl a natural occurrence.  Come and find your favorite spot on the island. Check out the lodging and book your stay today! The sooner you book, the sooner you can take a Put-in-Bay ferry today!
Joe's Bar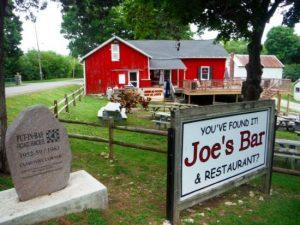 Joe's bar is one of the only bars located outside of downtown Put in Bay and it's one you DO NOT WANT TO MISS checking out before you go! With awesome live entertainment, amazing aesthetics, and fun vibes yo'll no doubt make coming to Joe's a tradition moving forward. They recently added amazing food courtesy of their awesome kitchen staff and they now have one of the best burgers on the entire island. You can find them on Catawba Avenue!
Other Favorite Lake Erie Bars
-Hooligans Irish Pub
-The Reel Bar
-Mossbacks Island Grill and The Fishbowl Bar
-The Goat Soup and Whiskey Taverns "Biergarten"
-Frosty Bar & Family Pizza + Big Man's Burrito Stand
-The Roundhouse Bar
-The Boathouse Bar and Grille
-Mojito Bay
-The Tiki Bar
-Topsy Turvey
-Rita's Cantina at The Boardwalk
-The Key's Bar
-Blue Marlin
-Level 2 (Club)
You can find most bars downtown near DeRivera Park on Delaware Ave, however if you don't find what you're looking for there then you can find more right nearby on Bayview Ave (Same street as the Boardwalk and Perry's monument) or several other places nearby.  If you're looking for beer, liquor, or margarita's we've got you covered. The nightlife in the heart of downtown put-in-bay is absolutely thrilling!
Testimonials
Kelly A: "We were there at noon and stayed till 3:30. Chris Donley was the entertainment and he was more than awesome! I had the walleye BLT and it was okay. One girlfriend had the lettuce wraps and they were awesome. Another girlfriend had the tenders which were good. The service was terrific! Our waitress was extremely attentive and very friendly! She was very quick to see when we were running low on drinks and quick to bring them! We have been bay'ers for 27 years and have seen Mr. Ed's go through a lot of changes! Keep up the good work!"
Michelle A: "Great food, great prices, great service. Our waitress was amazing. The chicken chunks were a very generous portion. The bacon maple Mac and cheese was awesome. We'll definitely be back!"
Jess T: "The place to be on the island! Absolutely love this place. We're proudly sporting your gear up in Alaska and can't wait to visit again soon!"