The Red Moon at the Park Hotel is an intimate and sophisticated speakeasy. Walkthrough the door and you are immediately transformed back to the days of Prohibition. The term speakeasy, "speakeasy," is a bartender term, encouraging folks to act in a relaxed manner when imbibing illegal booze.
The Red Moon Setting
The bar itself is darkly lit with the original tin ceiling painted gold, elaborate wallpaper, and engraved tabletops that came from old picnic tables that provided seating in The Round House Bar during the '70s, '80s, and '90s.
Beer & Wine
Focused on providing top-of-the-line drinks, the Red Moon is far from the hustle of the summer crowds. The wine list is quite extensive with bottles from all over the world. Craft beers, including some local favorites, share the list with domestic and imported bottles.
They even make beer cocktails where they pair something like Great Lakes Commodore Perry IPA with ginger beer, mango, and passionfruit. A really refreshing summer beverage!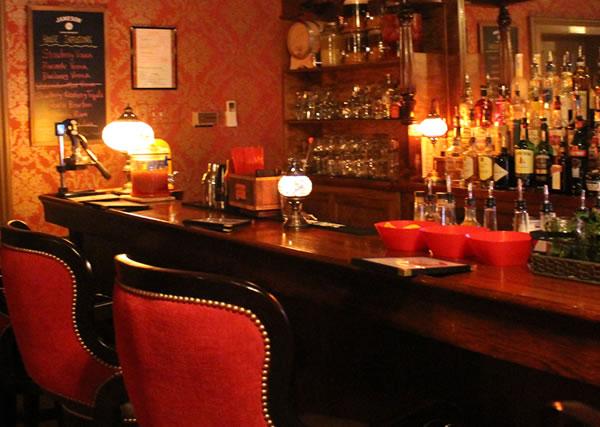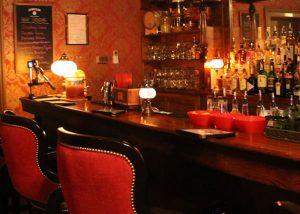 Cocktails
Drink like a flapper with their impressive list of martinis. From an espresso martini with vanilla vodka to the Red Moon Martini with ABSOLUT, cranberry, lime, and Cointreau, each martini is as unique as the Red Moon itself. Other classic cocktails include the Sloe Gin Fizz, the Sidecar, and Pimm's Cup.
Prohibition, and mainly rum-running, has quite a place in the history books for the Great Lakes. Men and women ran booze across the lakes from Canada. A maid named Magi at The Hotel was caught one night with her lover known only as Max.
The Park Hotel is a lovely Victorian building located in the heart of downtown Put-in-Bay. The Round House Bar is right next door and there's a golf cart rental right on the premises. A wonderful place to stay when enjoying summers on the bay!
Testimonials
Martin F: "This is a very quiet and speakeasy-themed bar that most people that come to the island don't know about. Usually, it's locals, regulars like myself, and people that work here as the clientele. The drinks are amazing and the decor is beautiful. They don't advertise and that's the way they like it, you feel exclusive when you go here. It is always worth at least one visit while you are here if you can find it haha. One of the best unknowns on Put it Bay!"
Ron C: "While it can be a little hard to find and isn't always open (look for the red light above the door). Red Moon is an amazing oasis in a storm – not a literal storm, but on a very, very busy weekend day and 90+ degree temps, finding this dark, cozy, super air-conditioned speakeasy was an amazingly wonderful escape from pounding the pavement and loud bars with cheap beer. Quality craft cocktails, understated elegance, properly dimly lit, and some really cozy quarters if you wanted to canoodle in the corner. Will definitely be back, as often as possible. Please note this is a PROPER upscale cocktail bar. Drinks are hand-crafted (I noted lots of fresh mint in the water on the bar) and are priced accordingly."
Adrienne H: "I LOVE this secret little gem of a spot! It's a little speakeasy on Put In Bay in the middle of all the craziness of the island where the keywords would be: mellow and intimate. Prohibition-era cocktails are handcrafted with liquor they infuse on-premises. It's a great alternative to the chaos of the traditional Bay nightlife."