A favorite with both locals and visitors to Put-in-Bay, Joe's Bar & Restaurant is a friendly dive bar with a little extra. Their menu is chock full of classic bar food, elevated. And their outdoor seating is expansive, comfy, and comes with plenty of games to play, like oversized Jenga and everyone's favorite, corn hole.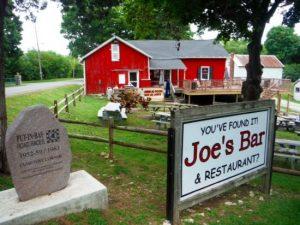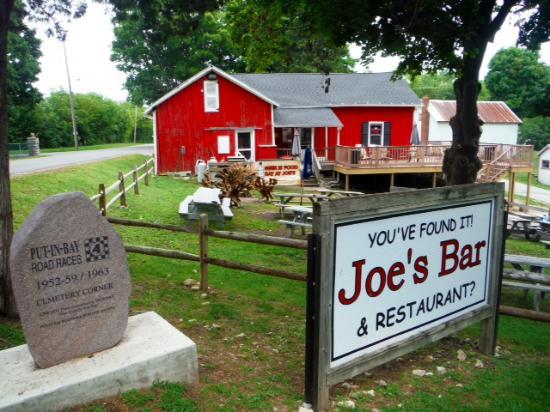 Located right next to South Bass Island State Park, Joe's is a perfect stop-off point when exploring the island. Lake Erie Islands Nature & Wildlife Center and Saunders Golf Course are close by. Grab a cold one at Joe's after a rousing 18 holes.
The sprawling backyard plays host to an exciting lineup of live entertainment all summer long. With twinkling lights hung in the trees and plenty of picnic tables, Joe's backyard is the place to be when the sun goes down.
Along with beers and mixed drinks, Joe's has amazing food. Their bar beard, flatbread covered in a variety of toppings, goes great with a brew. Toppings include pepperoni and cheese, chicken, ranch, and bacon, and the classic Margherita. 
Joe's Bar and Restaurant Menu Highlights
Sloppy Joe's Dip

Put In Bay Cuban

Signature Sloppy Scotty (split dog covered in mozzarella, onions, and their signature sauce)

Smoked Bologna Sandwich

Put In Bay Sin Burger (all-natural beef topped with spicy giardiniera, pepper jack cheese, spicy aioli)
Feeling hungry yet? Joe's is also known for its next level Bloody Mary's. Famed throughout the island, these drinks are perfectly spiced and everything nice. Cigars are also available at the bar. Puff on a stogie outside and enjoy the summer weather. Take a seat at one of the seats made out of tree roots for something a little extraordinary.
Joe's Bar and Restaurant is the self-proclaimed "best dive bar on the planet," It offers up all the feel-good vibes of a classic dive with high-quality food and great entertainment.
Testimonials
Michael L: "Rode a bicycle out to Joe's! That may not sound like much, but it was 90 degrees plus and quite humid. But the ride was worth the effort! Had a few nicely sized cocktails at the bar, a pleasant departure from the thimbles that most of the downtown establishments use. Ordered a burger that was very good and done to perfection and it came out quickly. All of the food that I saw come out looked great and people seemed to be enjoying it. The beef rib special looked particularly enticing, but I had a burger on my brain, maybe next time!! The service provided by Nick at the bar was very attentive without being pushy. Great visit!!"
James W: "This is the cheapest place on the island and they have everything!! I'm a bourbon guy and the selection at Joe's is very nice. You want craft beers this is the spot. 25+ craft beers and they rotate about 10 of them to keep new ones coming in!!! Don't even get me started on the food at Joe's. They have their own smoker and oh my goodness!! The food is also the cheapest on the island and talks about mouth-watering! They're keeping it a local hang out and welcome newbies to the island so they keep their prices down. Got to meet the owners of the place and they are friendly people who want you to have a great experience on the island."
Nancy M: "The best Bloody Mary I've ever had!! The guys behind the bar are very courteous and helpful and the drinks were great! Haven't had any of the food yet, but the people sitting outside at the tables all seemed to be enjoying themselves, relaxing in the quiet since it is down the road from downtown. I'll definitely be back"
There are no reviews yet. Be the first one to write one.