The Fish Bowl is the perfect combination of a neighborhood bar and top quality restaurant. Their food menu is just as quirky and innovative as their drinks, most notably giant beers served in an actual fishbowl. It is a wonderful place to let loose, have fun, and nosh on great food, right in downtown Put-in-Bay.
Open for breakfast, lunch, and dinner, Fish Bowl caters to the hungry eater. They sling classics like pancakes, biscuits, and sausage and gravy for brunch, along with brunch cocktails, and ramp up the offerings for lunch and dinner. They share a menu with their neighbor Mossbacks, which means hearty burgers and tasty pierogies.
The pierogies, a Mossback's specialty, are served on their own or alongside Lake Erie perch or bratwurst for the classic combination of meat and potatoes. These melt-in-your-mouth potato dumplings are accompanied by butter and grilled onions. Yum!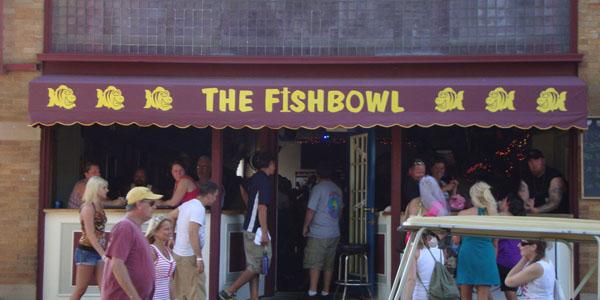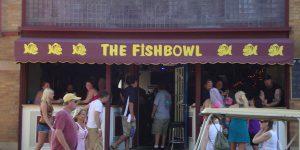 Fish Bowl Menu Highlights
Lake Erie Walleye Nuggets

Potato Cakes

Sauerkraut Balls

Land & Lake Combo

Pierogi Burger

Hot and Spicy Burger
Bar Specialities
Giant Beers Served in a "Fish Bowl"

Shark Shots

Craft Beers

Specialty Cocktails
The Fish Bowl is located in The Valentine Doller building. Valentine Doller was a famed resident of Put-in-Bay. He arrived on the island in the 1800s and made a name for himself as the first postmaster, a founding trustee of the Village, and even the mayor! This building has recently undergone extensive renovations.
Situated right across the street from the lovely DeRivera Park and close to the Jet Express ferry terminal, visitors can swing by the Fish Bowl right when they arrive on Put-in-Bay. It is a great place to set up camp for the day, enjoying the friendly, fun atmosphere, meeting new friends, and snacking on tasty food. Visitors to Put-in-Bay definitely find themselves returning to the Fish Bowl again and again.
Testimonials
Tracy B: "The food was phenomenal and the service was really good too. I tried perch for the first time and it was perfectly cooked, tasted amazing. my husband got the brats and pierogies and loved them. we would definitely come here again when we're in the area. We had Ruth's Chris steakhouse earlier in the week on our honeymoon and we were more pleased with Mossback than an $82 steak!"
Jenna W: "Fish Bowl definitely has some talented musicians play and the staff is great at making cocktails. The ambiance is so upbeat and I thoroughly enjoyed myself. I've been there several times when I'm on the island to have a great time with my crazy friends. I really enjoy the talent I've seen and the drinks were superb. My friend has a band called Master T.C. and The Visitors, check them out on Facebook, if you're interested in more very talented musicians, this is definitely the group to book. I feel they would bring a nice fun crowd to your wonderful establishment. Thank you so much Fish Bowl and staff for making my last three visits there enjoyable. Such a great place to grab a drink!"
Jenna W: "Fish Bowl definitely has some talented musicians play and we love their signature drinks, The ambiance is so fun and friendly! I've been there several times when I'm on the island to have a great time and I really enjoy the musicians I've seen and the drinks were superb. Thank you so much Fish Bowl and staff for making my last three visits's there enjoyable with great alcohol, better than the last. Hugs!"