Put-in-Bay Ferries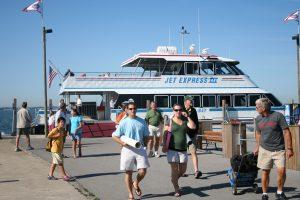 The Two Put-in-Bay Ferries include the Jet Express.  Each summer, they bring thousands of passengers to enjoy the wonders of South Bass Island.  Along the way, take in views of other Lake Erie Islands.  Getting here is just part of the fun!
Below is information on both services. Take time to review port and dock information, check fares and look for a special event or offer.
Jet Express
The Jet Express provides water transportation to Put-in-Bay Island from Port Clinton and Sandusky Ohio.  From their dock on South Bass Island, passengers can easily access golf cart rentals, Put-in-Bay Hotels and other travel destinations.
The Jet vessels are a svelte dual-hull Catamaran. Therefore, the boats can traverse the waters with ease, giving passengers a comfortable ride.  Aboard, riders can sit inside or on the upper level open-air deck. Review a Put-in-Bay Hotel near this ferries port and Plan Your Trip today.
Testimonials
Nina C: "My family and I (ages 2-60 years) rode the Jet Express Ferry just yesterday we absolutely loved it! Easy on/easy off, and we got to exchange our tickets for a later time, because our dinner time ran over. Very clean and well kept! Also, I liked having the choice of which deck we would sit on (our choice of sun or shade). I would love to go back again!"
Kristi F: "I took my 3 month old on the Jet yesterday morning at 10:15. The line went fast to purchase the tickets and the line was smooth to get on the boat. It was great! On the way back a male worker came over, sat with me and talked to my 3 month old daughter, she was getting a little fussy. He talked to her and she ended up smiling and laughing! I appreciated that so much!"
Tonya B: "First time taking the grand kids and they loved the boat ride. We got the package deal that included the boat ride and golf cart rental for the day…perfect visit. Everyone had a great time and it was a beautiful ride to the island."
Jet Express Ferries Rates
Port Clinton to Put-in-Bay
Round Trip Adult   $34
Youth Round Trip (12-16)   $15
Round Trip Child  (6-11)   $6
Children Under 5 Free
Put in Bay Ferry Boat Quick Facts
Jet Express is Passengers Only
Jet Express Boat departs from Sandusky and Port Clinton, Ohio
Offers Couple Packages to Put in Bay Hotels
Put in Bay Ohio Ferries provide passenger and vehicle service to the island of South Bass, Ohio.  Get more bang for your vacation dollar when you ride the Jet-Express from Sandusky or Port Clinton Ohio. With every fare, Jet-Express Passengers receive a value packed coupon sheet with savings at many of Put-in-Bay's favorite destinations.  Also, they can take in the sights of the Lake Erie Islands in route to PIB.
Put in Bay Coupons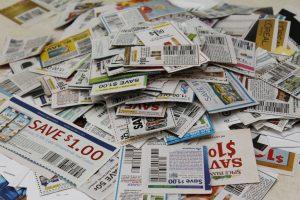 Example discounts include Put in Bay Golf Cart Rentals offers .  Also, Put in Bay Coupons with Kids eat free deals, discounts on attractions and more!  Check HERE for the latest deals.
Remember, request your money saving coupons when you purchase your Jet Express ticket.  Also, passengers may now Buy Ferry Tickets on-line for service to South Bass Island.
Put in Bay Ferries: Passenger Service in Style
Ferry service to Put in Bay Ohio… where the Jet Express Ferry ride can be half the fun of getting to South Bass Island Put-in-Bay. Relax and ride while enjoying a narrated tour of the history of the island.  Furthermore, take in a Lake Erie breeze atop the rooftop deck.
The Put in Bay Jet Express boat fleet are all-aluminum ocean-approved catamarans. Traveling at speeds in excess of 40 mph the catamarans are among the fastest passenger ferries in the world.  Still, the sleek twin hull design glides through all weather conditions with unmatched smoothness.
Additionally, the triple deck design provides beautiful views.  First, from an open air observation deck.  Secondly, from two stylishly appointed passenger lounges.  Here, passengers can enjoy the tinted windows, carpeted decks and cushioned seats.
Getting There is Half the Fun!
Providing Early Morning/Late Night Service to downtown Put-in-Bay, board the Jet Express for the most convenient and most comfortable transportation to the island.
Need a Ride from a Put-In-Bay Ferry Boat?  Put-In-Bay Taxis are the answer!
Hop on a Boat to Great Put in Bay Events
For a reasonable fare and a quick ride, guests can easily access Put-In-Bay.  Passenger and Vehicle Service runs often, every half hour in peak times.  Couples and families can enjoy the views and lake breezes one of the great transport services.
The Lake Erie Islands are a fantastic place to visit.  With a trove of history, fun Put-in-Bay activities and legendary nightlife, it is a must-see place.  With the boat services listed here, you and yours can create wonderful memories visiting all the things to do in Put-in-Bay.
Transport from Put-In-Bay To Middle Bass Island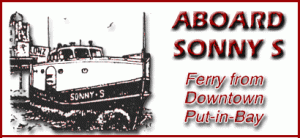 The Sonny S Ferries boat provides passenger transportation between Put-In-Bay and Middle Bass Island.  Middle Bass Island is home to the former site of Lonz Winery.  Today, the property has been converted into a State Park.  Here, there is a range of services and attractions.  A large pavilion is available to rent for groups.  Also, tours of the former wine cellars of Lonz give a glimpse back in time. Hop on the Sonny S Ferry for a new adventure.
Live the Island Life
So, why not stay?  There are wonderful Put in Bay Cabins, Condos, Hotels and more to choose from.  Staying on the island is the best way to truly experience it all.  A plethora of resources can be found on this site to plan your trip. So, peruse the Put n Bay restaurants, bars, shops, attractions and more to not miss a thing.  There is truly so much to see and do.
Taking a boat to the island is just the start of the fun.  No matter which is taken, the destination remains the same: Put-in-Bay!  An island where the fun never stops and the good times await.  So, we will See you at the Bay.