One of the new kids on the bay, Reel Bar opened in 2014. Located in the old Tony's, Reel Bar completely remodeled the interior to celebrate Put-in-Bay's island feel and all thing fishing. With a rustic vibe and incredible food menu, Reel Bar is a welcomed addition to downtown Put-in-Bay.
Located on Catawba Avenue, the bar is a quick jaunt from the Jet Express terminal and other downtown favorites. Reel Bar is easy to visit anytime of day. Good thing it is open for breakfast, lunch, and dinner.
Start your Put-in-Bay adventure with a healthy, filling breakfast. Reel Bar caters in plates full of the best food to sustain you on the boat or in the water.
Reel Bar Breakfast Highlights
Blueberry Pancakes

Reel Corned Beef Hash

Biscuits and Gravy

West Shore Burrito

Breakfast Samich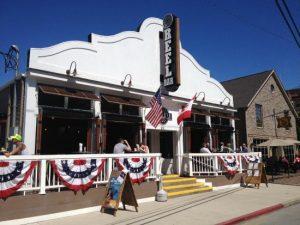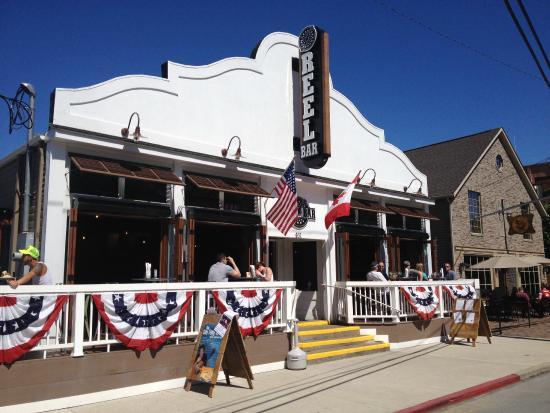 Wash it all down with a Bloody Mary, hot coffee, or simply add a shot of your favorite liquor to fresh squeezed OJ. The perfect way to start a Bay Day!
Lunch and dinner continue to offer mouthwatering options. If you need to refill before you get back on the boat, or hit the bars, Reel Bar has you covered.
Lunch and Dinner Highlights
Shrimp Tacos

Battered Cod Sandwich

Lobster Roll

Lake Erie Perch with their special breading

Reel Tots (smothered tater tots covered in cheese!)

Chicken Wings
This is definitely one of the best places to eat tacos on the island. Their street tacos are a mix 'n match affair, each one served a hand pressed flour tortilla.
The Ray Fogg Show keeps diners entertained all summer long with his perfect combination of comedy and music. Their events calendar always features something exciting to make sure to check it out. 
Testimonials 
Lisa V: "This place is small inside and they do have outside seating. We had a party of 10. The manager accommodated us and it was great!!! We finished our beers across the street at the outside fire truck bar and headed in to eat. I had the perch tacos and loaded cheesy fries. My husband had a burger with large shrimp on it. All of the food was excellent. Oh, and there was a live band playing while we ate. We had a chance to dance too! I can't believe we have come to Put in Bay for over 12 years and never ate here. We will make it a point to return here again. I almost forgot to mention the service was outstanding."
Dave G: "Nothing better than being on Put in Bay on a nice spring/summer weekend! And although there are many places to go and many places to hang out, my favorite evening club is the Reel Bar. The Reel Bar is a little off the strip across from Cameo Pizza. You'll find a friendly staff, incredible music, and if you're hungry the food is absolutely delicious. Islander musicians Ray Fogg and Bob Gatewood are real pros and a common sight at the Reel Bar. Breakaway, and head to the Reel Bar!"
Coni P: "I booked one of our dinners here when in town for our GM conference. Andy, the owner was fantastic to work with, very accommodating and willing to allow me to create a menu for our event. He even helped locate entertainment for the evening. The food was great! We ordered appetizers to start and they were beautifully displayed. Pretzels and cheese, drunken mussels, wings and fried pickles. Delicious!! So many of our managers commented on how delicious their dinners were. Andy and his team were so attentive and helpful. Even when our group made a bit of a mess with our rookie event. They cheerfully cleaned up, not even allowing me to help. I can't say enough about this restaurant and the people working there. Fantastic service and fantastic food! I just wish I lived closer so I could visit more often."