Cameo Pizza is a storied institution on Put-in-Bay, full of history and brimming with only the freshest ingredients. A family-owned pizza joint since 1936, Cameo Pizza puts heart and soul into every pie they make.
Located on Catawba Ave. in downtown Put-in-Bay, Cameo Pizza is a staple of the island. With flavorful, rich sauce, and the perfect crust made fresh daily, visitors can expect exceptional pizza. They even have their own secret blend of cheese, the Cameo Blend Cheese.
Carry out service, either by the slice or whole pies, is available as is delivery. Late service can go until 3 am. Cameo Pizza understands that Put-in-Bay is hopping at all hours during peak season.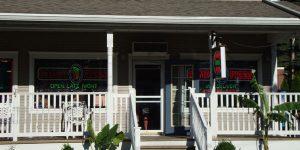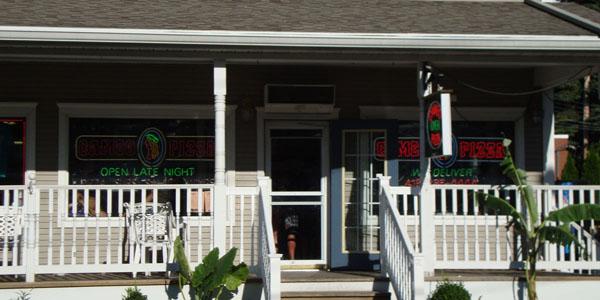 Cameo loves to experiment with ingredients and serves up some truly innovative flavors. Some favorites include Zesty Mex, Chicken Ranch, Hawaiian Poker, and Chipotle Chicken. Besides the pies, their menu includes a nice variety of treats.
Cameo Pizza Menu Highlights
Cameo Cheese Bread

Pretzel Buckeye Bites

Chicken Wings

Cranberry Chicken Salad

Steak Sandwich
Put-in-Bay Shaved Ice is also on the premises. Choose from a variety of tropical flavors to wash down all that pizza. This restaurant is also surrounded by the best bars and nightlife on Put-in-Bay. Level 2 is literally underneath! Put-In-Bay Brewing Company (the Brewery) and Reel Bar is right across the street  
Cameo Pizza History
Mama Lococo, the matriarch of the family, started this tradition on Monroe Street in Sandusky, Ohio. She would serve friends and family Old World Italian Style, which translates to lots of food and lots of love!
Summers on Put-in-Bay are full of sun, fun, and plenty to eat. Make sure to visit Cameo Pizza while you vacation. Trust us, you won't be disappointed. Their pizzas are always piping hot and supremely tasty.
Testimonials
Kimberly A: "This place has the best pizza on Put-in-Bay. The owners are great people, very friendly, and their staff is very respectful. They make it a point to ensure the customer is happy. I've been getting pizza for 4 years from this place and I'd recommend it above anywhere else on the island to eat"
Pat M: "It was a very hot day when we stopped in at Cameo Pizza. The ladies that we encountered when we walked in were not only nice but rushed water to us super fast because of the heat. We ordered two pizzas and they were very, very good. The prices seem high compared to general pizza locations in northern Ohio, but the food and service were very good during our visit. Toppings and sauce were flavorful. Cameo is certainly far superior pizza-wise to Frosty's in town."
Tom M: "I love finding good pizza places when I travel and this is a great spot. The pizza was ready in 10 minutes after ordering. I like thin crust and that's how it was prepared. I ordered a pepperoni pizza. It was excellent and definitely recommend Cameo Pizza if your in Put in Bay. They are open until 3 am. So great spot for late-night pizza! Enjoy!"
There are no reviews yet. Be the first one to write one.