The Put-in-Bay Brewery and Distillery is Put-in-Bay's very first brewery. Opened in 1996, its housed in a building with over one hundred years of history. The property originally belongs to Valentine Doller, one of Put-in-Bay's most famous residents and one-time mayor. It also served as a grocery store and gas station. After many iterations, including a fire station, it is now home to delicious, locally made brews. They also have fantastic dining options to pair with your new favorite beer.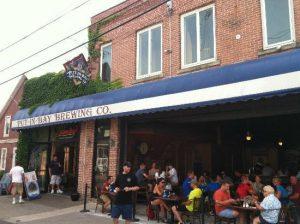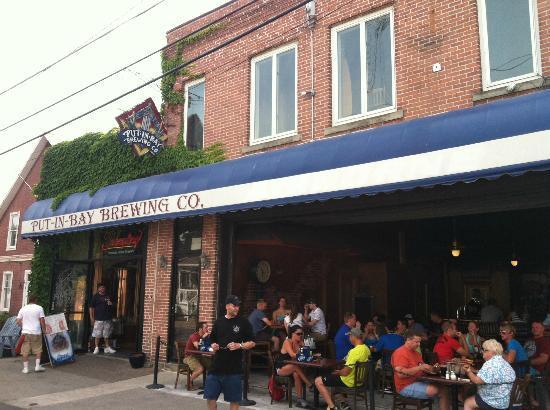 A rotating menu of craft beers delights summer visitors all summer long. From stouts to a wheat beer, The Put-in-Bay Brewery creates wonderful beers for a variety of palettes.
Beers on Tap
Selection changes, but here are some highlights:
South Bass Milk Stout

Watermelon Wheat

Strawberry Basil Wheat

Raspberry Mocha Stout

Pass Out Bourbon Punch
Besides their delicious and innovative beer menu, the Brewery serves up some truly great food. They have a full menu full of pizzas, burgers, and salads.
The Brewery's Food Highlights
Greek Pizza

Brewery Cheese Soup

Walleye Bites

Perch Sandwich served on an egg bun

Basil Pesto Chicken

Mexicali Burger
The Brewery Cheese Soup is definitely a favorite. Aged Cheddar is blended with their Summer's Brew for a rich and creamy soup. Also worth mention are their salads, which are healthy, fresh, and filling. The Caprese is a lighter option and pairs wonderfully with the Watermelon Wheat. Try the Ole Cotton Top Irish Red with the Chicken, Spinach, and Avocado Salad. They also feature a kid's menu with Chicken Fries and Mac 'n Cheese.
They recently expanded their back enclosure, making the patio a wonderful place to sit out on a summer evening, enjoying a bite to eat and a local brew. Additionally, it is located just down the street from Perry's Park in downtown Put-in-Bay, so the Put-in-Bay Brewery and Distillery is right in heart of the island. Several wonderful inns and hotels surround this location as do other favorites like Hooligans and The Old Forge. 
Testimonials
David F: "This was our first restaurant stop on our first time in Put-in-Bay and they set the bar really high for the rest of the trip. We had the French Fry appetizer with bacon and cheese that was amazing. I had the Perch basket, which was really good, and my wife had the Black and Blue Salad. The kids really enjoyed the pizza. Really good beer selection. West Shore IPA was solid. Also tried some of their locally distilled vodka via a blueberry mojito which was really good. Service was good despite it being a really busy holiday weekend and them having some really large parties in."
Nick T: "We came over to Put-In-Bay Brewing during our visit this past weekend. Great atmosphere– we were able to watch the football game on their big screen. The indoor dining area is very clean and nice, with little strung-up lights and brewery décor. We ordered apps and a kids meal for my son–food was excellent and the waitress was very attentive. They were also very kind to let my son charge his tablet near the table.
I highly recommend the nachos–deliciousness. I tried the Watermelon Wheat house beer–very good. We will definitely make this one of our game-watching spots on our next trip to South Bass Island."
Vince V: "My friends and I were just at the bay this past weekend. It's very difficult to find a good veggie/vegan burger anywhere these days, however, it's extremely hard on the island. The burger was so fresh and delicious! It was topped with a great tasting pesto that made it even better – if that's actually possible. Our service was also great. My only complaint is that instead of fries, we asked for coleslaw and it came in a super tiny container that you would normally put a condiment i.e. ketchup in. The coleslaw was also delicious- it was just lacking in size."
There are no reviews yet. Be the first one to write one.