Yesterday Lingers on Lake Erie's Bass Islands – A National Geographic Special
"That's about the end of it," gruffed Charlie Mahler when Lyntha and I joined him on the tailgate oh his faded blue 1954 pickup truck on South bass Island. A continuous blast from a ship's horn cut through the late summer haze to sound the annual passing of the last tourist ferry from Put-in-Bay Ohio to the mainland.
"Another summer, and another bunch of tourists gone," declared the 82-year old retired commercial fisherman.
"Minnow Charlie" has earned his nickname by supplying island anglers with live minnows and crusty comments, all for one fair price. As he kneaded his special mixture of oatmeal, flour, and tobacco juice into minnow bait on the dock, he peered at us over his thick glasses.
"Commodore Perry came to these islands and beat the British," he said. "Rich people and presidents came here for vacations, but they all went back to run the country. Young people with long hair and city folks have tried it, but they only lasted a couple of years.  Now they're putting salmon into these waters, but they won't stay either.
"Islanders, bass, and minnies," he said with a chuckle, "those are about the only things'll stay around these islands."
Each summer more than a quarter of a million people visit South Bass, the best known of Lake Erie's islands. Like Middle Bass, Kelleys, and North Bass Islands, South Bass is inhabited year-round.  These are all public islands, and during the summer months, hourly ferry boats carry 300 people per day to their crowded isolation.
The Story of 11 Islands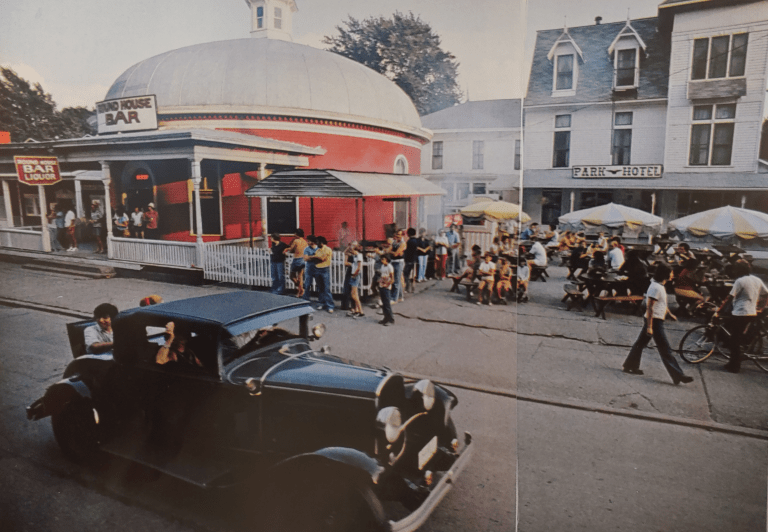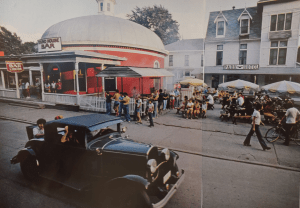 There are seven other smaller islands as well. Ballast, Rattlesnake, and Sugar are given over to private season residences.  Gibraltar is owned by Ohio State University. Green, Starve, and Mouse are uninhabited.
All 11 islands seem to cluster around a granite column that rises 352 feet above the village of Put-in-Bay on South Bass Island. This Doric monolith, erected in 1915, commemorates Commodore Oliver Hazard Perry's Victory over a British squadron in these waters in the War of 1812.  "We have met the enemy  and they are ours: two ships, two brigs, one schooner and one sloop."- That was the message Perry sent on September 10, 1813.
Today, once the tourists have left, the islands are a quiet slice of Americana surrounded by the noise and industry of mainland Ohio, Michigan and Ontario. People like Minnow Charlie have called these islands home for more than five generations.
"Used to be a lot of fish in this ocean," Charlie said as he pulled up his minnow nets with hands callused by a lifetime of fishing. "I had my own boat then, and we caught 5, 100 pounds of whitefish and 6,200 pounds of perch on a good day. Now it's all overfished, and pollution's no help. Today you can hear 'em brag when they catch a ton."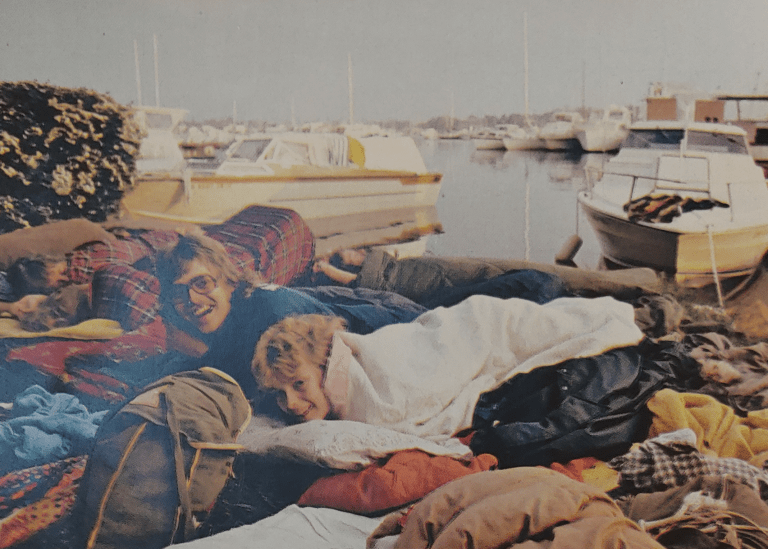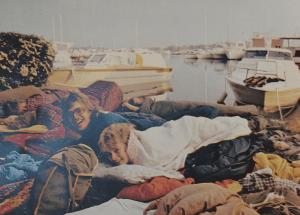 Minnow Charlie added two more minnows to his day's catch, saying, "That makes nine dozen. Now' day, you got to catch 'em when they're out of school –at recess." He winked. "Yup used to be a lot of fish in this ocean."
As he loaded the nets into his truck and rattled off into the dusk, I wondered about all the changes he and the other old islanders must have lived through.
"These islands have seen a lot of history," 87-year-old Lena Market told me. We sat on the porch of her family home on South Bass in the late afternoon of a September day. She sipped some of the island's sweet red wine as she rocked in a white wicker chair and remembered her youth.
"During the summer I would take care of children over there at the Victory," she said, pointing a hundred yards away to the wooded acreage that had once been the grounds of the 825-room Hotel Victory.
"The Victory was a beautiful place, with ballrooms, gardens, and trolley cars that ran the two miles to the village. But the hotel was always in financial trouble."
As I watched the sunlight streak across her timeworn face, I tried to imagine the elegance of the huge wooden structure that had taken 350 master craftsmen more than three years to complete in 1892.
"It was August 14, 1919," she said. "I was downtown walking around when I heard someone say the Victory was on fire. I rushed the two miles for home.  When I got here, my father said if I wanted to save anything in my room. I had better get into our house right away.  Sparks and debris were falling all around us, and my father thought our house was a goner. But we were lucky.
"The Victory burned all night and there was nothing anyone could do. It was just like losing a good friend. We all cried. That was about the end of the islands as a fancy place for rich folks."
Even the Tin Goose Has Bad Luck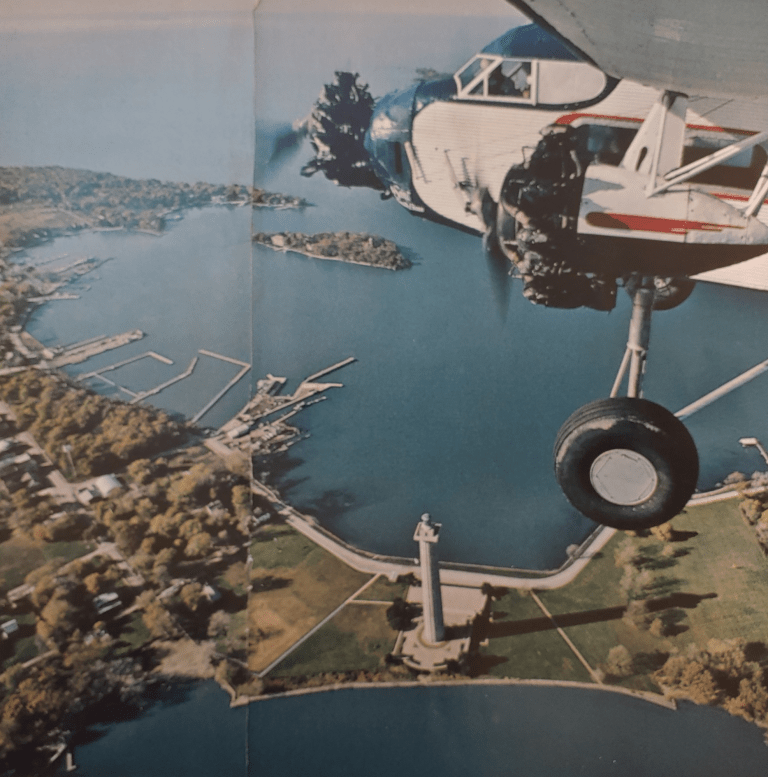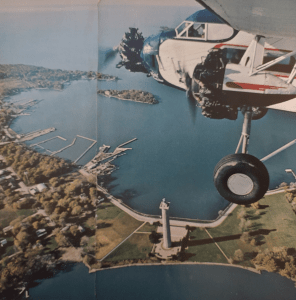 A series of disasters followed the burning of the hotel. Prohibition almost destroyed the wine industry. The turn-of-the-century resorts fell into decay.  The sturgeon and sauger were fished out. And the lake began to choke on the mainland's waste.
As if all that were not enough, an event as traumatic to islanders as the burning of the Victory occurred last year when the Tin Goose fell out of the sky.  This flying red-white-and-blue antique, the Island Airlines' Ford Tri-Motor known as the Tin Goose, was an important contact with the mainland once the lake froze over.  Since 1935, when it first came to the islands, the Goose had carried everything from schoolchildren to sightseers and carousel ponies.
When the Goose crashed on South Bass Island on July 1, 1977, seriously injuring pilot Dave Martin, islanders feared they would never see its like again.  The Goose was the best machine for its job. Its short-takeoff-and-landing capabilities, oversize balloon tires, and tail-dragging landing gear made it perfect for island-hopping on unimproved strips with heavy payloads.
Dave Habermann, president of Island Airlines, refuses to let his relic be killed. "If this were an airplane, I'd have written it off as a total loss," he said. "But this is one of the last Ford Tri-Motors flying – it is history. It must be rebuilt."
With the help of a "Save the Goose" fun, the old bird was sent to the shop. If Mr. Haberman's predictions are realized, it should be flying again soon, with now recovered pilot Martin back at the controls.
Catawba Wine – Island Treasure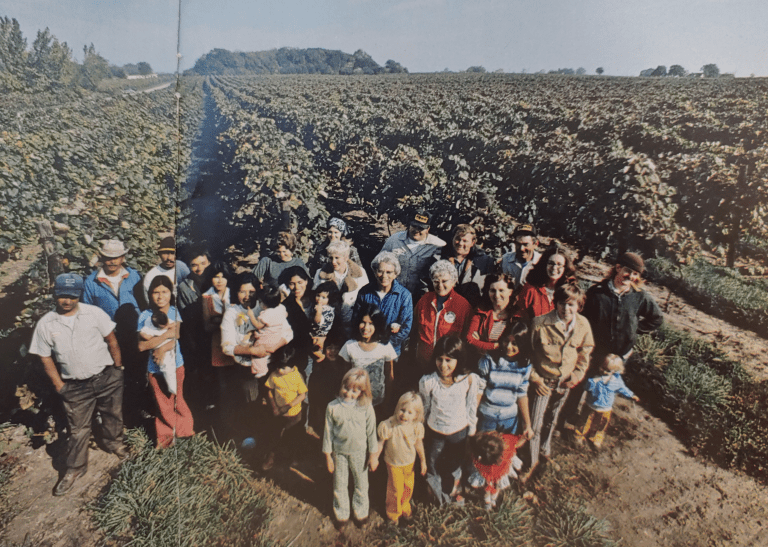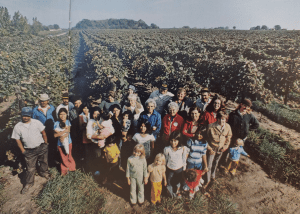 Just a few months before the crash, I had ridden the Goose over Victorian homes surrounded by the vineyards of this freshwater archipelago. After that, I found the vineyards even more impressive from the ground.
The morning light enhanced the vivid autumn hues of trees bordering the grapes as I hurried down a row of plump Catawbas to catch up with Louis Heineman.
"Try this," he said, holding out a cluster of grapes.  I tasted a burst of sweetness followed by the tart rush of pulp.
Louis, is a middle-aged man with a fatherly smile, is the owner of Heineman Vineyards on South Bass. He is also a cellar master, a chief field hand, salesman, and janitor.
Like the fishermen, South Bass winemakers have seen a bigger harvest. By 1880 more than 600 of the island's 1,300 acres were planted in grapes and served 12 wineries and five brand distilleries.  These family operations flourished until Prohibition and the Depression.  The largest winery, the Put-in-Bay, Ohio Wine Company, produced more than 150,000 gallons a year, compared with Heineman's current annual production of less than 30,000 gallons.
"When I was a kid, everyone picked grapes in the fall," Louis told me. "I worked for Tom Duff after school for 20 cents an hour and was glad to get it.  Now the Duff vineyards and ours are the only ones still in production on this island.  Meier's has a big operation, of course, on North Bass."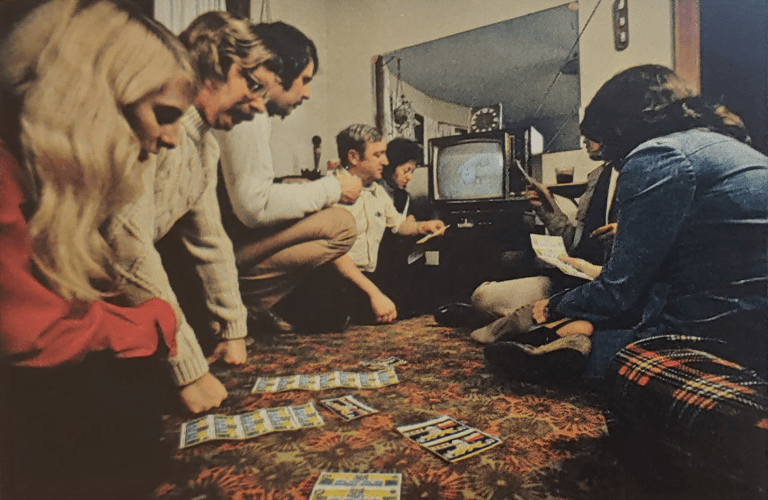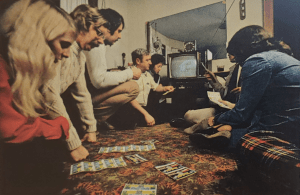 North Bass is a 700-acre company island half a mile south of the Canadian border.  The home of Meier's Wine Cellars, Isle of St. George Vineyards, it has about 35 residents, 400 acres of grapes, and two mechanical grape pickers.
"These are the largest continuous Catawba vineyards in the world, "said Dale Buris, as he scanned the endless rows of vines, "and we are always to improve them.  This year we've put in a European type of grape – a vinifera.  The island will produce an outstanding harvest of Riesling grapes because the climate is the same as in the Rhine Valley, where the best Rieslings are grown.  We have the same cold winters and cool summer nights."
As twilight replaced the last wisps of warm sunlight, I watched the towering mechanical grape pickers straddle rows of grapes and shake the fruit from the vines.
"It used to take a lot of hand labor," said Burris, "but now we can ship 60 tons of grapes a day to our mainland winery."
Radically different is the tiny winery of the island's most revered winemaker, Leslie Bretz of Middle Bass. At 84, Leslie, a small man with white hair, moved purposefully about the old wooden pressing barn, checking gauges, hoses, and pumps. He oversees each step of his 10,000 gallon-a-year production, and islanders talk with deep respect about his wines and champagne.
Comeback for Lake Erie Waters?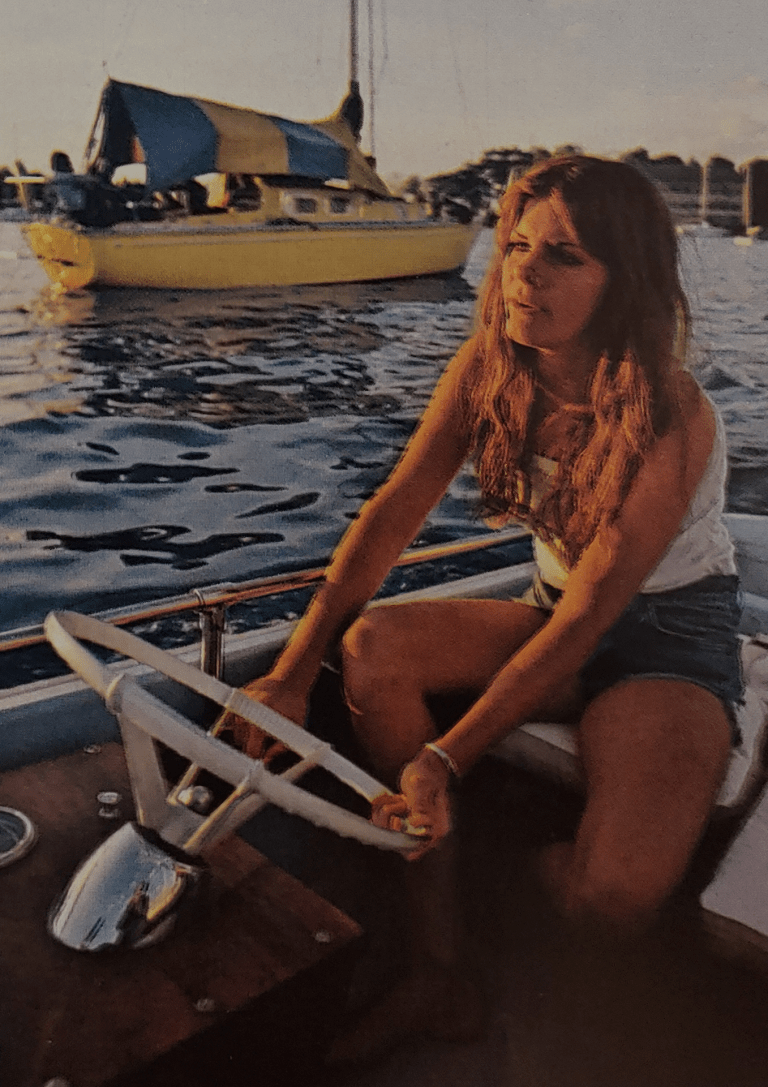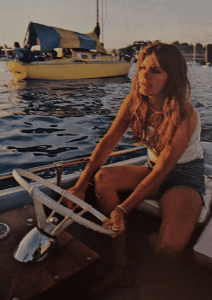 As the islands still nourish the vine, the lake water provides fish for a hardy few.
"When my father was young, there were 300 commercial fishing boats and three fish buyers working out of these islands," said fisherman Sonny Schneider, a man with a weathered face and friendly smile. "Now, this is it. Mine is the last commercial fishing boat that calls the islands her home port."
Sonny actually works out of Vermillion Harbor on the mainland; the water around the island themselves lie within vital breeding grounds that the Ohio government has closed commercial grill netting.
It was a blustery morning in November as Sonny's boat headed for the open lake. We were hitting ten-foot swells, and I struggled to keep my balance on the slippery deck while the five crew members prepared to haul in the first string of nets.
"Yesterday we pulled over a ton of perch in this weather," Sonny said, as he watched the first of his near-empty net emerge. "I guess you can't win every day.  Anyway, commercial fishing is getting better, and I think the water is getting is cleaner."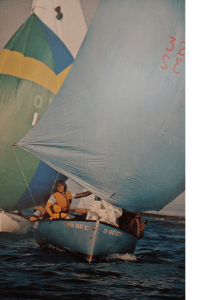 Lake Erie was once the world's largest producer of freshwater fish, but pollution and overfishing have led to its decline. In the past few years fishing has improved, largely because of the ban on gill netting.
The Franz Theodore Stone Laboratory, an Ohio State University research station on Gibraltar Island, is helping to define the lake's illness through pollution monitoring and the collection of ecological data. I joined Dave Gruet and his crew of young scientists aboard the research vessel Hydra from the last sampling cruise before winter's ice closed the lake.  Through the laboratory, this converted Army lighter was outfitted as a research center for CLEAR (Center for Lake Erie Area Research).
As the first water samples were taken, I asked, "Is the lake really dead?"
"No!" Dave replied. "It's too alive-but alive with many of the wrong things. Industrial waste, urban sewage, and farmland runoff have added more life nutrients and microorganisms to the lake than it can take.
"In the four years we have taken data, the lake has stabilized; it's holding constant – not making a comeback. People don't realize that this small fragile lake still produces more fish for the nation's food basket than all the rest of the Great Lakes combines.  It must be treated with great care."
Islanders Relish Winter's Isolation


Winter comes hard to the Lake Erie islands. The sky turns a depressing gray, and bitter-cold wind whip across ice that stretches from the Canadian shore.
Snow blew in swirls from the corniced roofs as I walked the empty streets of downtown Put-in-Bay Ohio. The shops that had been crowded with summer people were closed. Therefore, Winter is a quiet time for the islanders. Lifelong friendships, family life, community spirit come to the fore, displacing the noisy, fevered activities of a summer resort.
Swinging across the ice between Middle Bass and Rattlesnake Islands were the headlights of two ice cars nearing a cluster of ice-fishing shanties. I grabbed a ride with state park ranger Art Boyles, and we headed for the west shore of South Bass Island so I could try my luck at ice fishing.
"We take the doors off these junkers and turn them notice cars," he said as we slid across the frozen lake in his convertible. "If you go through the ice, you have to get out fast. Doors just in your way."
Ice fishing and the promise of a basketful of perch and walleye bring hardly mainland sport fishermen for brief visits. They provide winter income for the local ice-fishing guides, who maintain nomadic villages of canvas-covered huts on wood skids.
Inside a shanty, a small coal stove kept me warm while I waited for an elusive perch or two to find my double hook.  The nibbles came quickly, but my score was zero, through all around me people were bragging of a baker's dozen in their morning catch.
Another Summer, Another Winter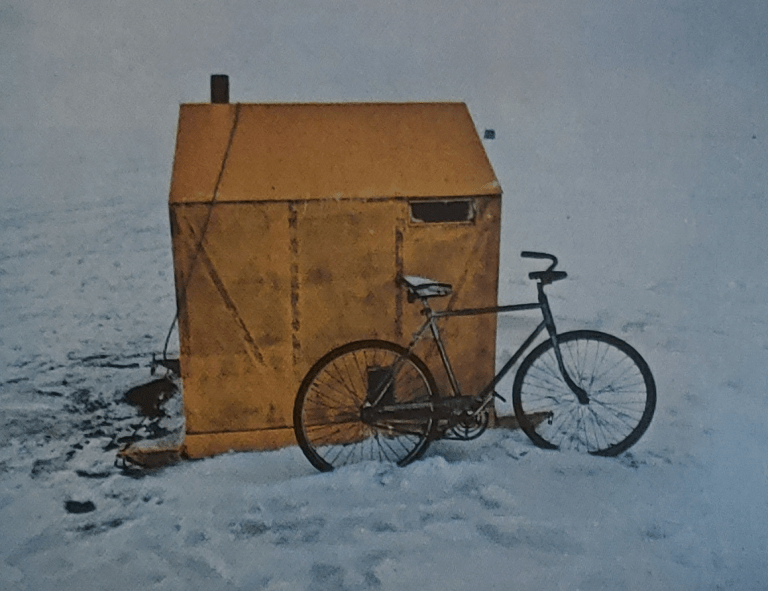 A week later I drove again to the west shore to watch the ice-fishing shanties being pulled off the ice. The thunderous booming of ice breaking up in the channel signaled winter's approached end. As a result, the ferries patiently wait for their return to service.
Carefully I walked out on the honeycombed surface of the lake.  Curt Massie and Hank Polcyn, both in their 20s, were stringing a train of shanties to their ice car. Where just days before I had ridden in safety, seagulls were landing in open cracks.
"Spring's almost here," yelled Hank as I slipped along the ice. "Next thing you know, tourists will be all over the place again."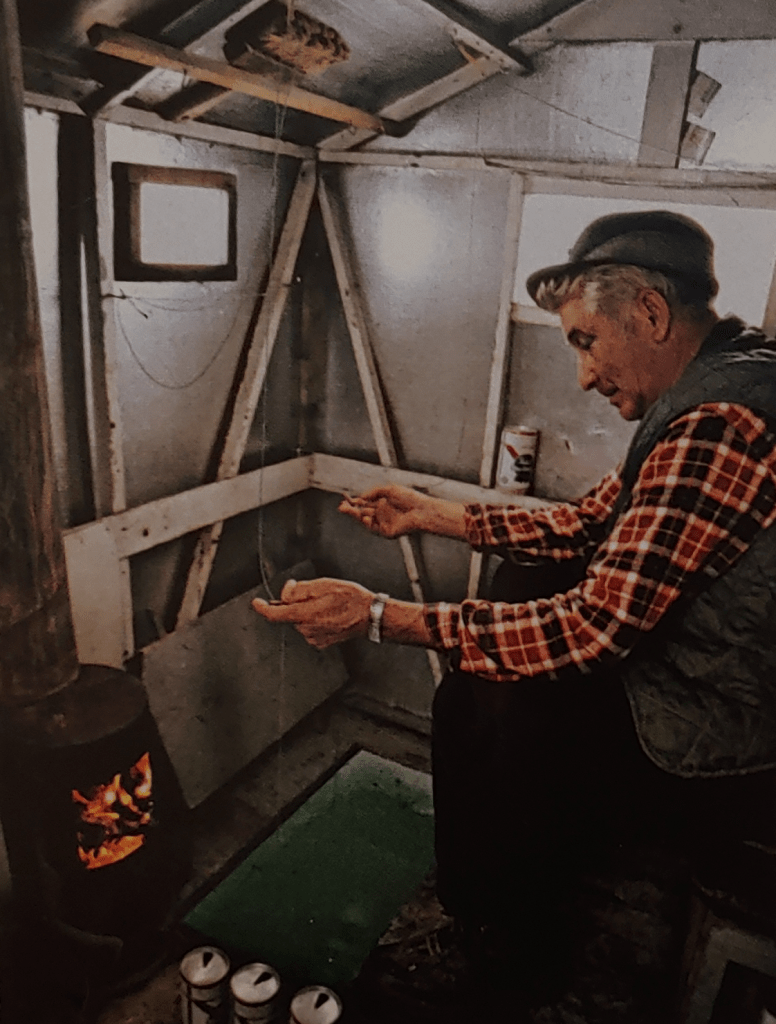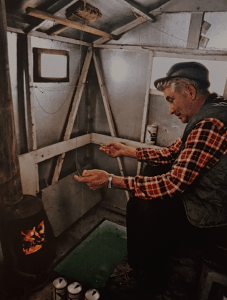 I helped him hook the last of their 17 shanties to the car, then rode back with them towards the solid ground, as the surface creaked and groaned beneath us.
I thought, yes, winter is ending; summer is only 90 days away. The real personality of these water-bound communities would again be eclipsed by summer revelers. But fall would quickly follow, and the old blue pick up truck with fishing nets flapping would rattle down to the docks. There, for anyone within earshot, Minnow Charlie would declare that only islanders, bass, and minnies stay around these Lake Erie Islands all year long.
Put-in-Bay, Ohio Today
Nowadays, Put-in-Bay Ohio/South Bass Island hosts over 750,000 people each year. The streets are full of golf cart rentals and tourists enjoy the same classic Put-in-Bay attractions as they did 40+ years ago. Put-in-Bay Island makes for the perfect midwest getaway for people living in nearby cities such as Cleveland, Toledo, and Sandusky.
Put-in-Bay Hotels and Put-in-Bay lodging options have improved over the years which attracts visitors to stay a few days on the island. As a result, Put-in-Bay vacations are as fun as they have ever been. From the moment you step on the Miller Ferry or Jet Express from Port Clinton/Catawba, get ready to have a great time.
The Island has become a popular vacation destination to host bachelorette parties, family vacations, and everything in-between! The key west of the north awaits your visit!
Where to Stay?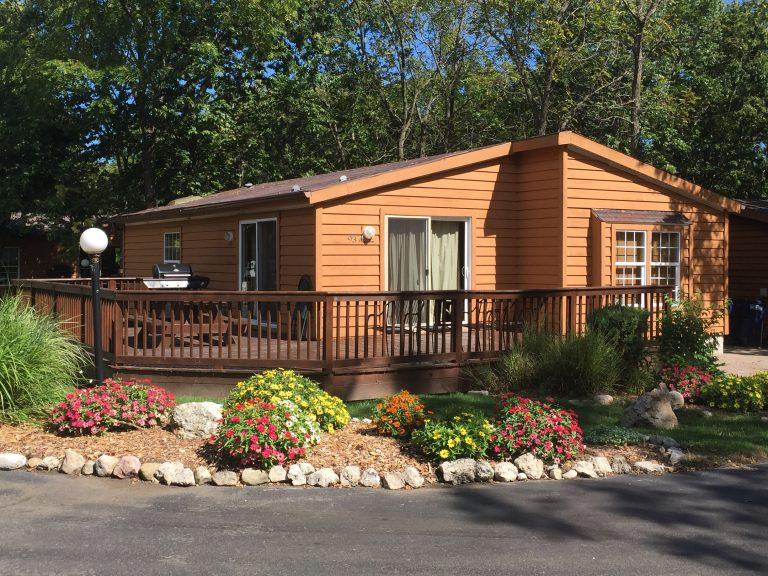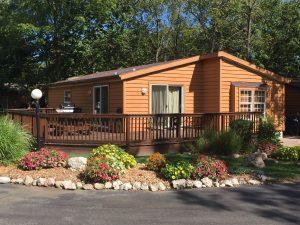 The Island Club Home Rentals – 216-898-9951
The Island Club rental homes come with fully equipped kitchens, high-speed wifi, golf cart rentals, swimming pool access, and much more. Click here to book now online or give their reservation team a call!
The Put-in-Bay Condos – 216-898-9951
The Put-in-Bay waterfront condos are the most luxurious place to stay on the island. The new 4-year old property has been voted as the best Put-in-Bay Resort by the best on the bay awards.
Commodore Resort – 419-285-3101
The Commodore Resort is the best place to stay when it comes to downtown Put-in-Bay Hotels. Home to Mr. Eds Bar and Grille as well as MIST Swim-up bar, the Commodore Resort is one of the best hotels on the island.
The Bird's Nest Resort – 419-285-6119
The Bird's Nest is tucked away roughly a mile from DeRivera park and other downtown Put-in-Bay attractions. In addition, The Bird's Nest offers Put-in-Bay lodging options for those traveling on a budget. Guests can enjoy pool access, full kitchens, and the peace and quiet of being on an island!
What to Do?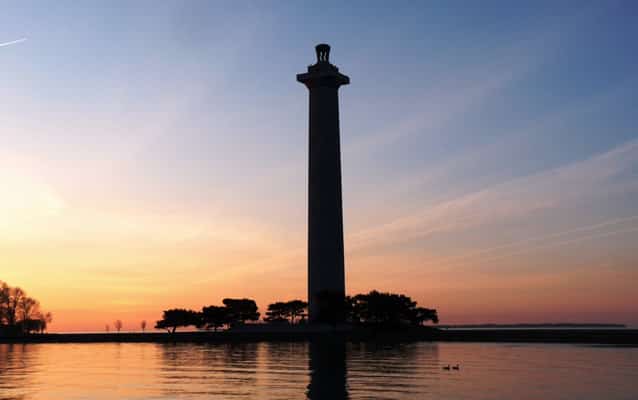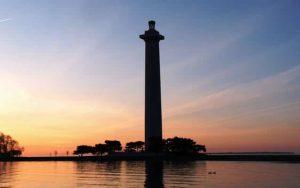 Once you have sorted out your vacation rental, its time to plan your day-to-day activities. Here are some of Put-in-Bay Ohio's most popular things to do:
-Perry's Victory and International Peace Memorial
When you come to Put-in-Bay Ohio, you will see this monument towering 352 feet about the island from the mainland. Visitors love going up to the observation deck where you will get a bird's eye view of all the surrounding Lake Erie Islands.
-Perry's Cave & Family Fun Center
Perry's Cave and Family Fun Center is a great place to spend a few hours. Once there, you'll find Mini Golf, Fort Amaze'n, the Butterfly House, Antique Car Museum and more.
-The Put-in-Bay Winery
The Put-in-Bay Winery is one of the best places on the island to enjoy a nice glass of wine. In addition, tours of the winery include multiple wine tasting opportunities and more.
-Helicopter/Biplane ride from the Put-in-Bay airport
See the island and the entire surrounding area from a bird's eye view. Tours start at just $40.
-Put-in-Bay Historical Society
Learn all about Put-in-Bay Ohio's rich history leading all the way back to the ice age.
-Put-in-Bay Watercraft Rentals
Enjoy water sports? Put-in-Bay watercraft rentals have kayaks, jet skis and other watersport options available for rent.
-South Bass Island State Park
Home of Put-in-Bay Ohio's only public beach, the South Bass Island State Park is the perfect place to watch the sunset. Families and enjoy the charcoal grills and large picnic areas available that overlook the beach. In addition, the South Bass Island State Park is home to Put-in-Bay Ohio's public campground.
Where to Eat and Drink?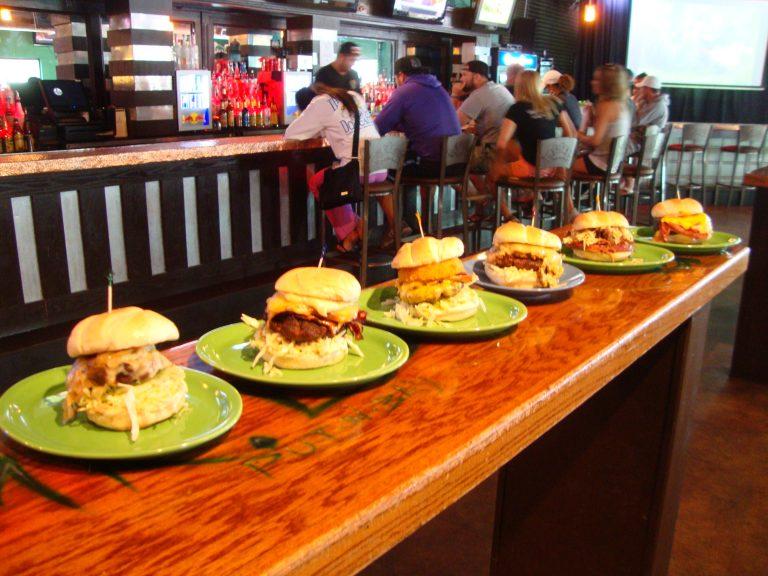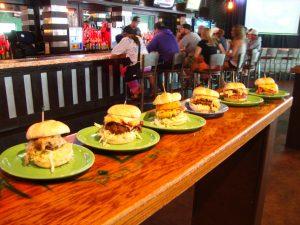 Food lovers will have dozens of local Put-in-Bay Restaurants to choose from. The nightlife scene is also something all adults will enjoy! Here are some bars and restaurants we recommend while you're touring the island:
-Mr. Ed's Bar and Grille
-Joe's Bar
-The Roundhouse
-The Boardwalk
-The Keys
-Put-in-Bay Brewery
-G.O.A.T. Soup & Whiskey
-The Boathouse
-Frosty's Bar & Grille
-The Boathouse
-Mossbacks
-The Fishbowl
-Topsy Turvey.
Thanks for reading!
Thank you for reading our National Geographic Blog about the history of Put-in-Bay, Ohio. For any lodging questions or concerns, give our reservation team a call at 216-898-9951. Lastly, don't forget to plan your trip to Put-in-Bay Ohio in advance as last-minute availability is difficult to find. As a result, we suggest making reservations 4-6 weeks before your arrival date.