Put-in-Bay, Ohio is home to many different places to stay. However, here are 10 reasons why you should book with the Island Club Rentals.
1. Island Club Rentals offer the Vacation home rentals you have been waiting for
The Island Club offers homes that are fully equipped different amenities so that their guests can make the most of the Lake Erie Island getaway.
Vacation rentals are becoming the most popular way for people to enjoy their vacations.
2. Enjoy access to Private Golf Cart Rentals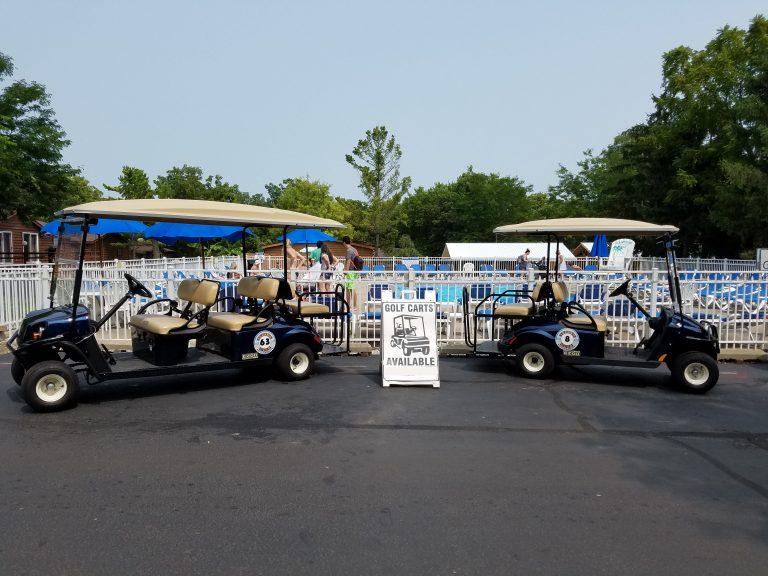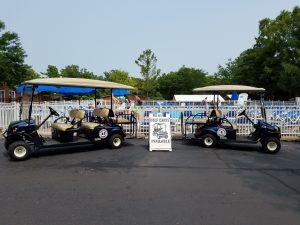 Guests that are staying at the Put-in-Bay Island Club Rentals have access to private golf cart rentals! Ride around Put-in-Bay island in style with your own Island Club golf cart.
You can book your golf cart and enjoy it from check in to check out with no overnight fees. Other golf cart rental agencies on the island will charge a hefty fee just to keep the golf cart over night. Besides, the Island Club and Put-in-Bay condo golf fleet are among the newest on the island.
3. Take advantage of Island Club Rental's endless amenities
Guests who make the smart decision to stay at an Island Club Rental Home enjoy access to a full kitchen and free wifi! Your group will have the freedom cook whatever you want. Don't worry grill-masters, there are propane grills at every house to meet your BBQ needs.
The living rooms are spacious, comfortably furnished and have TVs featuring spectrum cable package. Guests will be able to adjust their room temperature during those hot summer days with air conditioning.
4. You will have a whole house to yourself!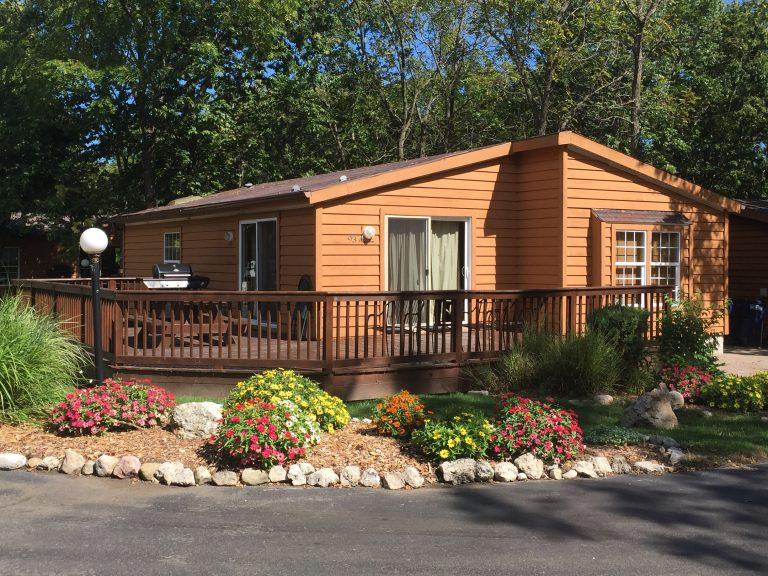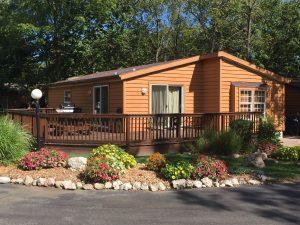 Often times when staying at hotel or Put-in-Bay resort, the rooms can be small, crammed and who knows how loud your next door neighbors may be when its time to go to sleep. So, book now with the Put-in-Bay Island Club and enjoy the privacy of a South Bass Island home.
5. Easy to accommodate big groups
The Island Club features 3-5 bedroom homes that can sleep anywhere between 8-16 guests. This makes this Put-in-Bay lodging location the perfect place to stay for large family outings, bachelor and bachelorette  parties or your typical girls weekend getaway.
6. Access to swimming pools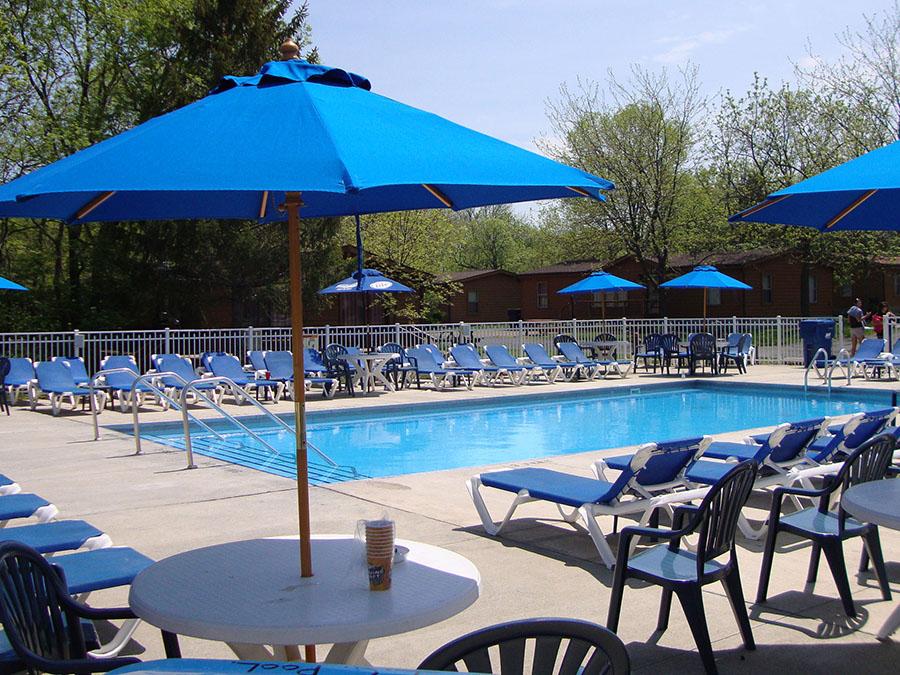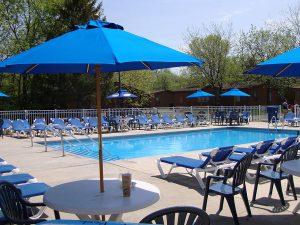 The Island Club swimming pool is the place to be during those hot summer days! Put-in-Bay Ohio is home to lots of poolside fun. Remember to bring your favorite swim suit! In addition, you'll also have access to the pool at the Put-in-Bay waterfront condos.
7. Island Club Taxi Service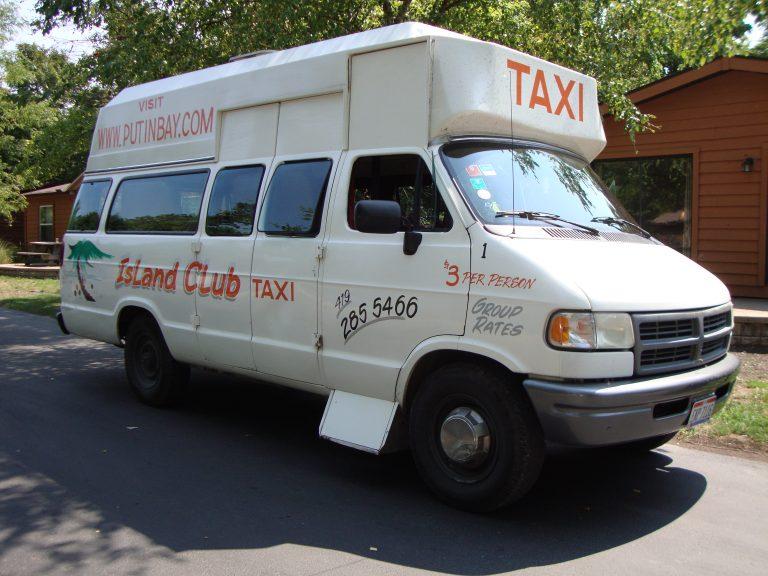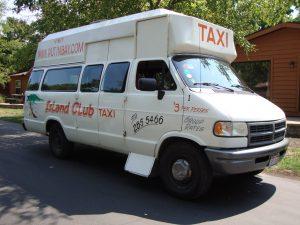 Need a ride downtown? Call the Island Club Taxis at 419-285-2227.  Our fun and professional taxi drivers will take you and your group anywhere on the island. Want to head to Mr. Eds to enjoy the downtown Put-in-Bay nightlife scene? Call a taxi and bring $3!
8. Home of the Fall Ball and Spring Fling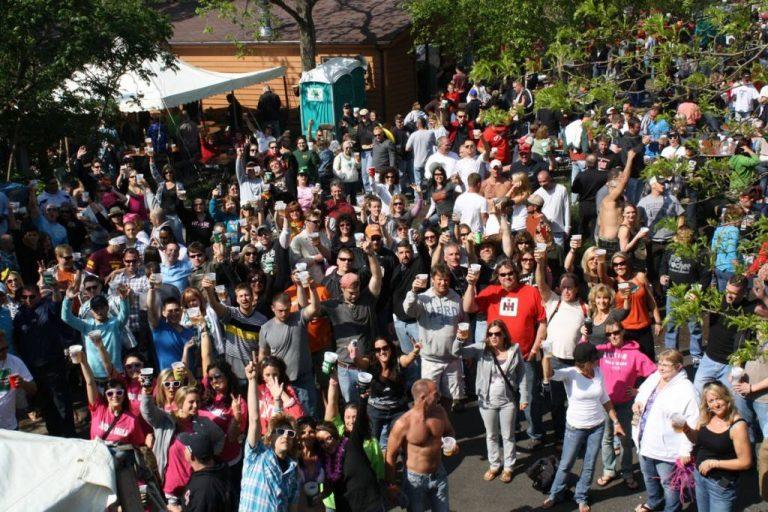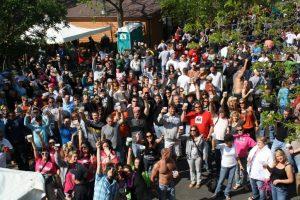 The Island Club hosts two great customer appreciation parties each year and has done so for over 20 years now! The Official Original Put-in-Bay Spring Fling Customer Appreciation Party kicks off the summer season on the first Saturday of May. And the Fall Ball commemorates the end of a great summer on the first weekend of October.
In fact, our events are so popular that an imitator downtown has now started his own fake Spring Fling and Fall Ball parties, copying most of our pictures and information (except for the Christmas in July picture that he uses to promote their fake events… c'mon, who wears Santa hats and walks around topless on the first day of May?!?).
Island Club homeowners host both Spring and Fall events which feature live music, free beer and food. This Island Club tradition has been going on for over 20 years. Unfortunately, the 2020 Spring Fling was cancelled due to Covid-19, but Spring Fling 2021 is going ahead as scheduled!
There are many great island events in between these such as Pyrate Fest, Bash on the Bay, 5k races, Memorial Day festivities and much much more! You can get more info on these and other great Put-in-Bay summer events!
9. Easy Check-in Process
The check-in process at the Island Club couldn't be easier. Once a guest makes a booking their rental agreement can be electronically signed. After the Island Club's staff receives the signed rental agreement, your check-in instructions will be sent out by email, including the door lock code to get into your rental. Contactless check-in is now the thing, and we have been doing it for years!
10. Opportunity to win a free weekend!
Follow the Put-in-Bay Island Guide on Facebook for free weekend getaways. Just recently, the Island Guide announced the winner of the free weekend. The young lady who won decided to take her boyfriend with her to have a fun vacation at the Bay. A couple days later, that same young lady came back with a fiance! I guess what happens at the Bay doesn't have to stay at the Bay after all.
You can also put in a free weekend request by providing your email address on the Island Club Rentals website.