The War of 18 Holes Miniature Golf Course is the only mini golf on Put-in-Bay. Located at Perry's Cave and Family Center, this course is both beautiful and challenging. Guests can challenge their friends to a game while learning about the battles of the War of 1812.
Perry's Cave and Family Fun Center.
Perry's is one of the most popular sites on Put-in-Bay. Located on Catawba Avenue, this entertainment complex is full of fun things to do. Besides the mini-golf, visitors can choose from activities such as Gemstone Mining, the Butterfly House, the 25 foot Rock Wall, and Fort aMaze'n.
The centerpiece of Perry's is the limestone cave. 52 feet under the surfaces lies a cave full of interesting rock formations. There is a rare underground lake. The pure water from the lake was used by Commodore Perry and his troops during the Battle of Lake Erie.
War of 18 Holes Miniature Golf Course
The course itself is well-maintained, full of blooming flowers in the summer. Beautiful hostas, rhododendrons, and azalea line the manicured walkway. Trees canopy each hole to shade golfers from the hot sun. As visitors chart their course through each hole, they encounter facts about the War of 1812 along the way.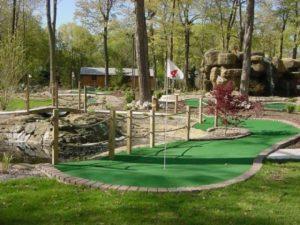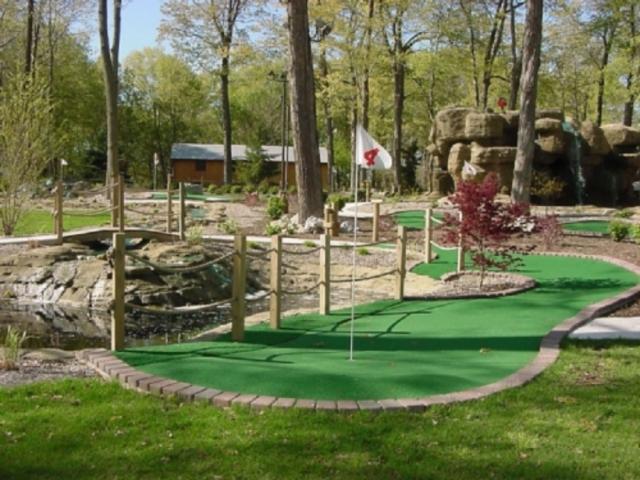 The course also contains a covered bridge, waterfall cave, and lovely winding paths. A fun activity for both kids and adults!
Other Attractions Nearby
This part of Put-in-Bay is a little quieter than downtown but still full of fun. Heineman Winery and Crystal Cave are right across the street. Another natural wonder, the cave contains the world's largest geode. Heineman's grows and makes delicious wine.
Hungry? Dive into the best dive bar food at Joe's Bar and enjoy a cold one in their big backyard. For something a tad more upscale, try Goat Soup and Whiskey. They make delicious soups and other dishes using fresh ingredients from their garden.
Testimonials
Joe A: "We had a great time at this complex. Get the 3 attractions deal it's worth it. For our 3 attractions, we did the cave tour, putt-putt, and the butterfly house. The cave tour is pretty accessible as cave tours go. There are a lot of steps. I don't think my 3 yr old could handle them yet but 4-5 years should do okay with minimal assistance. The temperature in that cave is heavenly on a hot day. The putt-putt course is well maintained and challenging. (We lost a ball in a water hazard and had to retrieve it.) The butterfly house is lovely and reviewed separately. One thing to note all beverages on the complex are sold through vending machines that do not take debit/credit cards. Drinks are not sold at the snack counter or gift shop."
Bill T: "We didn't go into the cave, but we had a great time panning for gems and playing miniature golf. For $9.50 you get a huge bag of sand and search for the gems inside. They give you a card showing the different gems you might find. All of the kids in our group found lots of cool gems. The putt-putt golf course is beautiful and really fun. Adults and kids had a great time."
There are no reviews yet. Be the first one to write one.