The Heineman Winery is a Put-in-Bay tradition. Dating back to 1888, this winery is the oldest on the island. It is also the only winery the makes the wine they sell. Visit the winery for tours of the vineyard, the Crystal Cave, and enjoy tastings and cheese in the beautiful Wine Garden.
The History of Heineman Winery
Gustav Heineman arrived from Germany in the 1880's. He was quick to recognize Put-in-Bay Island as a perfect place to grow grapes. Due to Lake Erie's tempering effect, the island has a longer growing season than the surrounding areas and rich soil.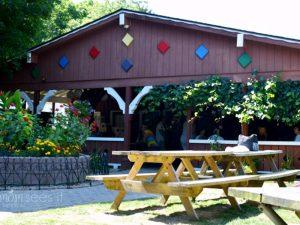 Heineman's opened in 1888 with the discovery of Crystal Cave in 1897. By 1900, the island had caught on and 17 wineries were now in operation on tiny South Bass Island. Sadly all but Heineman's would be done in by prohibition.
The Volstead Act was passed in 1919 and the Put-in-Bay wineries quickly closed up shop. Gustav's son Norman ingeniously decided to offer tours of the magical, wondrous Crystal Cave which contains the largest Geode in the world. He also sold unfermented grape juice.
The family tradition continues today with the third and fourth generation cultivating the 50 acres. Growing their own grapes affords them a great deal of control of the tannins and the taste of their products. This is known as "vine to wine." The grapes include the Concord and Catawba.
They specialize in Sweet and Iced Wine but also make a robust Cabernet Sauvignon and dry Chardonnay. The favorites are the Pink Catawba and Niagara.
The Wine Garden
Once your winery and cave tours are complete, enjoy tastings in the Wine Garden. This is an ideal spot to share with someone special. Enjoy a glass and cheese plate and say cheers to summer. The Gift Shop on-site sells bottles individually and by the case. Take some home for your next meal and gift your favorite bottle to friends back home. Please note that Heineman's can only ship within Ohio.
Testimonials
Dan S: "Previous reviews were spot on that were positive!! We had a fantastic time. One of those places where you have to do it once. The cave is cool and its THE cave to visit. It's one of a kind where the remaining island caves are purely limestone. Their wine is so good. I like dry wines, so I had a sample of, and purchased, their Cabernet Sauvignon. Mom likes sweet and had their Pink Catawba. A really good well-rounded sweet wine with superb fruit flavor was the Niagara. We bought this for family gatherings that seemed diverse for crowd pleasers. The tour was great, and we met 2 generations of the Heineman family, Ed and his son. If you can't be with the wine you love, love the wine you're with."
Lori W: "This is a must see when you are in Put In Bay! We did the Crystal Cave and Winery Tour combo. Although the Crystal Cave is small, it is fascinating to see and imagine that large of a  geode is under the winery. The winery tour was very informative and kudos to the Heineman family for being the oldest winery in Ohio. A great time!"
Beth H: "We came to the winery to catch up with some family we had not seen in a couple of years. We had three younger kids with us who all enjoyed playing in the grass and chasing the birds. My son had a small injury while there and the staff was excellent. The bartender was the first to bring her first aid kit and help fix him up. Never seen an establishment help so quickly and so nicely. She probably has a lot of practice from the adults who drink a little too much, but we were all super impressed and thankful for her help! The wine was yummy, we tried a few reds but the cedar woods table wine was my favorite. The cheese plate is always a hit and a must to snack on while you're enjoying several glasses. We had a fun time and it brought back amazing memories of coming when were kids 26 years ago!"