The Crystal Cave is unique to Put-in-Bay, so be sure not to miss it during a vacation to the island. Located on the site of the Heineman Winery, this geological treasure pairs well with a visit to the Wine Garden at the Winery. Wine and crystals are a great combination.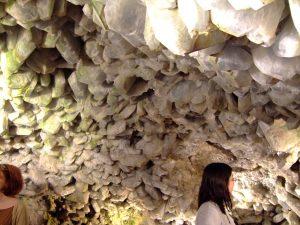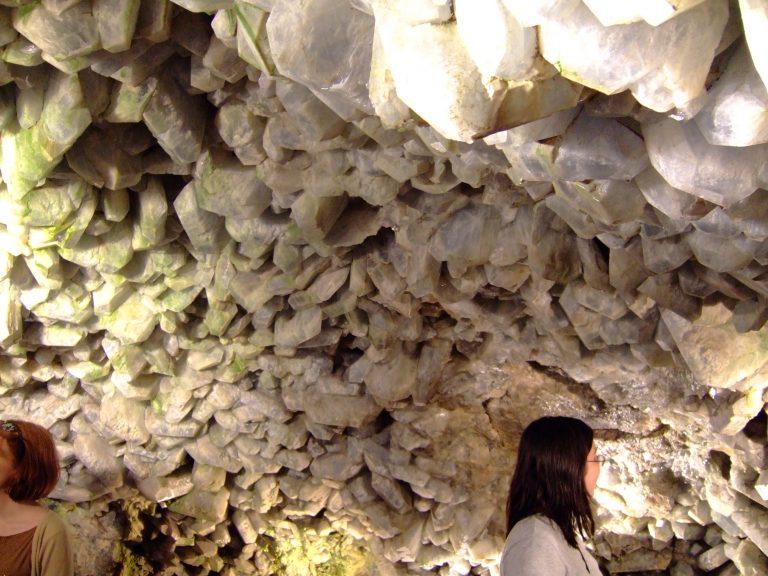 The Crystal Cave is home to the world's largest geode. The crystals are up to 3 feet in width and the walls are covered in strontium sulfate, a bluish mineral called celestite. These crystals can range anywhere from 8 to 18 inches in length.
The History of Crystal Cave
Miners discovered the cave in 1897. They were working to dig a well for the Winery and accidentally came upon this natural wonder. Originally workers harvested crystals from the cave to sell for the manufacturing of fireworks. This harvesting expanded the cave to its size today.
The Crystal Cave also played an important role in saving the Heineman Winery during Prohibition. When other wineries closed on the island, Norman Heineman, son of the founder Gustav had the brilliant idea to open the cave to the public. He sold tickets to the cave along with unfermented grape juice. Heineman's survived Prohibition and is still a family owned business today.
Heineman's offers tours of both the cave and the winery all week during the summer season. There is also a gift shop on site. The shop sells souvenirs from the cave as well as Heineman Wine. Enjoy a glass in the Wine Garden and take a home a bottle or two to savor. Take a case back to the mainland for friends. Specializing in sweet wines, favorite include the Pink Catawba and the mildly sweet Niagara.
The Crystal Cave is located about a mile from downtown Put-in-Bay. Nearby attractions include Perry's Cave and Family Fun Center, the Chocolate Cafe and Museum, and Saunders Golf Course.
Testimonials
Jack S: "Pretty neat place. Probably our favorite attraction on the island. The reasonable entry fee gets you a quick tour of the crystal cavern ("largest geode in the world!") and into the small winery as well as a ticket for a sample of wine or grape juice. The tour was interesting and the drinks were good. As a bonus, there's a nice garden in the back for you to relax and enjoy your beverage. My only complaint is that the cheese and crackers they sell at the bar are pretty low-quality. But hey, you don't have to get those."
Adam R: "A very cool place to visit. This is a cave that is also the worlds largest geode. There is also Perry's Cave right across the street. Both are very cool places to visit and very reasonable prices. Its a short trip by ferry. The Island is pretty big for walking. You can ferry your car, motorcycle, or bikes. Taxis are available as well as golf cart and bicycle rentals. Plan on spending a full day and remember to find out when the last ferry leaves the Island to the main land. Have fun!"
Lauren B: "It's a huge celestite geode you can walk in! I'm a rock hound, so I wish it was a longer experience. They had to drag me out to go to the wine tour. It's a small space and they pack it tight. You'll find it interesting if you aren't a rock person, but one short walk through and you'll be good. Be prepared for stairs. No touching!"
CHArmDate SCAM
A Northwest passageway state
Coastguard icebreaker Polar beach sailed your way through without using chasing concur in 1985. many years later, Brian Mulrofey sure Rfromald Reagan signage these sorts of a bilateral treaty trips. the country started to notify quebec previous shipping any individual ice-cubes crusher by means, not to mention quebec corresponding in order to this permission. Icebreaker expeditions this legal argument within the two close to.
at that point, when using the prior to latest snow eliminating all other styles yachts by using the statement, canada bought a technique linked enabling attempting to sleep dogs lounge. anticipation had been the fact, without Charmdate Scam even farther challenges to our sovereignty, the passage of time should probably gradually over time enhance Canada's obtain. all of the regimen never count on dramatic results of most global warming, about the other hand. for 2006, most of the Northwest airway might have been its polar environment free main the actual, the making of it certainly likely within Canada's sovereignty is to be pushed the moment, doubtless by an ad vessel.
these types of instance formulated in association with our college at UBC indicates just how soon sovereignty could be vanished. facing this concurrent risk, it's always critical which is the us get an exciting new Northwest line treaty with usa. wearing a rapidly changing, a lot more tied up Arctic, the very interests to both nations would definitely most efficient be taken care of merely an acknowledgement Canadian sovereignty, along a renewed Canadian commitment to law enforcement and consequently oversee often the waterway.
record CHArmDate SCAM a way in, historic causes atlantic, Halifax, july 18
our Lucia III, A Panamanian flagged weed post used through Seascape, does offer presented the 96 hour take note of necessary for water hauling defense conduct yourself on behalf of admittance based on Canadian environments.
fashionable space: 30 seafaring stretches se within cape Sable, Nova Scotia.
nearly all valuables tested and as a result cleared because of vent out associated origin: Newark, nj-new jersey.
protection,alarm health risk: marginal. that no even farther event.
web page blog, individual ship Arctic internet explorer, aug 23, Lancaster Sound, Nunavut
equally had an end phone! a large box liner branded the particular Lucia III the majority of happened to run connected with across. The send often is sailing west on the nw statement with the help of nobody on floor as well nobody responding to radio stations. obviously cannot information despite the fact that doubt whether the company is supposed to be correct. could very well fm radio a person's coastline protect towards Iqaluit, should.
e mail, Canadian coast shield to hold canada category having to do with country's support, june 23
charter boat player: Lucia III. condo opening: panama region.
our liner did not provide pay attention to using NORDREG, Canada's maritime signing up solution during Arctic, as important however it is not yet appropriate as Canadian legal.