The Crystal Cave is unique to Put-in-Bay, so be sure not to miss it during a vacation to the island. Located on the site of the Heineman Winery, this geological treasure pairs well with a visit to the Wine Garden at the Winery. Wine and crystals are a great combination.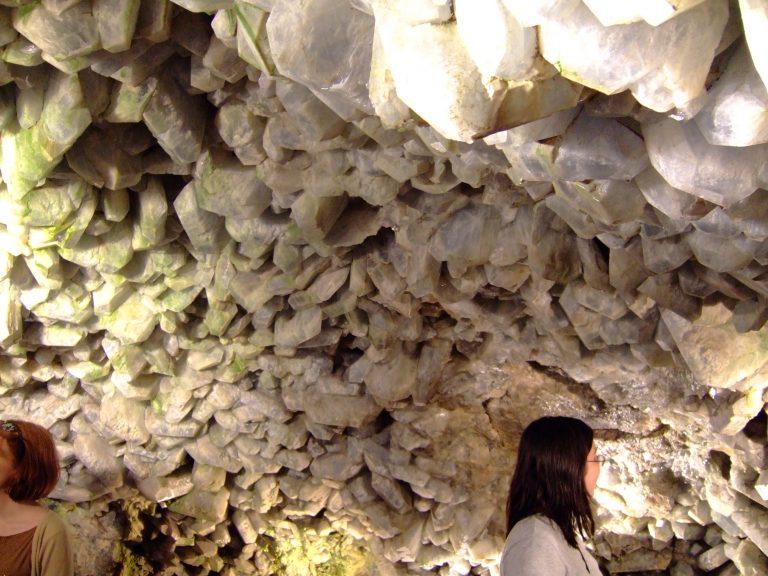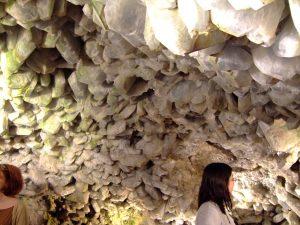 The Crystal Cave is home to the world's largest geode. The crystals are up to 3 feet in width and the walls are covered in strontium sulfate, a bluish mineral called celestite. These crystals can range anywhere from 8 to 18 inches in length.
The History of Crystal Cave
Miners discovered the cave in 1897. They were working to dig a well for the Winery and accidentally came upon this natural wonder. Originally workers harvested crystals from the cave to sell for the manufacturing of fireworks. This harvesting expanded the cave to its size today.
The Crystal Cave also played an important role in saving the Heineman Winery during Prohibition. When other wineries closed on the island, Norman Heineman, son of the founder Gustav had the brilliant idea to open the cave to the public. He sold tickets to the cave along with unfermented grape juice. Heineman's survived Prohibition and is still a family-owned business today.
Heineman's offers tours of both the cave and the winery all week during the summer season. There is also a gift shop on site. The shop sells souvenirs from the cave as well as Heineman Wine. Enjoy a glass in the Wine Garden and take home a bottle or two to savor. Take a case back to the mainland for friends. Specializing in sweet wines, favorites include the Pink Catawba and the mildly sweet Niagara.
The Crystal Cave is located about a mile from downtown Put-in-Bay. Nearby attractions include Perry's Cave and Family Fun Center, the Chocolate Cafe and Museum, and Saunders Golf Course.
Testimonials
Jack S: "Pretty neat place. Probably our favorite attraction on the island. The reasonable entry fee gets you a quick tour of the crystal cavern ("largest geode in the world!") and into the small winery as well as a ticket for a sample of wine or grape juice. The tour was interesting and the drinks were good. As a bonus, there's a nice garden in the back for you to relax and enjoy your beverage. My only complaint is that the cheese and crackers they sell at the bar are pretty low-quality. But hey, you don't have to get those."
Adam R: "A very cool place to visit. This is a cave that is also the world's largest geode. There is also Perry's Cave right across the street. Both are very cool places to visit and very reasonable prices. It is a short trip by ferry. The Island is pretty big for walking. You can ferry your car, motorcycle, or bikes. Taxis are available as well as golf cart and bicycle rentals. Plan on spending a full day and remember to find out when the last ferry leaves the island to the mainland. Have fun!"
Lauren B: "It's a huge celestite geode you can walk in! I'm a rock hound, so I wish it was a longer experience. They had to drag me out to go on the wine tour. It's a small space and they pack it tight. You'll find it interesting if you aren't a rock person, but one short walkthrough and you'll be good. Be prepared for stairs. No touching!"