Located on the Perry's Cave and Family Fun Center campus, The Butterfly House at Put-in-Bay is a wonderful attraction for both kids and adults. Opened in 2004, this 400 square foot aviary is brimming with beautiful butterflies, butterfly bushes, and soothing music. These fluttering creatures are really something magical.
Butterfly House Highlights
Visitors are invited to stroll along pathways and discover secret passageways. There are over 50 species of butterflies from all over the world flying around. Keep an eye out for the dazzling Mosaic from Central America and the Paper Kite from Australia. Look extra hard for the Dead Leaf Butterfly from Southwest Asia.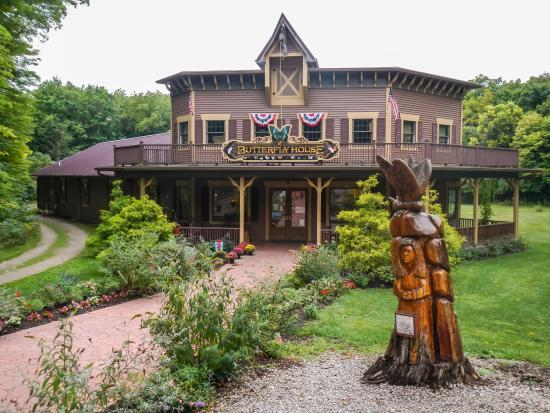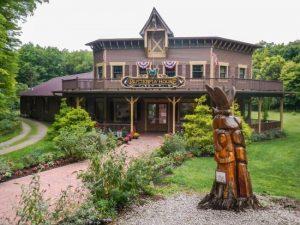 To expand your butterfly knowledge, check out the butterfly specimens encased in glass. The gift shop on-site is also full of delightful items. Shop items such as jewelry, items for the garden, and crystal butterfly figurines. A day spent at the Butterfly House is sure to be a memorable one.
Perry's Cave and Family Fun Center
Perry's Cave and Family Fun Center is full of activities for the whole family. The centerpiece of the site is Perry's Cave, a natural limestone cave registered as an Ohio Natural Landmark. Located 52 feet below the earth's surface, the Cave includes a rare underground lake.
You can also have a go at the War of 18 Holes Miniature Golf Course, one of the most unique mini-golf courses you will ever encounter. Challenging yet fun, players learn all about this historic war while also hitting balls amidst azaleas, rhododendrons, hostas, and many other flowers.
Other attractions include GemStone Mining, a rock wall, and Fort aMAZE'n, Put-in-Bay's only giant maze. Take the challenge of finding the center or simply take in the fun on the observation tower.
DanDee's Snack Shack is also on the premises to help you refuel from all the fun you're having. Kid-friendly, DanDee's serves up crispy french fries and onion rings alongside burgers, fish sandwiches, and mac 'n cheese bites. Ice cream and candy are available for dessert.