Put-in-Bay Golf Cart Reservation Center
Put in Bay Golf Cart Rentals are available to rent by the hour, rent daily and overnight from the Put in Bay Golf Cart Depot.  BOOK NOW to ensure you have your way around the bay! We have high quality brand new Yamaha Golf Carts.  Don't putz around on a slow electric cart when you can zoom around in a gas powered passenger golf cart.   Carts are available in two person, four person and six person configurations. With so may things to do in Put-in-Bay, these are almost a necessity! Call 419-779-5147 for more information!
Island Club Golf Carts and Put-In-Bay Condo Golf Carts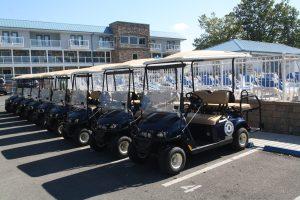 If you are a guest of the Island Club Home Rentals or Put-in-Bay Condo Rentals, you can also book a golf cart directly through your rental organization. Rent a golf cart with Island Club Golf Carts and it will be waiting at your house when you arrive. The same is true at the Put-in-Bay Condo Golf Carts. It is easy and convenient!
Put-in-Bay Golf Cart Depot has the Hottest New Carts – Call 419-779-5147
Explore the Village of Put-In-Bay and the rest of South Bass Island on more than 9 miles of paved roadways.   Take in scenic vistas and admire the Victorian charm of the island.  A Golf Cart Rental on Put in Bay is great for transportation to your Hotel. You can also check out all the Put-in-Bay restaurants and bars in no time at all! Call 216-898-9951 to reserve an Island Club Golf Cart.
The 2 passenger electric golf carts are a fun and quick way for couples to cruise the island for the day. If you're bringing the kids, our 4 passenger electric golf cart will be a great choice. The Golf Carts are equipped with safety features. These include, retractable seat belts to keep your precious cargo safe and secure, windshield and reflective markers. Additionally, the ride is smooth and quiet due to being an electric Put in Bay Golf Cart Rental.
Why Choose A Put in Bay Golf Cart Rental from Us?
Electric and Gas Golf Cart Rentals
Competitive Pricing
Location Near all Put in Bay Hotels
Short Walk from Put in Bay Ferry, Jet Express
Locations right at Island Club Rentals and Put-in-Bay Condos
Courteous, Helpful Staff
Meet the Put in Bay Golf Cart Rental Fleet
The 4 person carts and 6 person golf carts are your passport for transport. Moreover, these golf cart rentals are available overnight and weekly. We have a newer fleet of Yamaha fuel injected carts that will enhance your visit to South Bass Island. Furthermore, they achieve over 35 MPG.  So, running out of gas is never an issue for your multiple day or weekly golf cart rental. These carts leave the rest of the Golf Cart Rental Put in Bay in the dust!
If you really want to step up your game, try one of our Custom Yamaha Adventurer Sports. These carts offer a 3 inch lift kit custom taillights, sporty tires and wheels.  Also, there is a fold down back seat for hauling groceries or gear if needed. These are the finest rentals available on P.I.B., offering a great value in your overall experience.  The golf cart rentals at  Put n Bay typically will rent from April through September.
Renters of Golf Carts on Put-In-Bay will need a valid drivers license, be at least 18 years of age and sign a rental contract. Please remember that Put-in-Bay golf carts are licensed vehicles on state of Ohio roads, and as such are subject to the same traffic laws that car would be subject to in Cleveland or Toledo!
Put-In-Bay Bike Rentals and More!
Also, we are offering an ELECTRIC ASSIST BICYCLE for a new way to see the island. Get your exercise, but have some help along the way. These will be on a limited supply basis, so please call for info about both the Bicycles and the Golf Cart Rentals.  Our Put-In-Bay Golf Cart Rental Agency strives to provide our guests with a fun and safe way and fun way to get to all of the great Put-In-Bay Attractions.  Furthermore, when you visit Put-In-Bay, we want you to return with memories to cherish and the yearning to return to our little island in Lake Erie.
Whether you just left the Miller Dock or your Put-In-Bay Hotel, an excellent Put in Bay Golf Cart Rental or Bike Rental awaits.  Rent for a few hours and see what you can.  Rent for the whole day and take you and your passengers to a place and location like no other. Put-in-Bay Condo guests are encouraged to call 216-898-1105 to reserve their carts before arrival.
Golf Cart Rentals are on the things to do in Put in Bay and are a fun way to see the island in April during the annual Pajama Party at Mr. Ed's and for the thrilling Boaters New Years in September.  No matter the time,  Put-in-Bay golf carts are the way to see the island.  Cruise through downtown Put-In-Bay while taking in the scene.  Remember, golf carts are insured motor vehicles and the same laws apply.  So, be sure to use turn signals and follow all laws and regulations of a regular licensed motor vehicle.
We Care About Our Community
We are Proud to support our local economy. All of the Put-in-Bay Golf Cart Depot Golf Carts are powered by Crown Battery of Fremont, Ohio.  Also, the owners of the Golf Cart Depot are actively involved in fundraising efforts for the greater good of the community.  Their efforts have helped local families who are struggling to have gifts to give to their children on Christmas.
Getting To Put in Bay Golf Cart Rentals
Put-in-Bay Golf Cart Depot and Victory Station Hotel is located on Catawba Avenue, just a short walk from the downtown Jet Express ferry, next to the Reel Bar.  Also, the location can be easily found from the Miller Ferry Dock.  A Put-in-Bay Taxi is always available at either ferry dock.  Simply drive down Langram and turn on Concord Ave.  After passing the Put-In-Bay School, turn right.  The Golf Cart Depot for Put-in-Bay, oh 43456 is up the road on the left.
If you are staying at the Put-in-Bay Island Club Home Rentals or the Put-in-Bay Waterfront Condos, then you have it even easier! All of their golf carts are located on site and they have them ready and waiting at your front door if you make a reservation prior to arrival. You simply have to call their office and they will send over an employee to hand you your golf cart keys and a contract to sign and the cart is yours for the duration of your rental!  The Island Club Golf Cart Rental and Put-In-Bay Condo Golf Cart Rental feature late-model Club Car and Ez GO gas Golf Carts.
Make Your Address Put-In-Bay, Ohio 43456 for a Night, or Two!
Our Put-In-Bay Golf Cart Partners offer overnight rentals.  Therefore, guests can take a Put-In-Bay Ferry to the island and rely on the fun and convenient golf cart for getting around.  Stay at one of the choice Bay Lodging Choices, and have a getaway.   Take in spectacular views of Lake Erie, catch an island Entertainer on Delaware Ave or simply sit by the Miller Ferry Dock and watch the island lovers make landfall. Whether you need a day rental on a weekday or an overnight golf cart rental, there is an option for you!
With great rental rates for both Put-In-Bay Golf Cart Rentals and Hotels and Resorts, the choice is easy!  For more information about Lodging, Island Events and more, Explore this site for a wealth of information. And let us be the first to say, welcome to Put-in-Bay!
Testimonials
Fredrick W: "Great carts, great people. Call or email to get correct hours."
Jessica N: "Quick service and fair prices! Carts were new and faster than all the other rental places! Will use for next trip!"
Shaun S: "They are right downtown by the beer barrel . The carts are newer the prices are better and the people are very nice. I like these Yamaha carts better"