Put-in-Bay Poolview Condos
The Put-in-Bay Poolview Condos provide new high speed internet, spacious accommodations, plenty of amenities, and a fun, refreshing pool at the center of the complex. Read on to learn more, or make a reservation now!
Located next to the Waterfront Condos, the condos are on 500 feet of lake shore property. Vacationing on Put-in-Bay is made any more special by close proximity to Lake Erie. Sunsets over the water and cool lake breezes are just some of perks of being close to the lake.
Each condo can sleep up to eight guests with two bedrooms, two baths, a full kitchen, and high speed internet. Whether you vacation with your family or a group of your closest friends, these condos feel spacious and cozy.
The kitchen is fully equipped, making it easy to dine in or prepare lunch to take on the boat. The pool area features picnic tables and chaise lounges, a lovely place to start the day with a cup of coffee. There are also propane grills available for use. Guests are more than welcomed to bring their own drinks to the pool.
The pool itself is spacious and refreshing. Kids love playing in the water while adults lounge by the pool, working on tans. Feel safe and secure with coded entry to all condos.
Put-in-Bay Attractions
The Put-in-Bay Poolview Condos are located a mile and a half from downtown Put-in-Bay. The entire island is full fun and interesting things to do. Families enjoy exploring the island, from the ruins of the Hotel Victory to Perry's cave where there is a rare underground lake.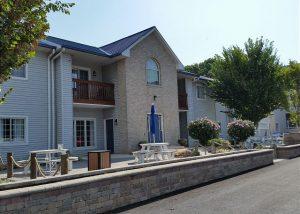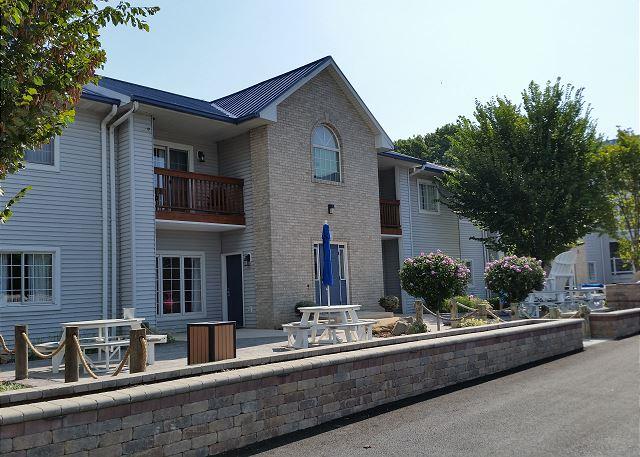 Outdoor activities abound from parasailing to kayaking and of course fishing on Lake Erie. The most celebrated fish caught are the perch and walleye.
Not a fisher? There are plenty of restaurants that serve these fish up right. Try the tropical take at The Keys or classic hand-breaded baskets at the Upper Deck. Goat Soup & Whiskey cook up incredible perch tacos.
There's no end of bars and nightclubs on the island. Live music spills out onto the street and everyone has an amazing time during summers on Put-in-Bay.
Testimonials
Susan R: "This was a comfortable condo on the water in a convenient location. It is a brand new property which has been decorated in a really warm way. Ours seemed to be super duper decorated compared to some of the others we peeked into while visiting with other families. Each one is apparently individually owned and decorated accordingly. It was nice to be able to use our golf cart to quickly get to local restaurants and coffee shops and a little market is very close too but also be a little away from the hustle and bustle so we could sleep at night. Charles responded to and resolved one issue extremely promptly when we checked in about the sliding screen on the door. It was off the track but a boy quickly came to fix it and we had no other problems."
Ashley G: "I rented a lake front condo for a bachelorette party and was very impressed. The condo was ready and clean when we arrived. It had two levels and a nice patio. There were bugs at night so I suggest some sort of bug deterrent. You'll have that when your close to the water though. When we had problems with some neighbors throwing stuff over their balcony, management came right out and handled the problem very quickly. We also rented our golf carts through Island Club Rentals and they were brand new. They came filled with gas and they came to fill them up when they needed it. Next time I come to Put in Bay I'll be staying in the same condos. Thanks for the beautiful condo and taking care of us while we were there."
Daniel T: "Very nice view of the lake. The place was recently remodeled and everything looked nice. 5 bedrooms and 3 full baths. Living room was good size with big screen TV with almost all channels. Kitchen was nice and equipped with knives, cups, and pots and pans. They have a nice swimming pool outside but we didn't go because it was too cold, it would have been nice if it was heated. They also have a bunch of grills outside with plenty of tables which my family used several times. Overall, we were very happy with it stay."