Put-in-Bay Parasail brought this wildly fun activity to the island in the '80s. Ever since, thousands of visitors have sailed over Lake Erie, almost like they're flying.
The stand is located right next to the Boardwalk Restaurant Complex on Bayview Avenue in downtown Put-in-Bay. Close to the Jet Express Terminal, it is hard to miss! The staff is extremely passionate about parasailing and is here to make you feel comfortable. Led by Captain Jason Hill, they put you at ease immediately.
What Is Parasailing Exactly?
Parasailing is extremely safe. You are lifted from the dock of a boat into the air via a towline. The parasail opens up behind you, lifting you above the waves. Everyone wears a helmet.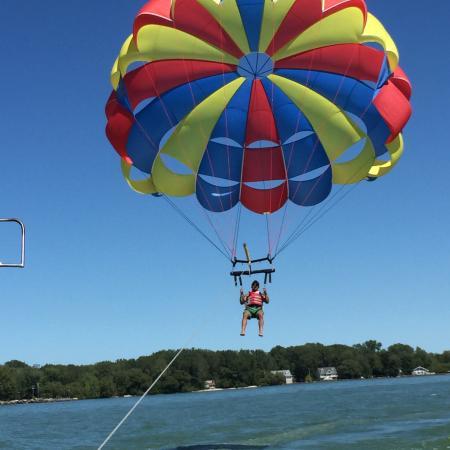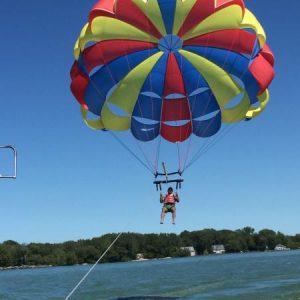 Each flier can choose high or low. Dry or wet. For those without a fear of heights, they can opt for a towline of 800'. A low line is 600'. Stay dry up high or get a dip into the water. Just make sure to wear a swimsuit if you're going into the lake.
The staff snaps 30 action shots of everyone. You can also ask to be filmed for a little extra. Put-in-Bay Parasail also welcomes big groups.
Where To Eat
Parasailing always works up an appetite. Head to the Boardwalk after your flight and dig into delicious eats and strong drinks. The main deck also has lots of options for crispy fried seafood and fries. For views almost as good as a parasail, take a seat at the Upper Deck. With tableside service and their world-famous Lobster Bisque, the Upper Deck is sophisticated yet casual.
There are several bars at the Boardwalk as well. Rita's Cantina makes the best margarita on the island. Known for their Riptide Punch, The Burgee Bar delivers. Claw Daddy's includes a smoking section and amazing views.