The Chocolate Cafe and Museum is a very tasty attraction on Put-in-Bay. Located about a mile from downtown Put-in-Bay on Catawba Avenue, The Chocolate Cafe satisfies every visitors sweet tooth.
The museum features exhibitions about the making of chocolate. One of America's most beloved tastes, the art of chocolate making is still unknown to most. Start from the beginning with displays of antique memorabilia from the early days of chocolate making.
Legend has it that the type of chocolate we eat today was invented in London in 1657. Chocolate, however, has been beloved for over 2000 years, from when it was first grown in South and Central America.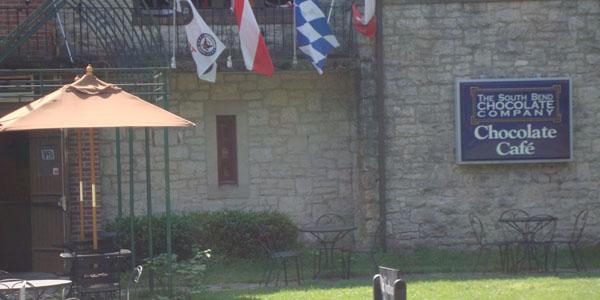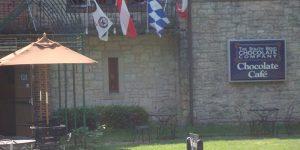 The cafe side is where visitors can go to indulge in their love of this tasty treat with an extensive offering. They sell 32 flavors of the popular Toft's ice cream along with pastries and cakes. Of course, there are plenty of chocolates to eat on-site or bring home with you for later. If you possess that sort of impulse control that is! They offer over 100 different types!
The Chocolate Cafe and Museum Offerings
Meltaways & Truffles

Turtles & Clusters

Chocolate Covered Favorites

Squares & Mints

Solid Chocolate
Planning on starting your day at The Chocolate Cafe? They also offer hearty breakfast sandwiches, muffins, bagels, and more. As an extra special treat, they grind their coffee beans fresh each day. There is nothing more satisfying than a cup of piping hot coffee made fresh. Make it even better with a side of chocolate.
The Chocolate Cafe Location
The cafe is located beneath the popular Goat Soup and Whiskey. This fine dining establishment features outdoor gardens where they harvest fresh ingredients for their dishes. Known for their soups, cocktail menu, and fabulous perch tacos, this is the perfect spot for a special occasion.
Perry's Cave and Family Fun Center is also located close by, as are the Put-in-Bay churches.
Testimonials
Lyn T: "We spent a few hours at the chocolate museum and cafe. First we had lovely paninis, I ordered the French. Really tasty. Drinks were delicious too. Only one suggestion would be to add a salad to their menu. The museum tour was interesting with lots of fun history and facts. The tasting at the end was a very good way of tempting you to purchase some of the chocolate they offer. Kind of expensive, but what the heck. We still bought some. We finished with chocolate fondue. Each fondue is for two but more than ample. Needless to say, we left fulfilled in more ways than one."
Tami K: "We decided to take a grown up vacation and not do theme parks, but to see local attractions and points of interest. So glad we did and so glad we found this place. The tour was informative and not gimmicky, we learned a lot from the plant to its part in history. Then we got to taste the real thing, not the icky sweet chemical filled stuff that's on grocery store shelves, but real chocolate. New favors and textures to explore and a new outlook on CHOCOLATE. If you are ever in the area it is a must stop, must see, must taste experience!"
Loryl L: "My husband and I were looking for something different than the usual theme parks and found this. Our tour guide Al was entertaining and informative. We had gotten a $3 off your tour ticket coupon on the website and learned new things about chocolate. The collection of sculptures, machinery, tin and wrappers was impressive and the samples we had were delicious. We would recommend if you are looking to do something a little lower key for an hour or so."