Take a trip down memory lane at The Put-in-Bay Candy Bar. This charming shop in the heart of downtown Put-in-Bay lines the shelves with old-timey treat like penny candy, taffy, and fudge along with updated favorites.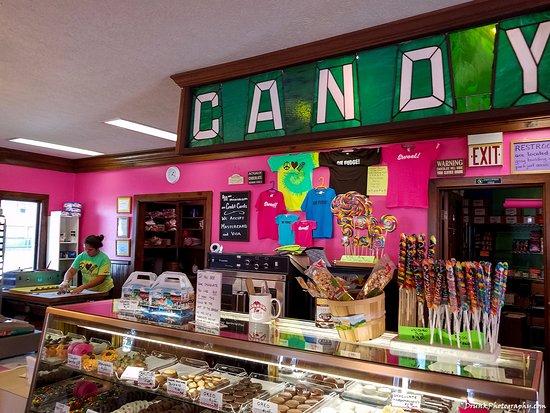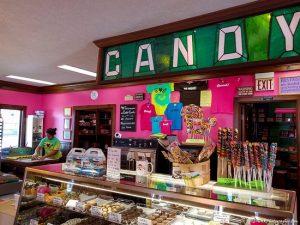 The Candy Bar Menu Highlights
Right next to Kimberly's Carousel on Delaware Avenue, the Candy Bar's shelves are overflowing with some of the most delicious candy imaginable! The Candy Bar sure loves dipping things in chocolate. Try the chocolate chip cookies, Oreos, even bacon! You will love this unusual treat, we swear!
The ice cream cone bar does great business in the hotter months. The friendly staff doles out cones, sundaes, and shakes by the bucketful. Classic flavors like strawberry and butter pecan are served along with decadent flavors like Lemon Blueberry Cheesecake.
Fudge is served by the pound. The cotton candy self serves machine is by the bar. Enjoy all this yumminess on the delightful outside patio.
The Candy Bar's Location
What could be better than taking a spin on the carousel then spending hours exploring all the goodies at the Candy Bar? Situated right across the street from Perry's and DeRivera Park, bike and golf cart rentals are also close by. If you are off for an adventure exploring Put-in-Bay, make sure to stock up on treats to enjoy after a brisk bike ride.
Perry's Victory and International Peace Memorial is right up the street. This 352-foot column celebrates those who fought in the War of 1812 and is a symbol of everlasting peace. Put-in-Bay is brimming with history and history buffs will certainly love it here.
Enjoy a hearty breakfast at the Village Bakery or chow down on burgers and fries at The Boathouse across the street. After you eat, come into the Put-in-Bay Candy Bar to satisfy your sweet tooth!
Testimonials
Richard E: "Great little mom and pop candy store, I found candy from my childhood, my boys got Harry Potter jelly beans and my husband walk out with a bag of Jelly Babies ( a must for any Dr. Who fan). There is something for everyone. The place is fun, colorful and pretty reasonably priced for a tourist town."
Bob D: "I don't normally like snacks like this but wanted to know what all of the adults were heading into this store for. The place has some of the most interesting assortments of snacks and sweets that I've witnessed. I walked away with some really odd snacks, but the best thing I liked was the taffy they had there. Had to snag a box for the road after I tasted one. Had to share them with my workmates because they caught me eating them, so now I need to get back there to get more."
Chris M: "We wanted good ice cream and the cute storefront of The Candy Bar caught our eye. The front part of the store is all the candy you could imagine, especially from my youth. The ice cream was served in a separate entrance and only has a few booths. They serve Toft's ice cream, made in Sandusky. The flavors we tried were Lake Erie Islands Cherry and Salty Caramel Fudge Truffle. We opted for the one scoop in a cup ($3.50) and the portions were generous. Great flavors and rich and creamy. They also make sundaes and shakes, etc. A great place to try while on the island!"