Show your love for The Round House by purchasing a whole range of gifts at the gift shop, The Bucket Shop. Everything from gag gifts to mementos are available here.
The Bucket Shop Highlights
Located within the walls of the iconic Round House Bar, The Bucket Shop makes it easy to purchase gifts with a beer still in hand. Items include everything from hoodies, t-shirts, polo shirts, earrings, and blankets. There are even dog leashes and a wine barrel.
They offer a variety of drink receptacles such as Moscow Mule cups and hot/cold to-go containers. Their socks are sure to be a hit with everyone at your party. Long, striped, and cozy, these socks are one of the most popular items at The Bucket Shop.
The Round House Bar
Originally known as the Columbia Restaurant, the building was constructed in 1873. Always a spot for island revelry, the Columbia served ice cold beer, cottage cream, and ice cream. They used ice taken from Lake Erie in the winter months to cool things down. It was so popular, banners would stretch across the street announcing the arrival of the ice cream.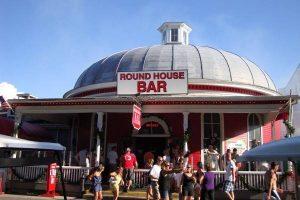 Owned by the McCann Family since the 1950s, the family painted the outside its iconic red, white, and blue. They also commissioned local artists to decorate the inside. You know it is time to head to the Round House once the iconic red neon "whiskey" sign is turned on.
Known for its stellar lineup of live music, the Round House schedules some of the most popular acts from the region. A favorite for over 35 years, Mike "Mad Dog" Adams entertains all summer long with his special mix of comedy and music.
Other acts include the Killer Flamingos and Ray Fogg. There is also a whole range of themed parties that are always a lot of fun. Just make sure to pick up some Round House swag at The Bucket Shop before living for the mainland!