Misty Bay Boutique is a highly curated shop selling some of the best fashions on Put-in-Bay. Conveniently located in the heart of downtown on Delaware Avenue, Misty Bay Boutique is for fashionistas of all shapes and sizes.
They carry popular brands such as Sperry, Minnetonka, Columbia, and Escapada. Their swimsuit selection is quite extensive. Pick up a new suit to wear while splashing in the waters of Lake Erie or spending the day on the boat. Misty Bay Boutique also carries lots of colorful nautically themed dresses, sweaters, and accessories. The staff is always on hand to make your shopping experience as enjoyable as possible!
Downtown Put-in-Bay
Put-in-Bay is known for world class dining, festive nightlife, and amazing shopping. Besides all the shops and boutiques, Put-in-Bay makes it easy for shoppers to really go on a shopping spree.
ATM's are always on hand when you need them. Clean restrooms can be found in DeRivera Park along with public lockers. Store your bags and belongings and head to dinner or a night on the town.
Misty Bay Boutique is situated right next to one of the most iconic island institutions. The Round House Bar has been serving drinks and entertaining visitors with a stellar lineup of live music for over 100 years. Music plays every night of the week during the summer season and the mood is always lively.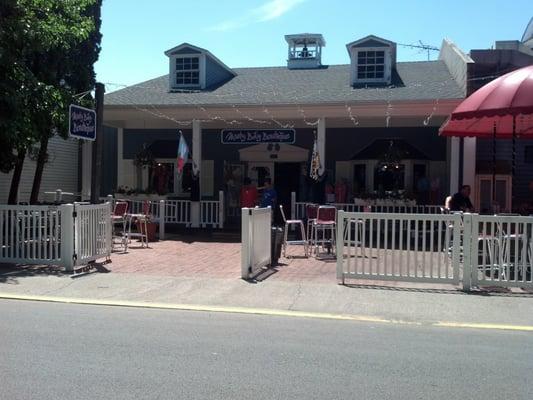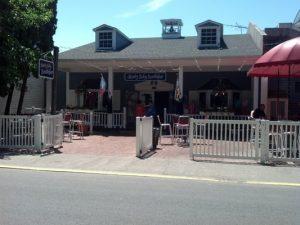 Chicken Patio is right next door to the Round House Bar. Another favorite, their wine-basted chicken is award winning and completely delicious. Located on the patio of the Park Hotel, just follow the deliciously scented smoke.
Looking for a special spot to wear your new outfit from Misty Bay? The Keys offers fine dining with breathtaking lake views. Just head up Hartford Ave and settle into the deck at The Keys. Dine on perch, blackened mahi tacos, and finish off your meal with Key Lime Pie.