The secret is in the sauce, the famous wine-based sauce of The Chicken Patio. Founded in 1952, Chicken Patio's humble beginnings started on the patio of the Park Hotel with a small, charcoal grill. Cut to today, Chicken Patio is still on the patio, still making that incredible BBQ-chicken, it's just a little bigger.
They have been using the exact same sauce since their founding and with good reason. It was recently voted Best BBQ on Put-in-Bay. The smoky flavor draws in visitors, and the incredible chicken and sides keep them coming back for more!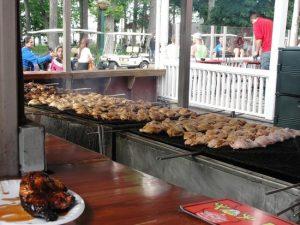 Chicken dinner at the Patio includes wine basted chicken, sweet corn on the cob, potato salad, and a dinner. For smaller appetites, they also serve ½ chicken. Make sure to get extra sauce…and extra wet naps!
They can also accommodate groups large or small. Discounts are offered to groups over 20, so make sure to contact them for your next event!
Chicken Patio's Neighbors
The Park Hotel is Put-in-Bay's last Victorian Era hotel. Located right next to Perry Park, this hotel's gorgeous architecture and charming, cozy rooms make it an island favorite.
It is also home to the famous Round House Bar. Opened in 1863 as the Columbia Restaurant, this island staple offers a friendly atmosphere and cold drinks. Apparently, The Round House was always known for its cool temperature. Back in the day, before electricity, they would save ice blocks cut during winter to cool down the food. Stored at the Ice House, now the Put-in-Bay Winery, it helped make The Round House the spot for ice cream.
Live Entertainment
After dining on your chicken dinner, there's usually a great concert or live entertainment event going down at the bar. Mike "Mad Dog" Adams holds court there in the summer with his mix of comedy and live music.
Testimonials
Sarah L: "Hands down the BEST chicken dinner around. Grilled to perfection with that BBQ wine sauce! The corn, potato salad, and roll are good too. Friendly service. If you aren't trying this chicken your missing out. Our favorite food stop at Put in Bay!"
Natasha S: "This place had the best customer service!. There was a little boy in the glasses that came up and took our plates. He seemed so happy to work here! We appreciate his great customer service, we will definitely be back!"
Vince P: "One word… Delicious!!! Keeps you wanting to eat more. Every time I go to Put-in-Bay, I have to have it. It is tender and juicy with a killer wine sauce for dipping. I recommend to always get the extra sauce which takes the chicken to the next level. It's got a tangy smoky wine flavor that opens all your taste buds. One thing I would have loved more is to have the option to have a little more heat to the sauce if a customer requires, but that's just my personal preference."