The Crystal Cave Gift Shop sells wonderful souvenirs from The Crystal Cave as well as bottles from Heineman's Winery. Located about a mile from downtown Put-in-Bay, this attraction is truly unique to Put-in-Bay.
Along with geodes, crystals, and gems, bottles from Ohio's oldest winery line the shelves. Bringing back a bottle of wine for loved ones back home is an extra special gesture. The natural beauty of Put-in-Bay is yours to take home with a crystal. Those rocks are said to carry certain energies, making them no ordinary stone.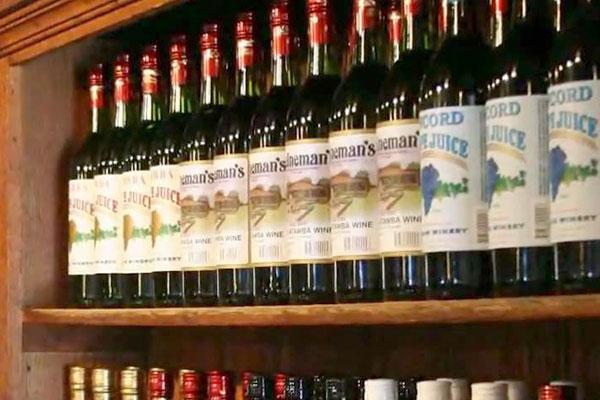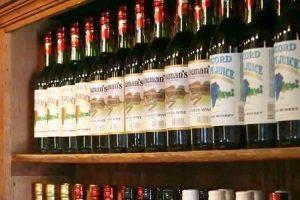 Heineman Winery
Put-in-Bay used to be home to over 17 wineries. Quite a feat for such a small island! The tempering effect of Lake Erie allows for ideal soil conditions and a long growing season. Gustav Heineman, an immigrant from Germany, was the first to recognize the special grape growing abilities of the island and opened Heineman's in 1888.
Heineman's continues to be a family-owned business to this day. Louis, Edward, and Dustin harvest the native grapes of South Bass Island like Labrusca, and the major varieties are Concord and Catawba. Favorites include Niagara, a medium sweet white wine, and Pink Catawba
The wine available at the Crystal Cave Gift Shop makes for a thoughtful, and affordable gift for loved ones back home. No one bottle is more than $15. Please note, they can only ship within Ohio.
The Wine Garden offers lovely outdoor seating. Enjoy tastings or a full glass of wine. Cheese and snacks are also provided. Discover your favorite bottle and take one home for dinner.
The Crystal Cave
Miners discovered this magical cave while making a well for the winery in 1897. Inside they discovered the world's largest geode and walls lined with strontium sulfate, a bluish mineral called celestite.
This unique natural wonder helped Heineman's survive Prohibition. Gustav's son Norman sold tickets to the cave as well as unfermented grape juice and came out relatively unscathed!