The Put-in-Bay Gazette is the island's official newspaper. The writers are committed to reporting on crucial Island events, making sure islanders and tourists know what is going on on Put-in-Bay.
In business for over 30 years, the Gazette is a monthly publication. You can find copies all over the island and it only costs a quarter! There is also a subscription service for islanders or those who want to keep up-to-date on island happenings. It is a great way to support the local paper while knowing what's what on Put-in-Bay.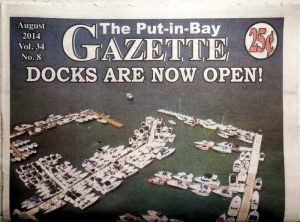 Writers from both Put-in-Bay and Middle Bass regularly contribute as do Island students. The paper provides a great glimpse into local island life. As for the tourists, it includes a robust listing of all the special events happening around town. In the summer that means a whole lot of events!
They also include a Birthday List every month. Readers submit birthdays of loved ones. Anyone can do it! It is a thoughtful and easy gift for someone special.
Take Your Picture with the Put-in-Bay Gazette
A popular feature is definitely the Take Your Picture with the Put-in-Bay Gazette. Locals and tourists take copies of the paper all over the world and snap a pic of them holding it. They then send submit the photo. Pictures have been taken all over the world, from Brazil to Russia and the Maldives. It is really incredible such a small paper has been all around the globe!
Newspapers are always important to communities. It is a perfect place to inform locals of important causes. Recently there was a move to turn a wooded area into housing for island employees. Locals left by Friends of Coopers Wood put a stop to this. Preserving the woods was important to them and the Put-in-Bay Gazette helped galvanize them.
Next time you are on the island, grab a copy!