Hola from Rita's Cantina! Part of the Boardwalk Restaurant, Rita's offers margaritas, tacos, and nachos, all with amazing lake views. Gaze out onto Gibraltar Island, Perry's Monument, and the Put-in-Bay Docks and take in summer on Put-in-Bay.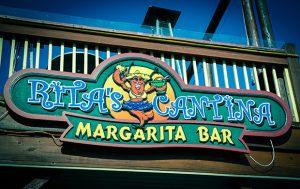 Margaritas Aplenty at Rita's Cantina
After a hot and rewarding day on the boat, a refreshing margarita really hits the spot. The perfect mix of tequila and juice, Rita's caters to a variety of this south-of-the-border specialty. They make margaritas both on the rocks and frozen. The yummy frozen peach margarita is a fan favorite. Or try the Corona-Rita. A bottle of ice-cold Corona is dunked upside down into a frozen margarita. The best of both worlds.
The outside seating at The Boardwalk is the ideal place to enjoy the warm weather during the day and sunsets in the evening. You will want to take photo after photo of the sunset. Some of the best selfies of the summer are snapped at The Boardwalk. Make summer memories at Rita's
The Boardwalk
With a variety of dining options and bars, The Boardwalk is a centerpiece of Put-in-Bay. Right by the docks and minutes from the Jet Express terminal, this sprawling complex has something of everyone. Down a margarita, while your friend slurps the famous lobster bisque. The open seating invites friendly conversation between new friends. The whole place is pet-friendly. Bring your dog and sit out all evening long.
The upper deck features a full menu and an extensive martini menu. A little more upscale. Downstairs you will find the Burgee Bar, Fish Shak, Claw Daddy's, Book's Seafood, and the Little Galley. The entire building sits directly in the bay. There is something very special about being right on Lake Erie and eating and drinking to your heart's content. That is summer on Put-in-Bay!
There are no reviews yet. Be the first one to write one.