The Put-in-Bay Yacht Club is a private social organization located on Bayview Avenue close to the Miller Marina. They promote all types of boating on the island from sailing, powerboating, and all other aquatic sports.
They regularly host a series of events including picnics, parties, cruise outs, and numerous other social functions. The entire club has a lively, friendly vibe. Join the club for only $295/year. Use their docks, facilities, and be a part of an important Put-in-Bay institution.
Put-in-Bay Yacht Club History
The Put-in-Bay Yacht Club is one of the oldest on Lake Erie. It started as the Put-in-bay Yachting Association in 1886. The main goal was to promote the Inter-Lake Yachting Association or I-LYA. Valentine Doller, that Put-in-Bay luminary, was also the first commodore.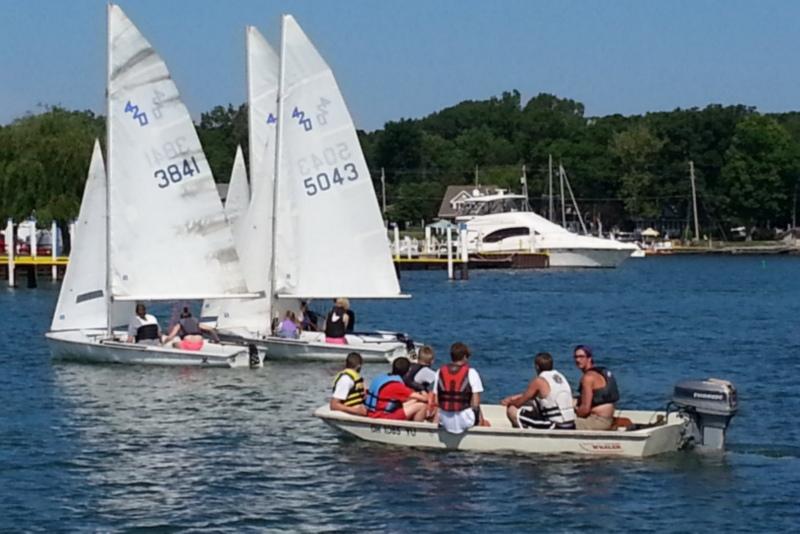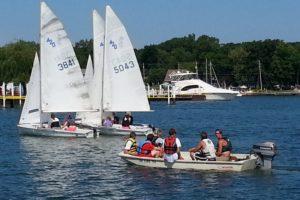 Every summer the I-LYA holds regattas for adults and children. The businessman who ran the association would meet at various boathouses throughout the island until they purchased the Bay View House in 1923 from Jack J. Day. They build a new clubhouse and dock. The pavilion was a popular spot for social functions. Unfortunately, rising waters and winter ice eventually destroyed the dock.
After World War II, an influx of cottage owners descended on Put-in-Bay. Due to an overwhelming interest in reviving the club, a ladies auxiliary also formed in 1949 to assist with revitalization.
Sailing and swimming programs were added in the 1950s along with a galley and shower facilities. The clubhouse continued to flourish, expanded and improving throughout the 20th century. The 1980s saw a major renovation of the club.
A centerpiece of the social life of the Yacht Club, the Friday Dinners, began in 2001. The club continues to grow as well as unveiling a new campaign, Vision 2020. Members are encouraged to give in order to improve upon the already fabulous Yacht Club.
Regular to Put-in-Bay? Consider becoming a member of the Yacht Club!
Testimonials
George P: "This is our first time docking here. Price is better than the public docks or the keys. The staff is very friendly. The club is nice and the the bathrooms are clean."
Vikki C: "A very fine place, with very clean restrooms and shower area, you really don't know what they have unless you tour it. And the people there are so nice, and proud of their club."
Kari F: "Put in Bay Yacht Club was a fantastic host for our first JBW this week. We were welcomed into their club and treated like members vs visitors. Can't wait till next year!"