The Aquatic Visitors Center looks to spark the love of nature and fishing in kids and adults of all ages. Made possible by the Ohio Sea Grant, this freshwater field laboratory is full of educational exhibitions, and hands on activities. Additionally, it has its own fishing pier!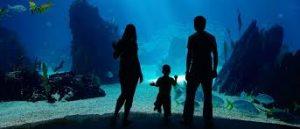 Kids under 16 can fish for free. With fishing gear provided by the ODNR Division of Wildlife, children not only perfect their skills, they also learn about the food web and the invasive species in the lake. Gobies are invasive and if caught are then fed to the fish in the aquarium.
Fish Species at the Fishing Pier
Bluegill

Pumpkinseed

Bass

Yellow perch
The State of Ohio used the building currently housing the Aquatic Visitors Center as a Fish Hatchery from 1907-1988. For over 80 years, the hatchery raised such fish species as walleye, whitefish, herring, perch, steelhead, chinook salmon, coho salmon, and others.
Aquatic Visitors Center Activities
Investigate Lake Erie's complex ecosystem with activities

Observe Lake Erie fish species

Learn about current research being done to protect Lake Erie

Ask Aquatic Visitors Center experts your Lake Erie questions
Children's Programs
During the summer the Aquatic Visitors Center hosts educational programs on Saturdays at 2pm. Held on the docks, children can come and learn about the animals and birds of the Lake Erie watershed, how to take care of fish, and even programs about snakes and spiders!
Taking care of Lake Erie is important not only to the fish and plants that call it home but to everyone who visits Put-in-Bay and the surrounding region. A healthy lake makes it so we have fish to eat, waters to swim in, and sunsets to gaze out onto. Education is the first step to lake stewardship. Bring the whole family to the Aquatic Visitors Center to learn all about this natural wonder we call Lake Erie.
There are no reviews yet. Be the first one to write one.