A little removed from downtown Put-in-Bay is the charming shopping complex, The Shops at Compass Pointe. These five shops offer something for every member of the family. All housed in a beautiful Victorian house, Compass Pointe is lovely outfitted with potted flowers and green grass.
Take a stroll to Langram Avenue and check out the wares at Compass Pointe.
The Shops at Compass Pointe
Dock 421

The Little Store

Happy Holidays

Island Hardware

Home Port
The Home Port offers a wide range of nautically inspired gifts and decor. Choose from lamps decorated with netting, comfy pillows, and their popular cleat mug. This metal mug comes in blue or white. The handle has been replaced by a boat cleat, perfect for the fisherman in your family! Dock 421 provides casual wear for both men and women. Shop for lightweight button shirts and sunny dresses.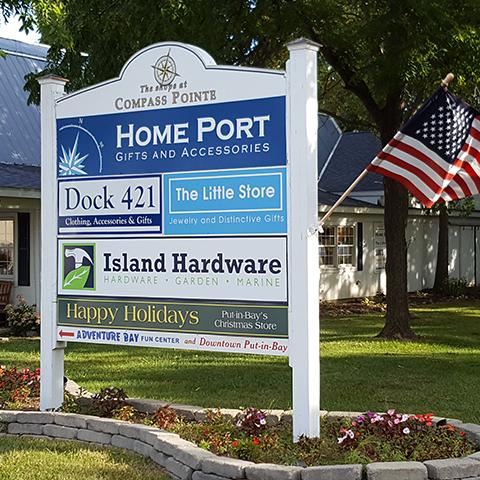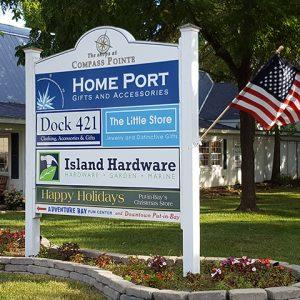 Island Hardware sells all the necessities for island living and Happy Holidays is Put-in-Bay only Christmas themed store. Buy a Put-in-Bay ornament to remember your vacation in the colder months.
The Little Store sells positively beautiful jewelry such as delicate necklaces with sea stars and silver and turquoise earrings with a fish silhouette. It is always a pleasant shopping experience down at Compass Pointe.
Put-in-Bay
This island located on Lake Erie has long been a popular destination for tourists from the mainland. The most used mode of transportation is the ferry, a quick ride from either Sandusky or Port Clinton. There are also two airports on the island for those with planes. Other Lake Erie islands such as Middle Bass Island and Gibraltar dot the waters nearby.
The island itself is full of things to do. From shopping to dining, the opportunities are endless. There are plenty of public docks for boating and other fun outdoor activities such as kayaking and parasailing.