The Put-in-Bay T-Shirt Company is the first store that greets visitors from the Jet Express terminal. There's no better time to stock up on Put-in-Bay swag at this friendly and filled-to-the-brim store.
Put-in-Bay T-Shirt Company Goodies
They carry a wonderful selection of apparel and accessories, almost all bearing the Put-in-Bay name. Besides t-shirts and sweaters, they also sell blankets, towels, and so much more. Buy yourself something special to remember your time on the island and take back a few special guests for loved ones back home. There are so many designs, sizes, and colors to choose from!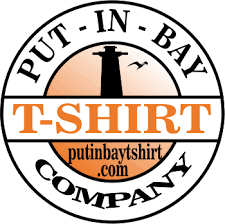 The Put-in-Bay T-Shirt Company is right on Hartford Avenue, conveniently located next to one of the island's may ATM's. The street runs adjacent to DeRivera Park, a wide expanse of green in the heart of downtown.
The Put-in-Bay T-Shirt Company Location
This charming park is a main focus of Put-in-Bay life. There are all sorts of play areas for kids of all ages. Charcoal grills and picnic tables can be found throughout the park. Bring a picnic and stretch out, enjoying the sweeping views of the downtown docks and gorgeous Lake Erie.
DeRivera Park also includes public locks and restrooms at the bathhouse. These facilities are well-maintained, safe and clean. Drop of your bags and packages after day out shopping and enjoy all downtown Put-in-Bay has to offer.
The entire island is full of fun activities and delicious food but downtown Put-in-Bay is positively brimming with things to do. If you still need to do some shopping after the T-Shirt Shop, head to the Carriage House for home goods or Misty Bay Boutique for a chic new look.
Stroll up and down Delaware and Catawba, greeting other visitors and taking in the festive summer vibe. Bars are full of patrons living it up and enjoying live music. Take your pick from Frosty Bar, to the Boathouse, and the iconic Round House Bar.