The Village Bath House is centrally located for everyone on Put-in-Bay. Right in the middle of DeRivera Park, travelers, boaters, and islanders alike use its restrooms, showers, and lockers.
Village Bath House Location
DeRivera Park is located right in the middle of downtown Put-in-Bay. Easily accessible from both the downtown docks and multiple hotels. The park itself is enjoyed by families and groups of friends looking for a respite from the downtown action.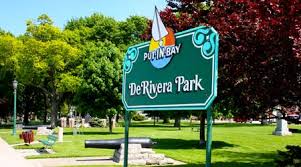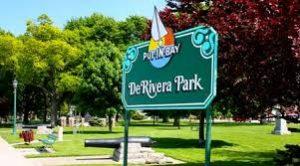 DeRivera Park is a gift from the founder of Put-in-Bay, Jose DeRivera. He purchased South Bass Island and created much of what we see today. His efforts were paramount in making Put-in-Bay such an exciting and pleasant destination.
The park includes several picnic tables and charcoal grills. Families love grilling out here. Kids can play on Will's Playground while the grill is heating up. This playground is designed for kids of all physical abilities and sizes.
Stores and restaurants dot the park. Folks can get a bite to eat at Village Bakery and then take a spin on Kimberly's Carousel before heading into the park for a stroll.
Village Bath House Features
The bathhouse includes a large restroom and multiple showers. The showers are a wonderful treat after a long day on the boat and before heading into town.
Both boaters and shoppers use public lockers. There are a great many stores downtown, like Mariner's Locker and Del Sol. Visitors can easily become weighed down by their shopping bags. Swing by the boathouse and store your purchases. Hands-free, head into town for an amazing meal at the Boardwalk, live music at the Boathouse, or just a good time at Frosty Bar.
Maintained by a friendly, dedicated staff, the Village Bath House remains spotless. Always on-site, they ensure this facility is always well taken care of.