Travel to Put-in-Bay as fast as can be on the Jet Express Ferry. This vessel offers high-speed ferry service to Put-in-Bay from several mainland docks. Designed primarily for passengers and light freight, the ferry is both fast and comfortable. It is also the only ferry that provides late-night service.
The Jet Express leaves from downtown Port Clinton, Sandusky, or Cedar Point, OH. Additionally, they offer service to Kelly's Island from Put-in-Bay.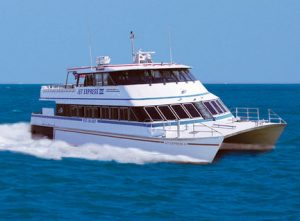 This ferry travels at 42 miles per hour, easily making it the fastest way to the island. Children under 5 ride for free and there are children and youth discounts as well. The schedule changes from the dock to dock. Visit their website for a more detailed schedule.
Why The Jet Express?
The dual hulled catamaran quickly cuts through the waters of Lake Erie. The ride is fast, smooth, and even a little luxurious. The inside cabins are comfortable and air-conditioned. The upper deck offers amazing views of the surrounding area. Feel the wind in your air as you gaze out on the Lake Erie Islands. On clear days you can even see the Canadian Islands. It is an amazing sight.
Day trippers to Put-in-Bay often want to enjoy its famous nightlife. The Jet Express is the only ferry that offers late-night service. The last ferry leaves at 12 am. Daytime service resumes at various times depending on the point of departure.
Each dock also offers different parking options. Port Clinton does include a long term lot and Sandusky has free daytime parking.
Jet Express Discounts
Every time you purchase a ticket you also get a value-packed coupon sheet. Use these amazing discounts all over Put-in-Bay. It includes golf cart and moped rental, Kids Eat Free options, and savings for a range of attractions and restaurants for your time on the island.
Testimonials
Nina C: "My family and I (ages 2-60 years) rode the Jet Express Ferry just yesterday, We absolutely loved it! Easy on/easy off, and we got to exchange our tickets for a later time because our dinner time ran over. Very clean and well kept! Also, I liked having the choice of which deck we would sit on (our choice of sun or shade). I would love to go back again!"
Diane D: "Was stranded at Kelley's last night. Missed my Ferry, and the Jet by 5 minutes. Tried to get on the Goodtime. Nope. Went to the ticket counter for the Jet Express. Luckily there was a 12:25 am going to Sandusky. Even though my car was at Marblehead. Got a ticket. Woohoo. Couldn't find a ride at 1:30 am. The girls Erin and Natalie couldn't have been any nicer. Went way above and beyond with great customer service. So chatty, friendly, and funny while waiting. Natalie even drove me to my car in Marblehead. Erin had guys helping me get my bike tire off, and putting in Natalie's brand new car. Can't thank them enough. They made a bad situation AWESOME. The world needs more people like them."
Kristi D: "I took my 3 month old on the Jet Express yesterday morning at 10:15. The line went fast to purchase the tickets and the line was smooth to get on the boat. It was great! On the way back a male worker came over, sat with me, and talked to my 3-month-old daughter, she was getting a little fussy. He talked to her and she ended up smiling and laughing! I appreciated that so much!"