The Little Galley is the perfect spot for families or those on the run. Part of the sprawling Boardwalk right on the Put-in-Bay harbor, The Little Galley features delicious food at an affordable price. A great choice for day visitors as well as summer long vacationers, this spot offers stunning, panoramic views of Lake Erie, DeRivera Park, and the downtown docks.
The Little Galley Serves Up The Classics
Classic American fare is the specialty at the Little Galley. Black Angus burgers, chicken tenders, hot dogs, and hamburgers are served up with a variety of zesty dipping sauces. Of course, it wouldn't be American without french fries! Don't worry, The Little Galley french fries are served hot and crisp. And don't forget about the dipping sauces!
The Boardwalk
The Boardwalk is quite the destination on Put-in-Bay. With a diverse selection of restaurants and bars under one roof, it is easy to find what you're craving. Besides The Little Galley, there is also The Fish Shak, Book's Seafood, and The Burgee Bar. With plenty to drink, from brew to cocktails, soft drinks, and frozen drinks, there's always something to quench your thirst. The most talked-about item on the menu is probably the Lobster Bisque, it's famous!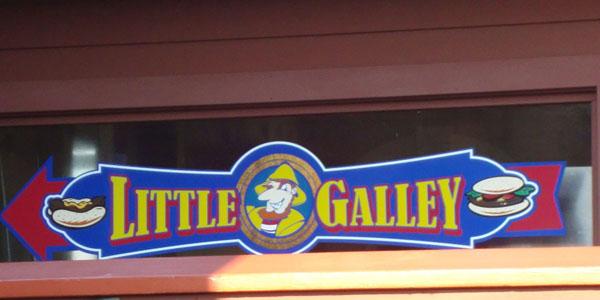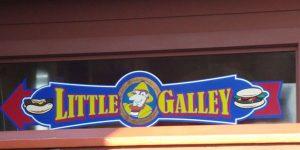 Once you settle into your meal, take in the views, and enjoy the lake breezes. Summer's on Put-in-Bay are all about relaxing with your loved ones while eating delectable dishes and taking in the lake views.
The Little Galley is perfectly situated for both day-trippers and summer residents. Once you land on Put-in-Bay, the entire island is there for your enjoyment. Downtown Put-in-Bay has a range of dining options and lodging, from comfortable to luxurious. Grab a golf cart (well, rent one first) and zoom around the entire island, visiting all the attractions Put-in-Bay has to offer.