Kimberly's Carousel is a beloved fixture of downtown Put-in-Bay. Constructed in 1917 by Allan Herschell, this vintage carousel is much the same today as it was 100 years ago.
One of the few remaining carousels of its kind, the brightly colored Kimberly's Carousel has all sorts of animals to ride. It plays joyous music that can be heard throughout the streets of downtown. Kids and adults flock to this island institution to take a ride.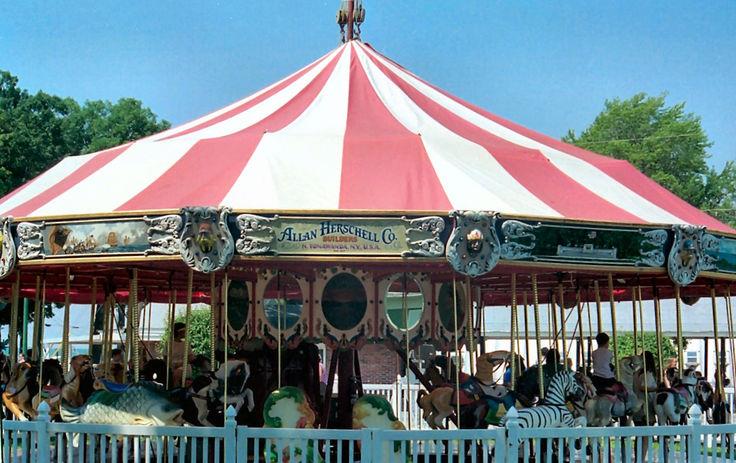 Next-Door Neighbors
Located right on Delaware Avenue, Kimberly's is across the street from DeRivera Park. This sweet part of downtown includes the carousel, the Put-in-Bay Candy Bar, and Village Bakery and Cafe. Grab a freshly made muffin or croissant and hang out by the carousel. Village Bakery also excels in making fresh, hot coffee. The perfect way to start the day.
The PIB Candy Bar specializes in all types of sweets, from penny candy to ice cream sundaes. Additionally, they have a lovely outdoor patio so visitors can enjoy their treats while watching all the fun at the Carousel.
DeRivera Park is also a lovely place to spend the afternoon. There are also public restrooms and lockers available.
The History of Kimberly's Carousel
Allan Herschell is an icon of amusement park rides. His company is well-known for creating specialized rides from trains, roller coasters, and carousels.
The Put-in-Bay luminary, George Stoiber purchased the carousel in the 1980s. Then, as the carousel had fallen into disrepair, George took it upon himself to renovate the entire ride with his wife. He understood this was an important part of Put-in-Bay history, George recognized the need for preservation. 
Only 12 of the 36 horses were intact and the paint had pretty much vanished from the surface. Once they added new animals, including the famous "Petey the Perch" June personally painted many of them! This was truly a labor of love, if you make it over to check it out, you'll realize it immediately!