The Lake Erie Historical Society is a key component in preserving and promoting the history of Put-in-Bay and the surrounding Lake Erie Islands. Located inside the building is the the LEIHS Museum Store and Resale Shop. They accept lightly used items including clothing, housewares, and appliances. Each item sold directly benefits the Historical Society.
Everything on sale has been carefully inspected by the staff guaranteeing a high quality selection. Whether you are looking for some necessities for your time on the island or something you can't find anywhere else, the Resale Shop is a great option. You can't beat low prices that also help tell Put-in-Bay's unique history.
The Lake Erie Historical Society
Located right behind the Put-in-Bay police station, the Lake Erie Historical Society is close by all the downtown destinations. There are signs marking the way as well as plenty of parking for golf carts.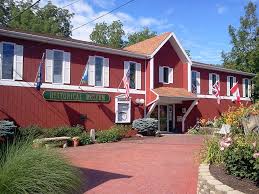 Besides the Resale Shop, visitors can tour the current exhibition on view. It changes every season, each one telling a new story about Put-in-Bay's history. For 2017 the exhibition was titled "Treasures from the Archive." This exciting glimpse into Put-in-Bay's past displayed many photographs, historical papers, and artifacts that the public rarely sees.
Put-in-Bay's Place in History
Long a haven for Native Americans, the War of 1812 put Put-in-Bay on the national stage. The U.S. naval commander Oliver Hazard Perry led a squadron of troops against the British. To celebrate the resulting peace from this war, Perry's Victory and International Peace Memorial was later erected on Put-in-Bay.
The island is also host to a diverse and fascinating ecology. The Crystal Cave located at Heineman's Winery contains the world's largest geode. Perry's Cave is a limestone cave located 52 feet underground. It contains a rare and beautiful underground lake. The entire island is lush and green during the summer months.
Testimonials
Connor O: "This place is very unique and a very informative Museum. There are a lot of historical items pertaining to the islands and a wall produced a documentary which you can watch while you are there."
Mark S: "I didn't expect much. 4 dollars each to get in, and I thought we'd be out of there in 10 to 15 minutes. I was wrong. Tons of interesting info regarding the island and things I had no idea about. Will definitely visit again."
Ed H: "Very informative, many island-related historical artifacts going back to the Native American era, very friendly and helpful staff. Worthwhile. Allow an hour and do watch the video overview of the history of Put-in-Bay. Don't miss the resale shop behind it; many interesting things for sale to support the museum at very reasonable prices."