A Place at the Bay provides a private cabin on the southern end of Put-in-Bay. CHECK AVAILABILITY! With all the amenities of the home, this spot can sleep up to 12 guests. Set in the midst of a lovely wooded area, it feels quite secluded. This is a very popular property at Put-in-Bay, so we advise that you make a reservation for your desired dates ASAP!
A Place at the Bay Amenities
The cabin includes four bedrooms and two baths. The combination dining/living room is spacious and inviting. The kitchen is stocked with everything needed to cook every meal of the day. Take your meals al fresco and enjoy the peace and quiet. There is a picnic table outside so you can start and end your day enjoying the warm weather.
Located a little farther afield from the bustling downtown, there are a great many activities available just minutes away to the guests of A Place at the Bay. The South Bass Island State Park includes a public dock and launching pad when you plan to spend the day on the water. Picnic tables and kid's playground is also on-site.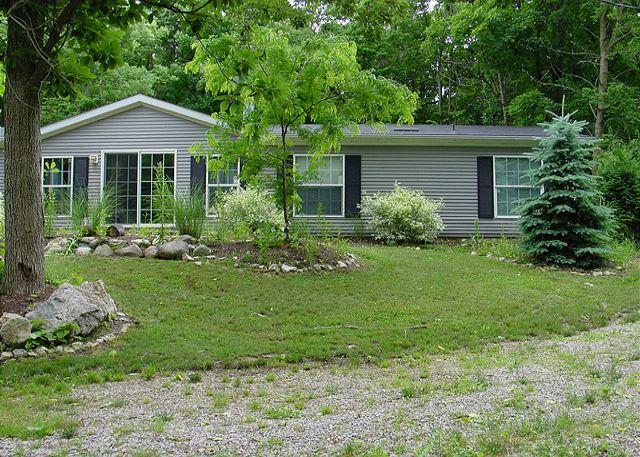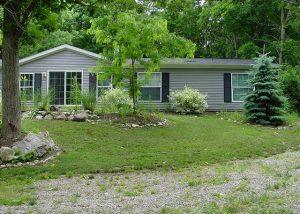 The Saunders Golf Course abuts the cabin's property. Once you've played a rousing 9-holes, head to Joe's Bar, the self-proclaimed best dive bar on the planet. Serving up scrumptious bar food and an expansive back patio, you are sure to spend many fun nights here.
The Lake Erie Islands Nature and Wildlife Center is close by as well if you are interested in learning about the ecology of the island. Visit the underground limestone cave at nearby Perry's Cave or play mini-golf if Saunders isn't your style.
When you feel like going out on the town, head into town. The nightlife is always alive during the summer months with nightclubs like The Green Room at Mr. Ed's, the swim-up bar at MIST Pool Bar, or live music at The Round House. The streets are always bustling with other visitors enjoying their time on Put-in-Bay.
Testimonials
Bob D: "Last year I was in charge of planning my best friend's bachelor party. We decided on Put-in-Bay as the location for the bash and I began the search to find a place to stay. I stumbled upon this place and it couldn't have been a better fit. This house had enough room for all my buddies and gave us the privacy we wanted. You guys rock!! Thank you! John's bachelor party was epic!"
Charles R: "Close to the Island Club and the fun pool there, but also far enough away to have some privacy. HUGE house with tons of room to park, we needed it for our boat. Highly recommended for fishermen or big groups. We will be back!"
Ashley R: "My college friends and I had a great time at A Place at the Bay for a bachelorette party and we felt like we were at home. The whole house was very private and beautiful and cozy and seemed almost brand new even though it obviously wasn't. We wanted the private space to hang out, but still be able to use the pool across the street. When I visit Put-in-Bay again with the family to visit my Uncle Chuck, I'm definitely booking my stay here again (and hopefully Mom stays too and helps pay like she did the last time we had a family getaway!)."