The Country House is a charmingly unique gift shop centrally located on Delaware Avenue in downtown Put-in-Bay. This beautiful Victorian house is full of souvenirs, gifts, and artwork. The wide front porch greets visitors and the outside decor is sweet and inviting.
Gifts at The Country House
A few minute walk from the Jet Express terminal, the Country House is easy to find and even easier to get lost in. Come by and browse through their impressive collection of coffee mugs, keychains, and picture fram
es. They carry bright sweatshirts and sweatshirts, displaying the Put-in-Bay name or South Bass Island name.
They curate their offerings with a decidedly nautical theme. There are so many things to choose from for those who celebrate life on the boat. Gifts range from glasses decorated with seashells, handmade, rustic signs, and pillows, all declaring love of the lake.
The Country House is also an authorized reseller of Vera Bradley. These purses, suitcases, and bags always make the perfect gift. Local authors and artists sell their wares here as well. There is nothing more special than an original piece of art. The Country House hosts a range of special events including readings by Bob Adamov, a renowned local author.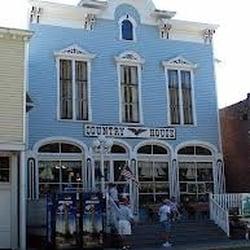 Downtown Put-in-Bay
After browsing and buying at the Country House, take a stroll through DeRivera and take in the sights of downtown Put-in-Bay. There is always plenty to do for both families and friends. Take a peek at all the candy at the Put-in-Bay Candy Bar. Grab an ice cream cone and sit out on the patio.
Hungry for something a little heartier? There are so many restaurants to choose from! The Village Bakery and Cafe offers homemade pasties and fresh coffee. The Boathouse slings decadent bar food with a side of live music. Lake Erie is your backdrop at The Keys. Dine on fresh perch and sip a mojito while you gaze out at the stars over the lake.