Frosty Gifts stocks up on all things Frosty. Stop by while enjoying the outside patio and snag some souvenirs to bring back to the mainland. Located on Delaware Avenue in downtown Put-in-Bay, Frosty is an island institution.
Frosty Gifts Gifts!
Frosty Gifts understands the love visitors have for Frosty and keeps their shelves stocked. Gifts include travel mugs, t-shirts, even Christmas ornaments! Their "Sunday Funday" shirt is definitely a favorite! Frosty's iconic beer mugs stand in for the "u," and "Only The Strong Survive Frosty" is inscribed on the back. This gives you a very good idea of the vibe at Frosty!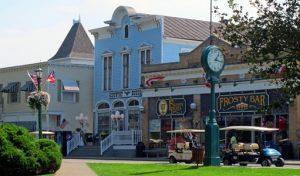 A gift certificate is a thoughtful gift for both an island newbie and summer stalwart. What better way to fill up on Frosty beer and their delicious pizza. Baseball camps and beer koozies are also a lot of fun. Their Tervis Tumbler is ideal to bring on the boat. Fill it with your preferred beverage and you are good to go!
Frosty Bar — An Island Institution.
Frosty is famous for its ice cup mugs of beer and piping hot pizza served just right. But there's so much more! Enjoy happy hour out on the patio with specials on nachos and tropical frozen drinks. Big Man Burrito Stand slings spicy favorites like steak tacos and Buffalo Ranch burritos
Frosty serves breakfast, lunch, and dinner, each menu as delectable as the next. DJ's spin all weekend during the summer. Want to sample local beer? Frosty has a robust menu with brews from Great Lakes, Rhinegeist, Fat Heads, Market Garden, Platform, and Brew Kettle.
Enjoy taking in the sites of Delaware Avenue from the wide front windows. The entire island passes by on their way to such sites as DeRivera Park, Perry's Victory & Peace Memorial, and Kimberly's Carousel. Most everyone stops at Frosty eventually!